Applehoe CottageSleeps 4
A boutique two bedroom bolthole nestled in the beautiful village of Great Longstone. Applehoe has been lovingly restored to create a warm and inviting cottage perfect for couples or small families. Within walking distance to two great village pubs and the Monsal Trail is on your doorstep. Sleeps up to 4
Individually styled boutique cottage set in the pretty village of Great Longstone
​Highlights...
Two individually styled luxury double bedrooms with a shared bathroom​
Sleeps 2 - 4 guests
Dog Friendly
A cosy cottage nestled in a picturesque village position and a stones throw away from two great pubs. This stylish and thoughtfully designed holiday cottage is perfect for a romantic hideaway or cosy family retreat.
Fabulous surrounding countryside providing lots of lovely walks and cycle routes from the door step. Bring your walking boots for great access to the Monsal Trail, Monsal Head. 
A perfect base to visit Derbyshires fine country estates of the nearby Chatsworth House, Haddon Hall and Hardwick Hall.
After your day out exploring, relax on the plush sofas or perhaps walk down to the village pubs to sample some local ales and great food.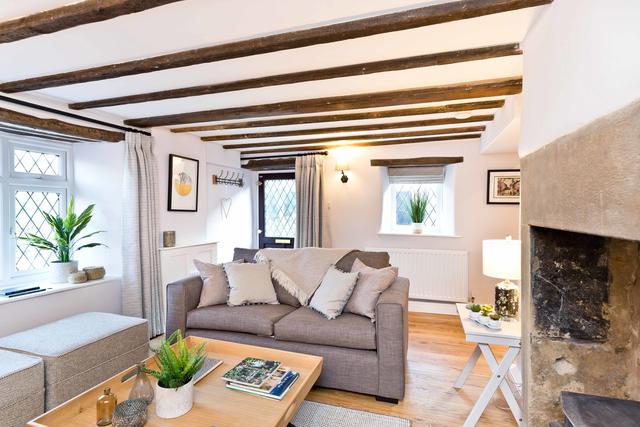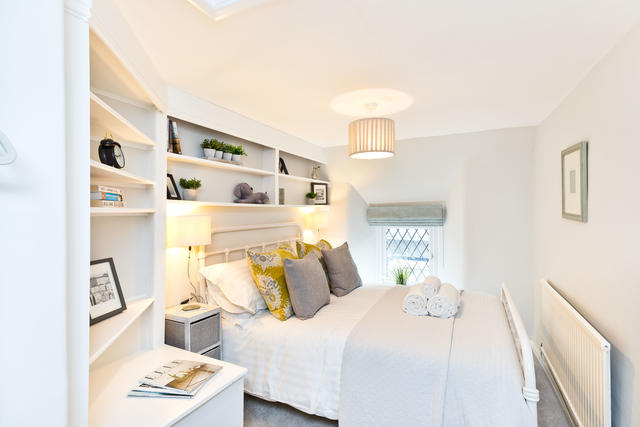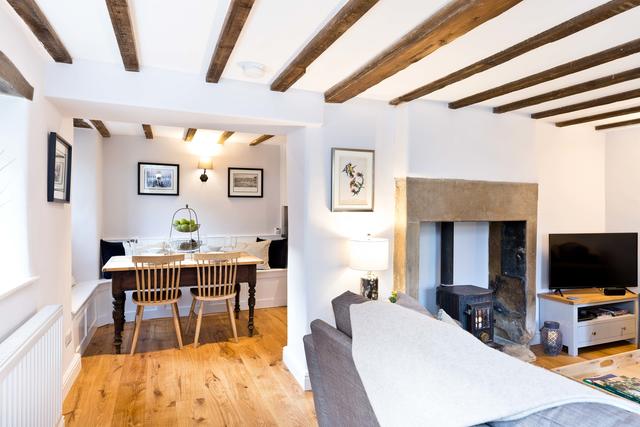 Bedrooms and Bathrooms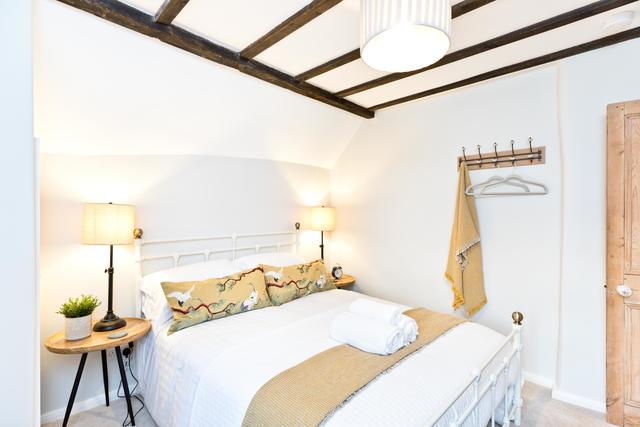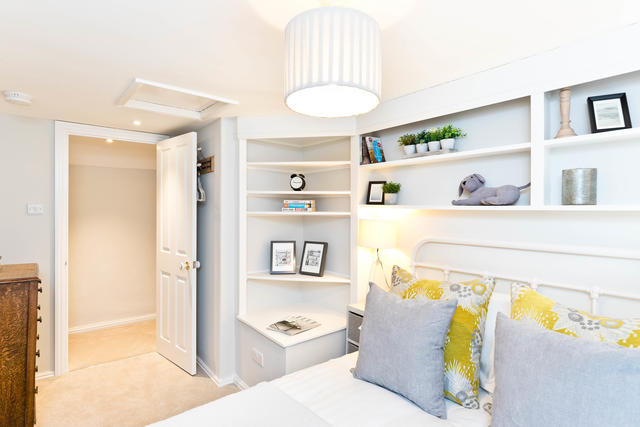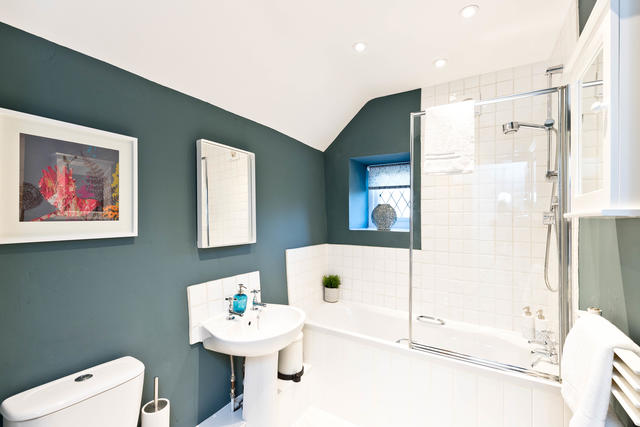 Applehoe Cottage has been fully renovated and has lots of charm and some lovely individual features. It is perfect for small families or couples alike with two stylish bedrooms sleeping up to 4 guests in two individually styled double bedrooms
The layout is as follows:
Bedroom 1 –Super king size double bed   
Bedroom 2 - Double bed


The family bathroom is fitted with a modern contemporary suite comprising of a shower over bath, wash basin and wc.
Your beds are made up for your arrival and for added comfort we provide each guest with fresh towels and hand soap.
Cooking & Dining
Applehoe Cottage has a modern and fully equipped galley kitchen fitted with a full sized electric oven, four ring gas hob, under counter fridge with freezer space and a washing machine. 
The kitchen is designed to cleverly utilise the space and there is plenty of room to prepare and cook your meals. There is lots of equipment, cutlery, glassware and crockery so you don't need to bring anything with you. 
The dining area is situated at the end of the kitchen with a farmhouse table and a mix of fixed benches and chairs to provide a generous seating area. Its the perfect place to sit and chat with a glass of wine, while the chef's get cooking!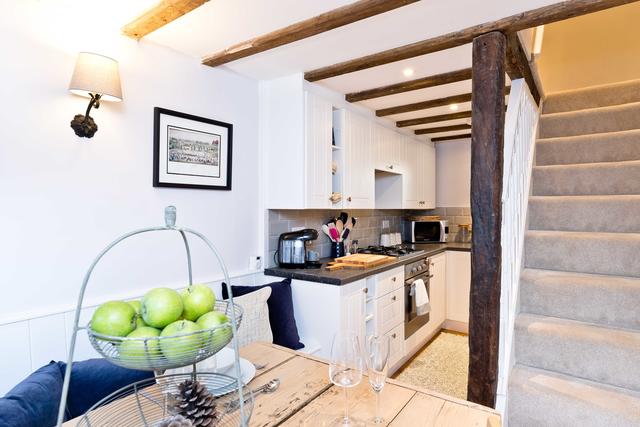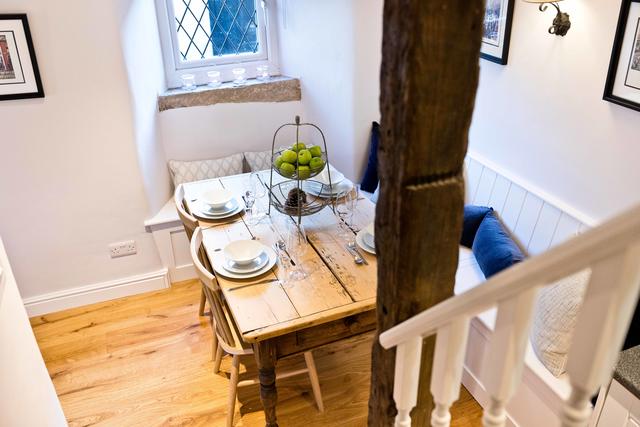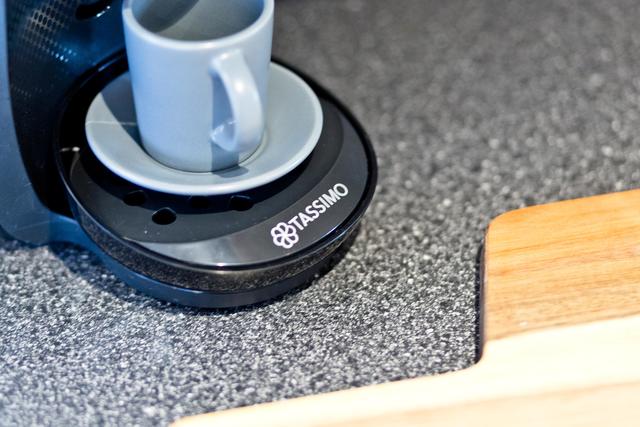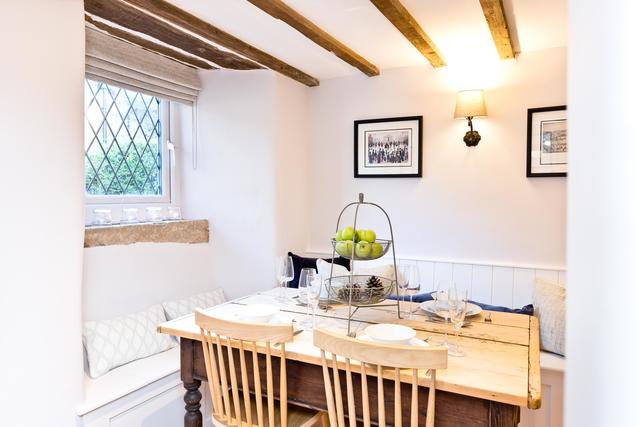 Living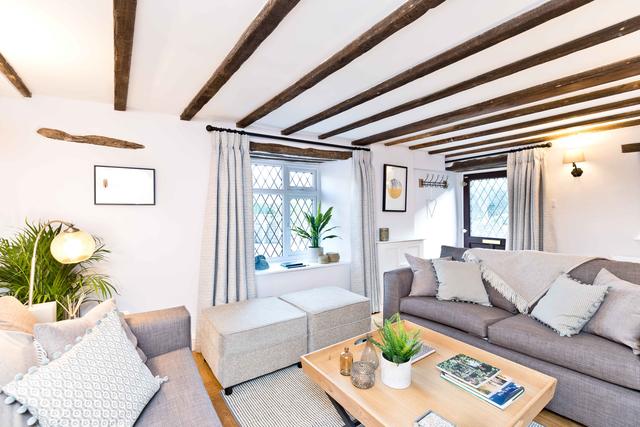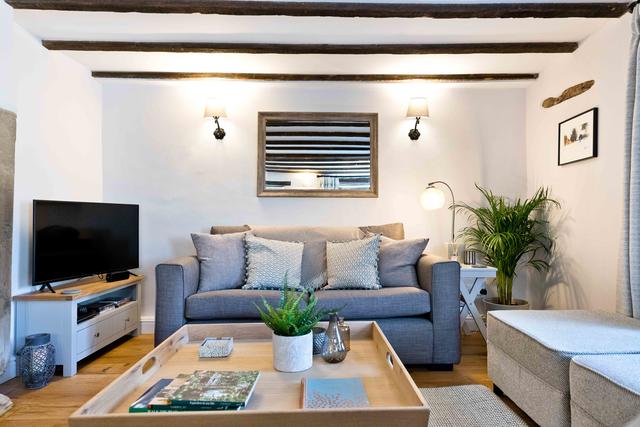 As you walk into Applehoe Cottage you are immediately welcomed by the fabulous living room which has lots of original features and fitted out with comfort and style in mind. 
Featuring a beamed ceiling throughout,  wooden floors, and an impressive stone fireplace, all of which are traditional cottage features. With central heating throughout the cottage you will be toasty and warm on a winters break. The stylish furniture features two big comfy sofas in the living room, decked out with lots of plush cushions and throws, and with lots of interesting and quirky features its the perfect place to relax and cosy up with a good book or watch a film.
For those that like a little entertainment there is a TV with Freeview, DVD player and selection of DVD's, board games and a bluetooth speaker.  
Outdoor
Applehoe is in prime location in the heart of Great Longstone village.  There is a little outhouse across from the cottage which is perfect for storing your bicycles (room for 4). In here you will also find all your cleaning equipment and the dryer.
Free on street car parking is available immediately outside the property with more free parking available on Main Street. 
Whilst Applehoe doesn't have any outdoor space of its own, you are a 2 minute walk from a fantastic gastro pub - The White Lion. This pub has lots of outdoor seating - perfect for alfresco dining in the summer months and the dog friendly snug room is perfect for a post walk pint. 
Great Longstone Village and The Peak District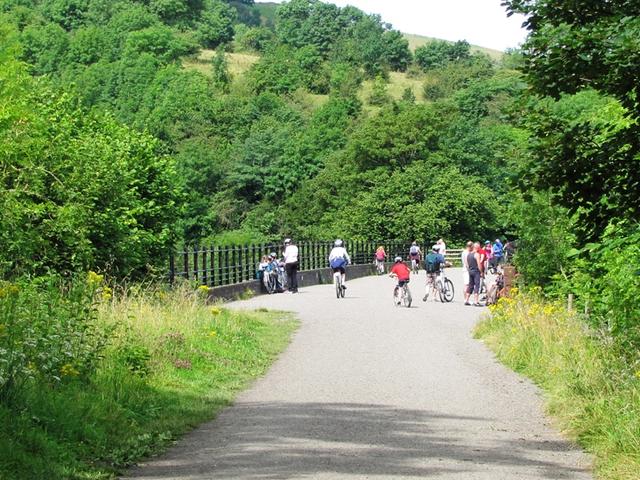 Providing a wonderful village accommodation, Applehoe Cottage is a few steps away from a selection of heart-warming country pubs The Crispin Inn, The White Lion and a little further, in Little Longstone The Pack Horse, all of which provide great food, local ales and a warm welcome. You will also find Great Longstone village shop which is brimming with essentials and local produce. A couple of steps away on the opposite side of the lane, you can buy fresh milk and eggs from Church Lane Farm - open 24 hours with an honesty box!

One of the best features of this location is you are only a few minutes walk/bike ride from the Monsal Trail - for unbeatable famous views of the viaduct at Monsal Head.
Applehoe Cottage makes a great base for visiting the most amazing of Peak District treats for you to enjoy - the ancient market town of Bakewell, Chatsworth House (10 minutes drive), Haddon Hall (10 minutes drive), historic spa town of Buxton (15 minutes drive) to name just a few.

Click here for our recommendations to help you plan your stay.

Photo Gallery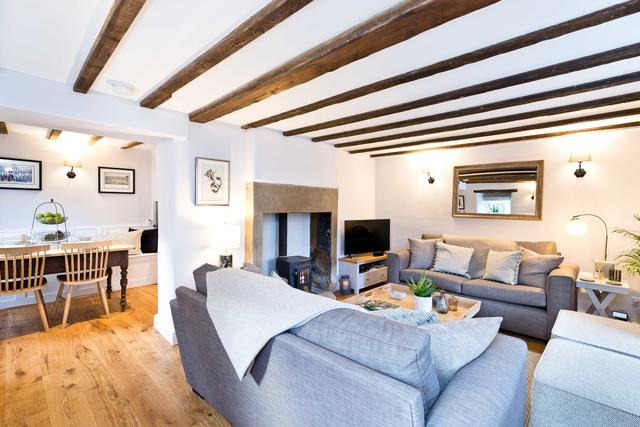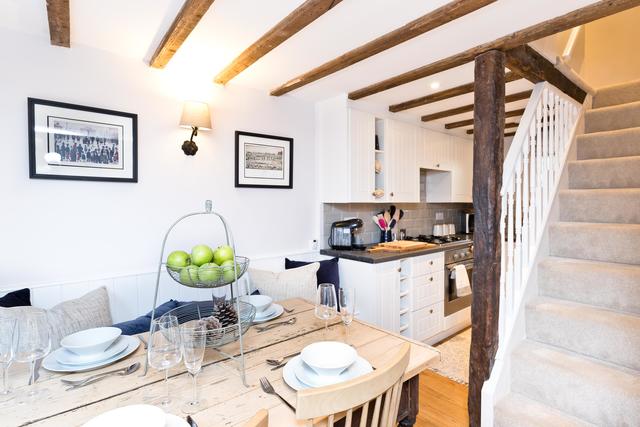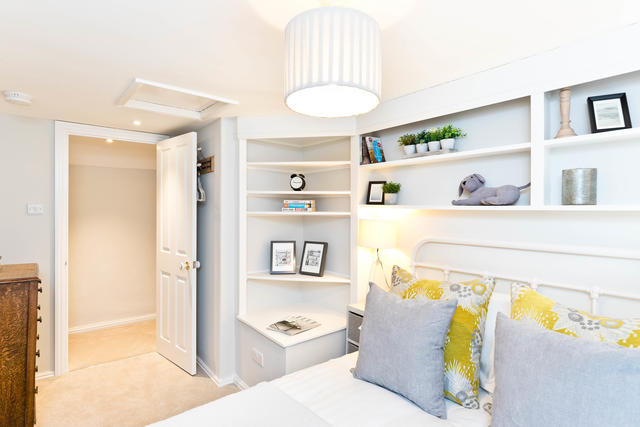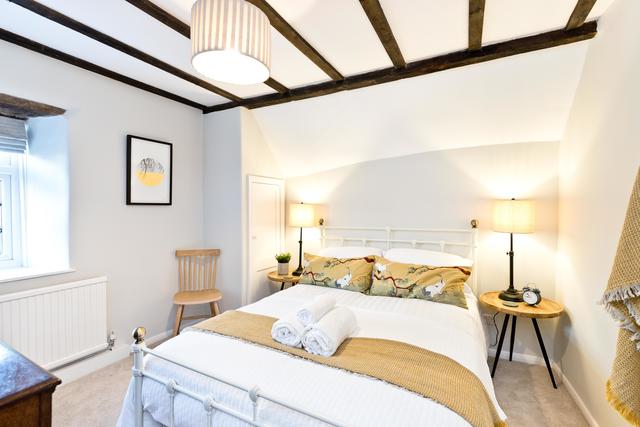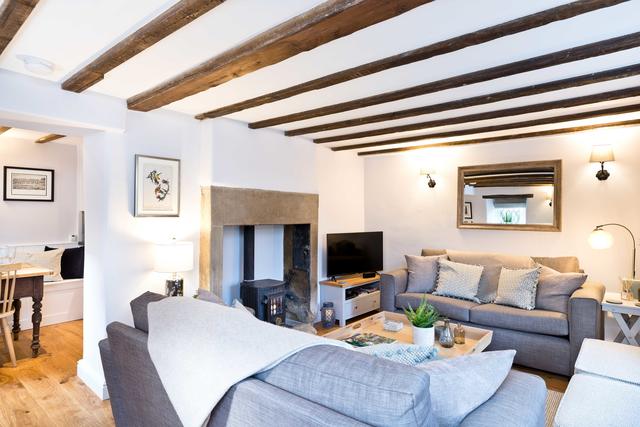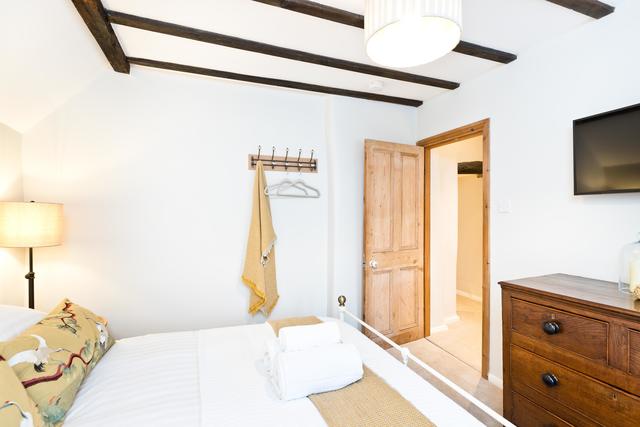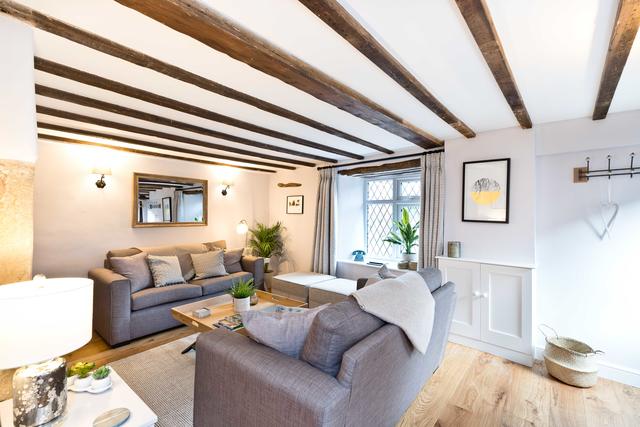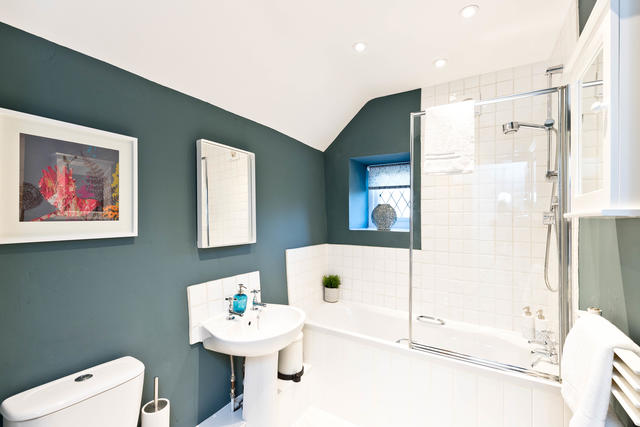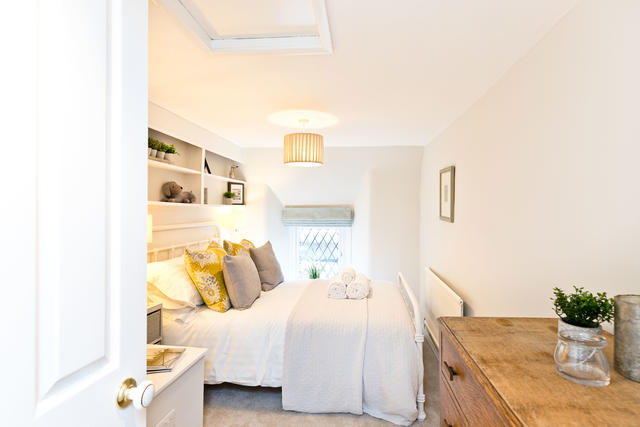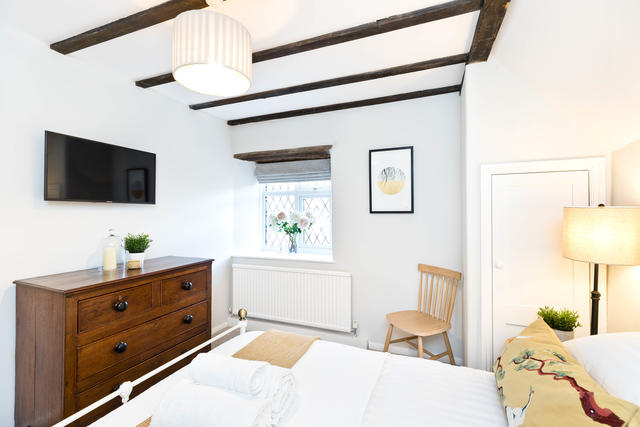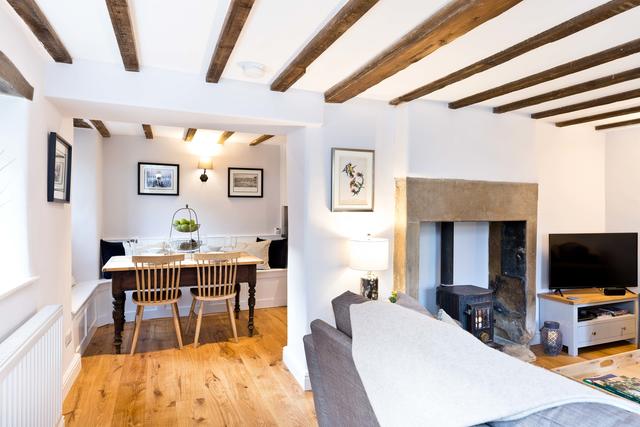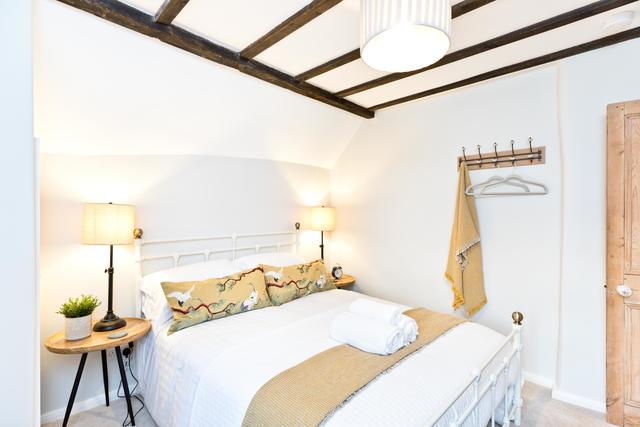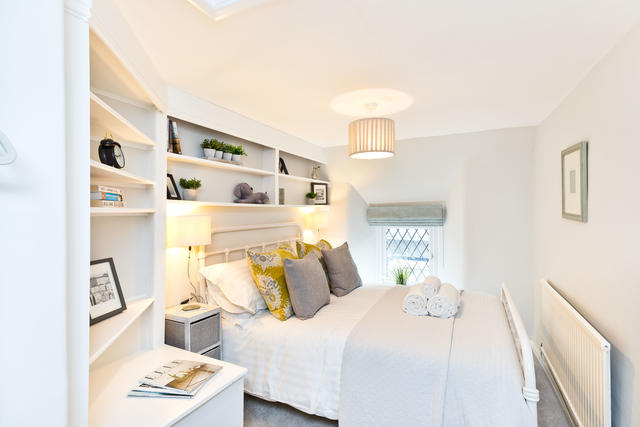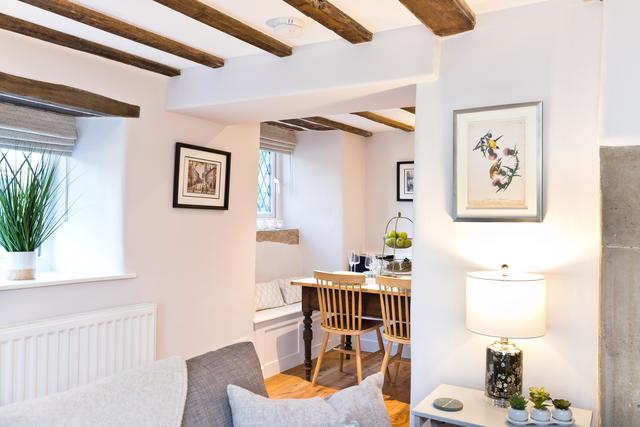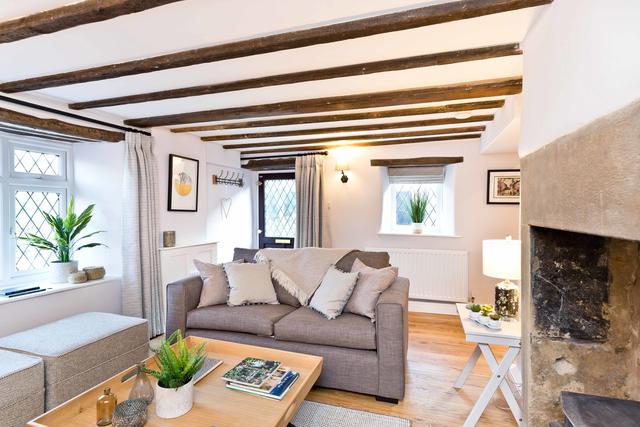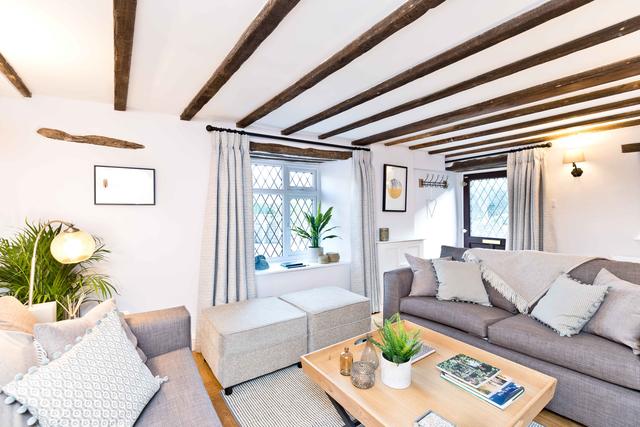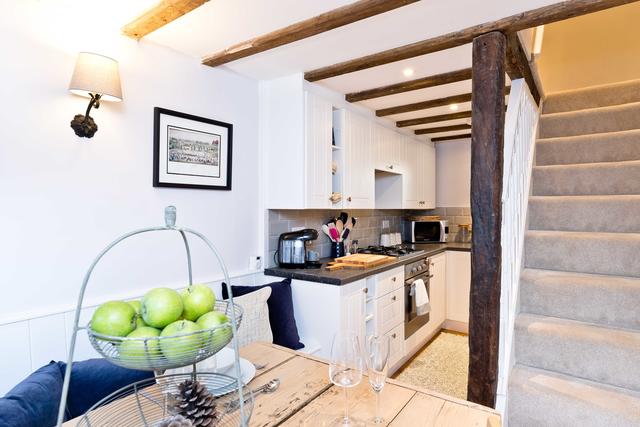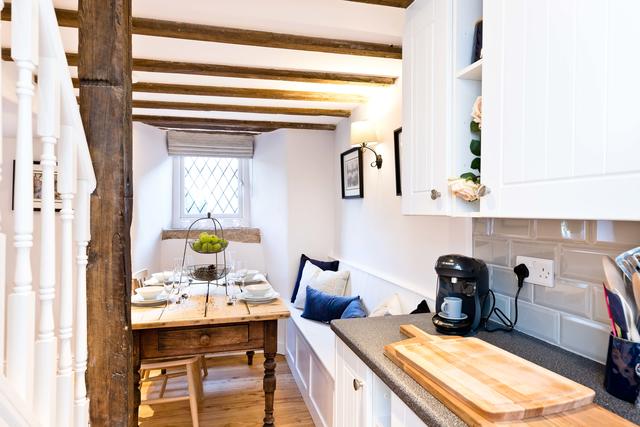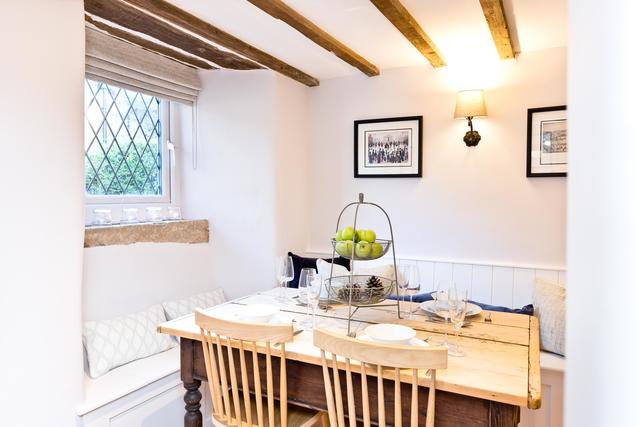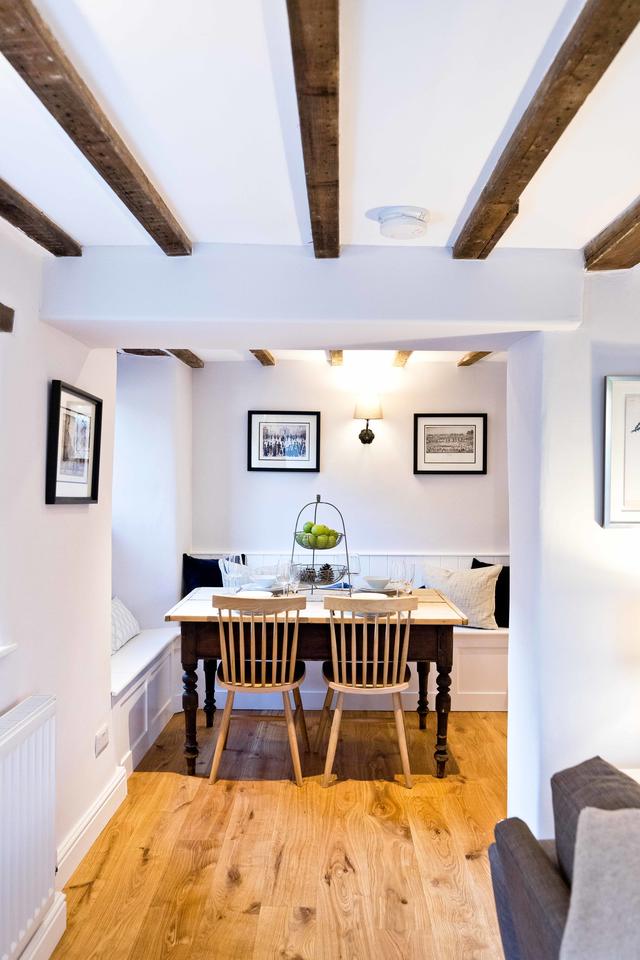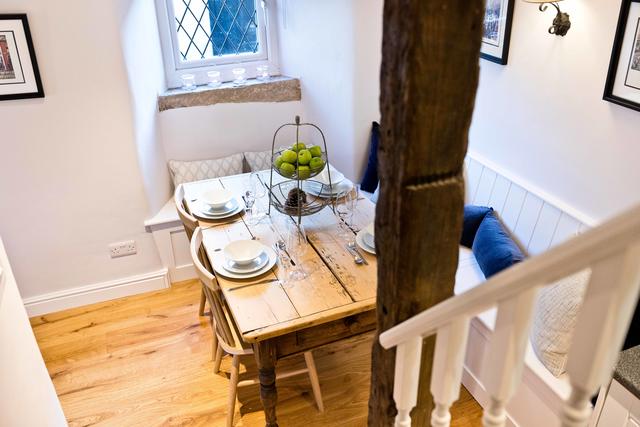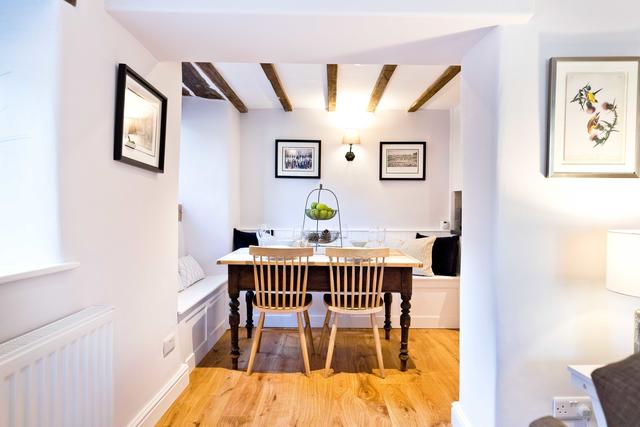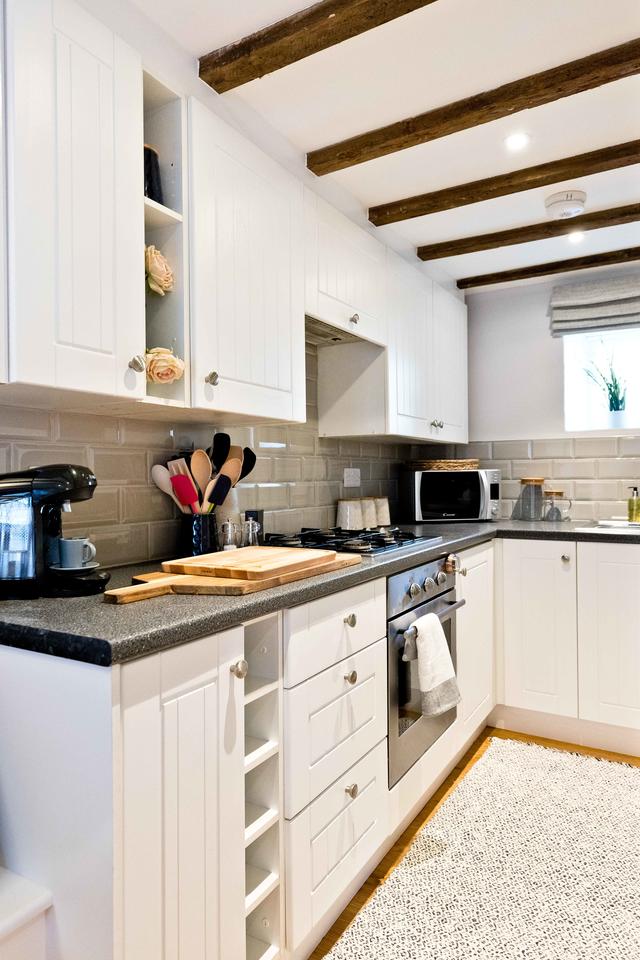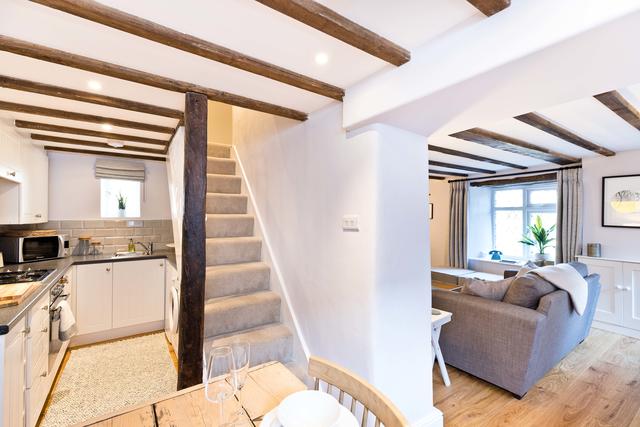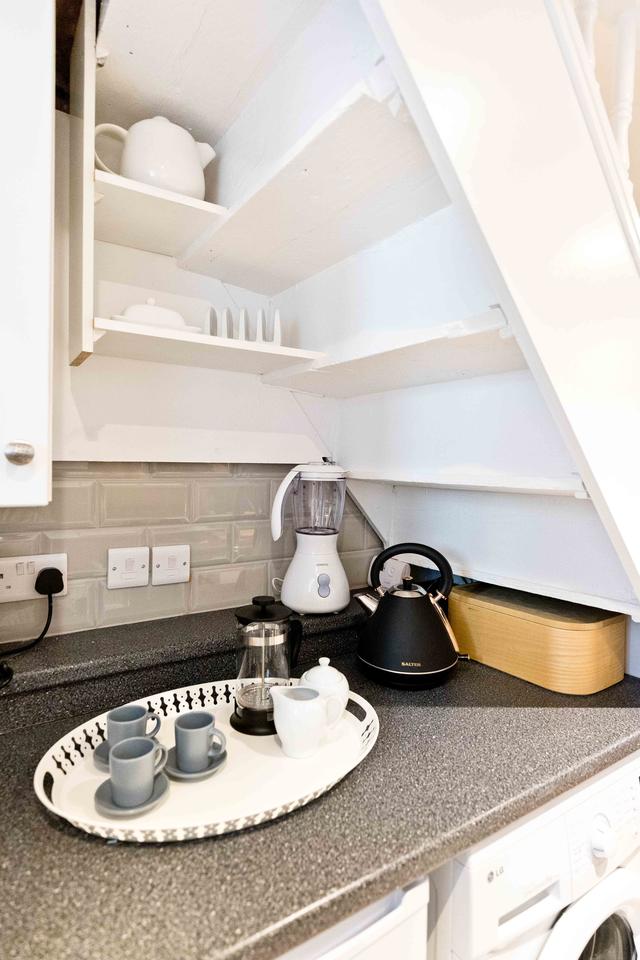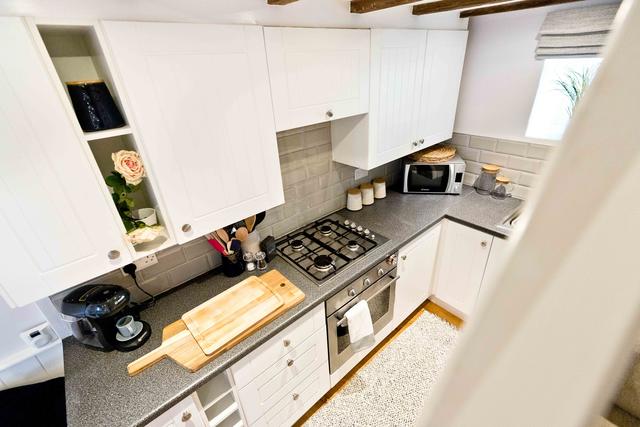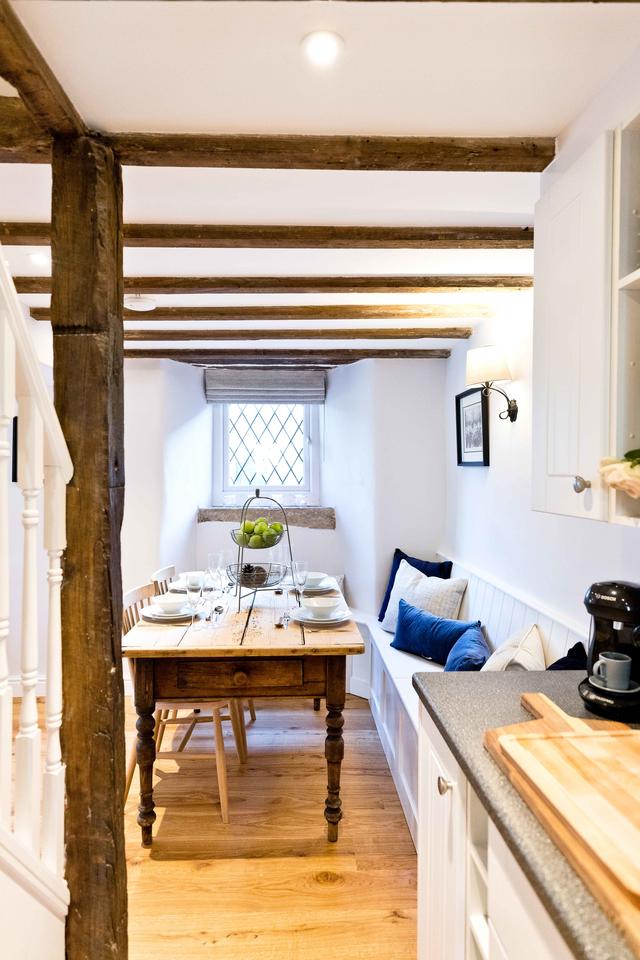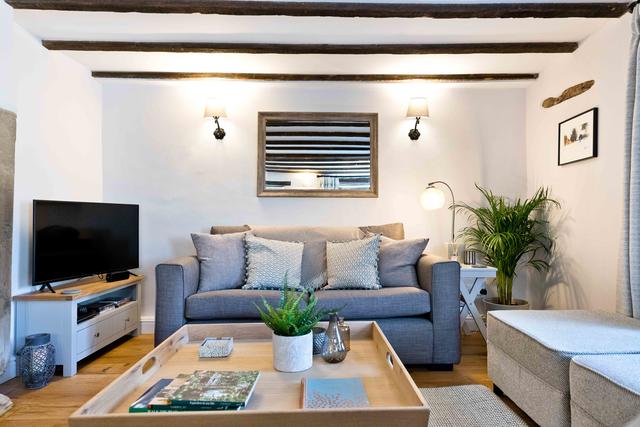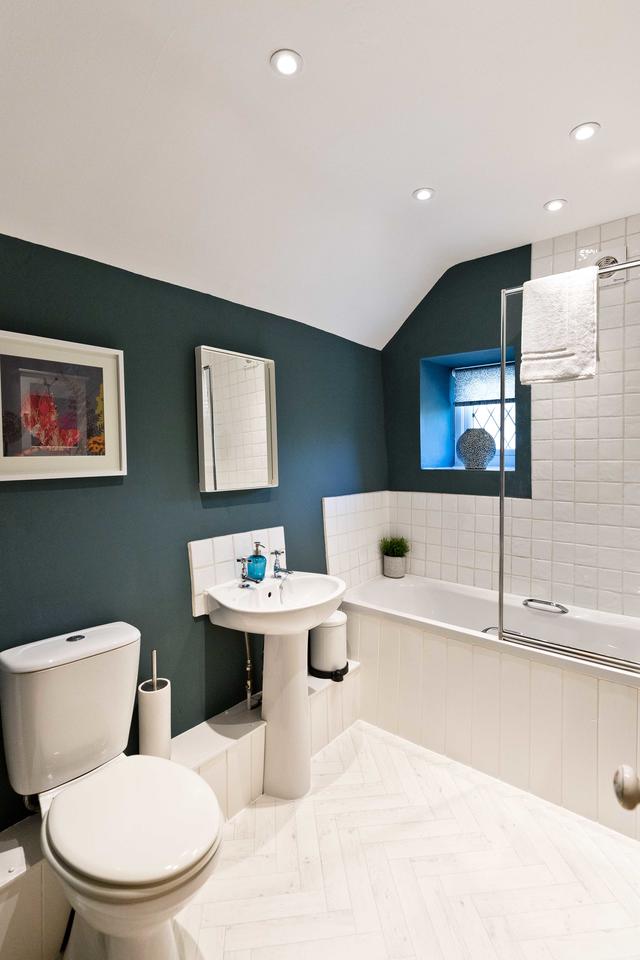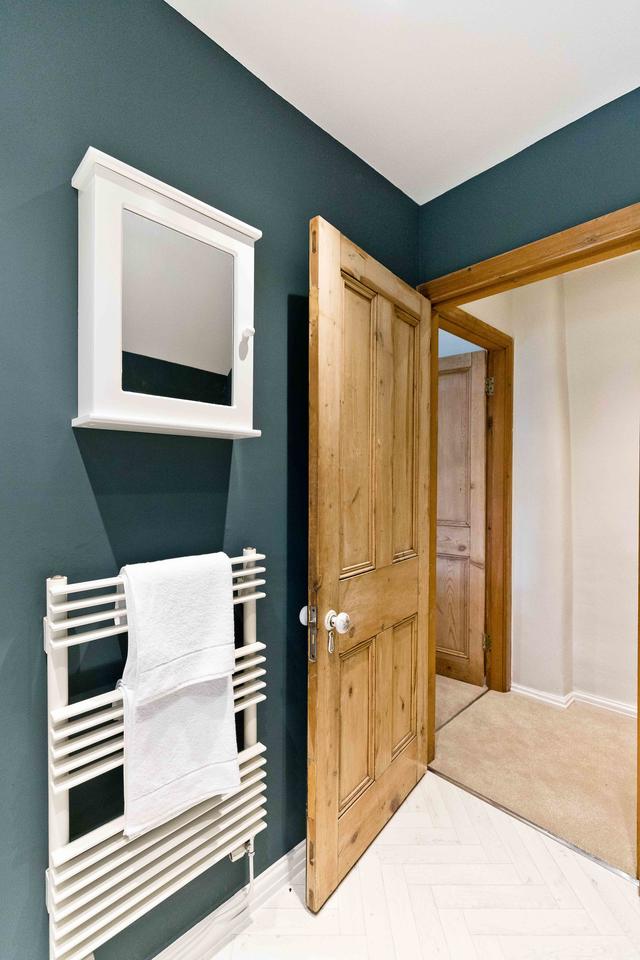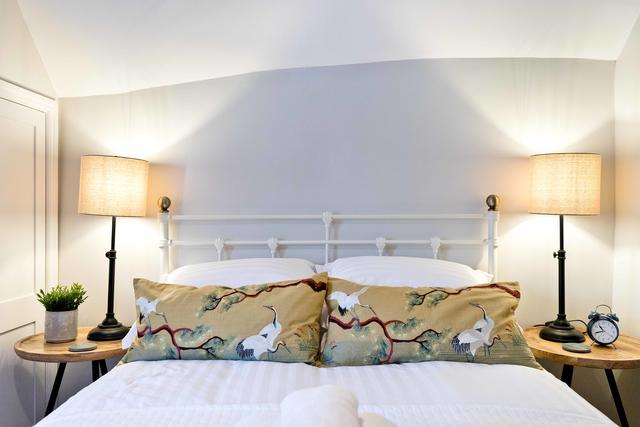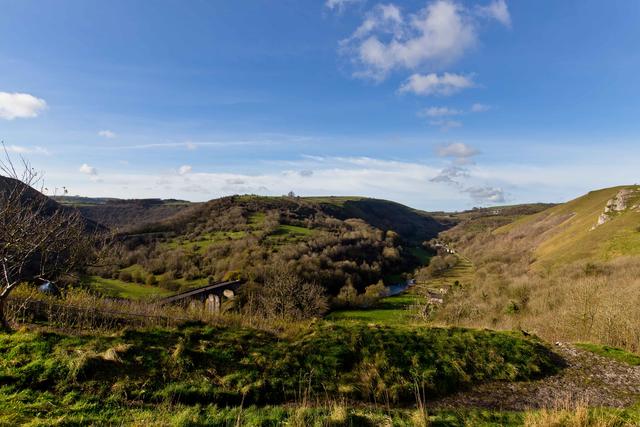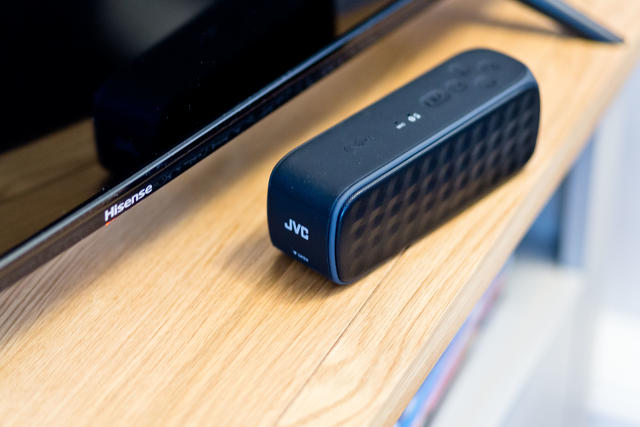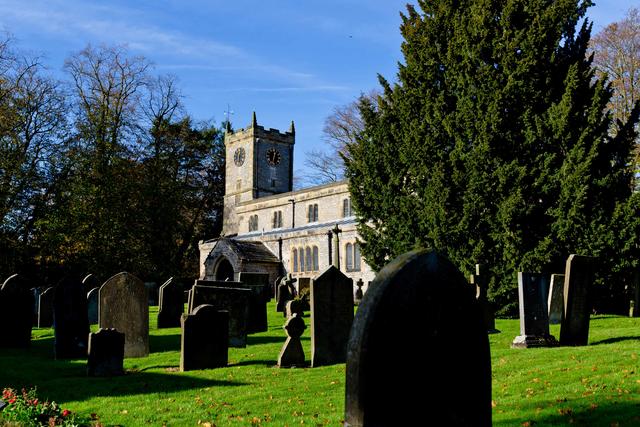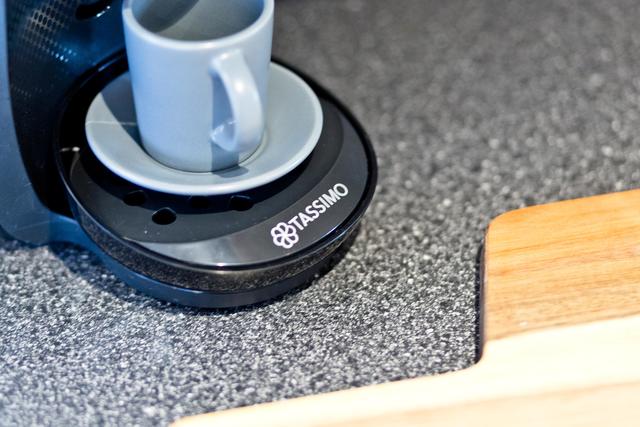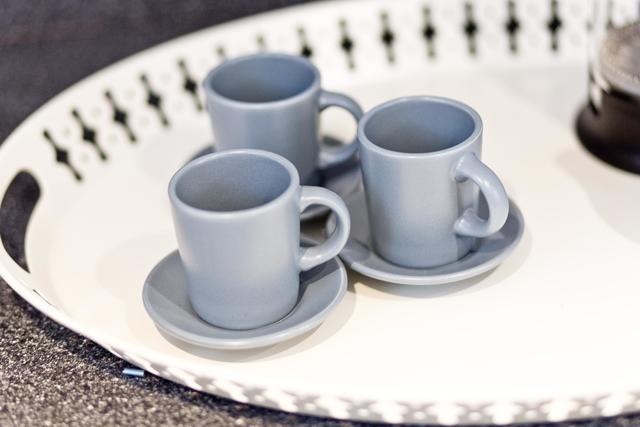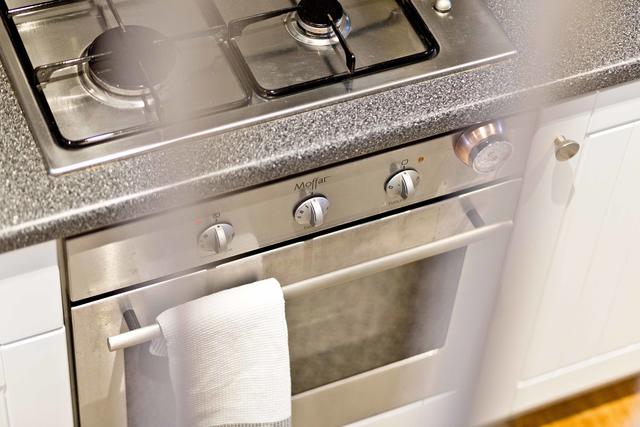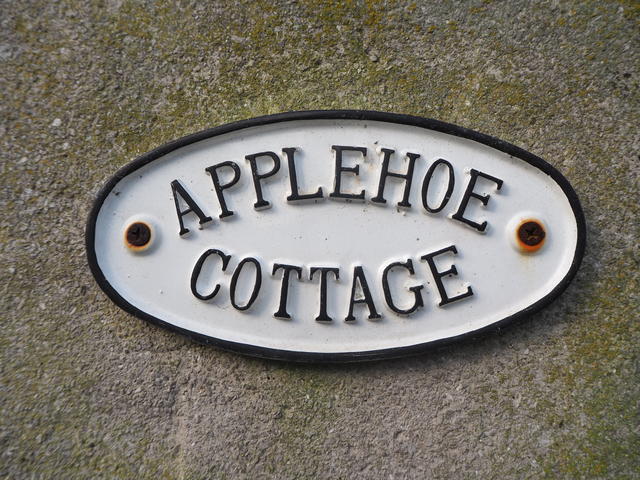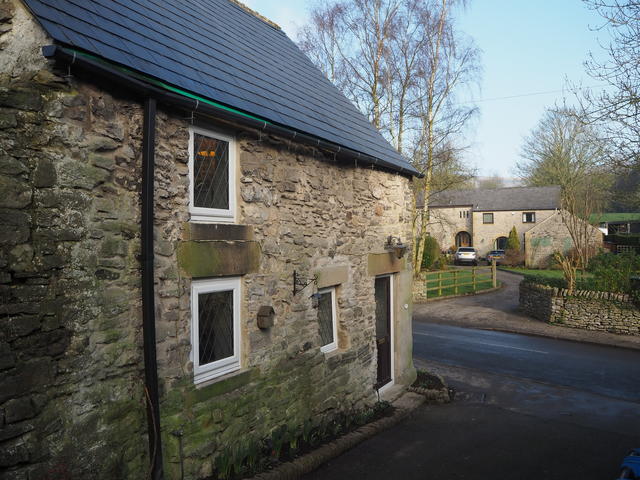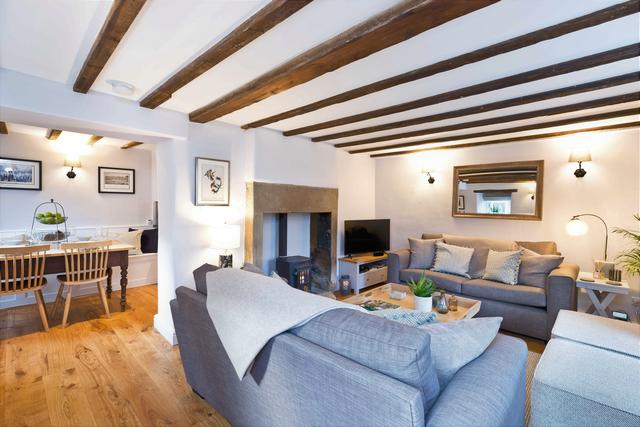 How To Find Us
Directions
The address of Applehoe Cottage is:    
Main Street, Great Longstone, Derbyshire, DE45 1TG
Approx GPS coordinates of the property are:
53.24164414438022, - -1.6990734131498386
Use 'What3Words' to find exact location: ///perfectly.prop.drift  Download the 'App' here: 'What3Words' 
Directions to Applehoe by car from Bakewell (roundabout at Rutland Arms) (approx. 8 minutes): 
• Follow signs to the A6 (Buxton Road)- continue along this for 1.3 miles
• After 1.5 miles, turn right onto A6020 (signposted to Chesterfield, Sheffield A2020 (A619) Ashford in the Water)
• Follow A6020 for 1.2 miles
• Turn left onto Longreave Lane (signposted to Great Longstone & Rowland)
• Follow the road under the bridge and keep left (road turns into Main Street)
• Continue on Main Street for 0.6 miles
• As you drive into Great Longstone, Applehoe cottage is located on the left hand side of Main Street. Its easy to spot as the white gable end faces out on to the footpath. (If you go past the shop on the left hand side you have gone too far! )
• You have arrived at Applehoe Cottage

Directions to Applehoe by car from Baslow (roundabout by Rowley's/playing fields) (approx. 9 minutes): 

• Following signs to the A619 take Bakewell Road and continue along Bakewell Road for 0.3 miles
• Get in the middle lane to turn right onto A619 (signposted to Bakewell, Buxton (A6), Beeley, Rowsley, Matlock (A6) & Haddon Hall)
• Follow A619 for 2 miles
• Take the right hand turn onto A6020 (signposted Buxton A6020 (A6) & Ashford in the Water)
• Follow road down for 0.7 miles
• At the roundabout go straight over continuing on A6020
• Follow A6020 for a further 0.8 miles
• Turn right onto Longreave Lane (signposted to Great Longstone & Rowland)
• Follow the road under the bridge and keep left (road turns into Main Street)
• Continue on Main Street for 0. 6 miles
   As you drive into Great Longstone, Applehoe cottage is located on the left hand side of Main Street. Its easy to spot as the white gable end faces out on to the footpath. (If you go past the shop on the left hand side you have gone too far! )
• You have arrived at Applehoe Cottage.


​Directions to Applehoe by car from Buxton (roundabout by Morrison's) (approx. 25 minutes)
• Follow signs to the A6 (Bakewell Road)- continue along this for approx. 10 miles
• Turn left onto A6020 (signposted to Chesterfield, Sheffield A2020 (A619) Ashford in the Water)
• Follow A6020 for 1.2 miles
• Turn left onto Longreave Lane (signposted to Great Longstone & Rowland)
• Follow the road under the bridge and keep left (road turns into Main Street)
• Continue on Main Street for 0.6 miles
• As you drive into Great Longstone, Applehoe cottage is located on the left hand side of Main Street. Its easy to spot as the white gable end faces out on to the footpath. (If you go past the shop on the left hand side you have gone too far! )
• You have arrived at Applehoe Cottage.
Guestbook
The following comments are taken straight from the guestbook we keep for Applehoe Cottage. Verbatim.
Sood stayed in August '21
Applehoe cottage is a cosy, clean, comfortable and amazing place to stay. It's in the middle of a lovely village close to most of the amenities. It's walking distance to three pubs, great place to eat and socialise. Thank you Alex for being such a good host.
Smith stayed in July '21
Perfect Cottage in a Perfect Location
Hannah Usher stayed in July '21
Brilliant well equipped cottage. close to 3 great pubs. Walking distance to Bakewell (1 hour -pleasant walk). Very clean and looked after. Would definitely book again.
Usher stayed in July '21
Brilliant well equipped cottage close to 3 great pubs. Walking distance to bakewell (1 hour pleasant walk). Very clean and looked after. Would definitely book again.
Davies stayed in July '21
"Lovely cottage in the heart of the village! Had everything you needed and check in was very easy!" "Lovely home thank you for having us"
Harrison stayed in July '21
Enjoyed our stay at Applehoe Cottage the cottage is furnished to a high standard and spotless set in a beautiful village great location for exploring the Peak District only issue was the WI Fi Which doesn't seem to work most of the time
Ahern stayed in July '21
"This is the perfect little getaway cottage. We were 2 couples with 2 little dogs and loved our stay. Walking distance to two lovely pubs - great location for walks. Cottage itself is lovely - got everything you need and lovely spacious living room"
Ridge stayed in June '21
"Great place to stay. Very well equipped and comfortable. Village lovely with both pubs doing great food."
Nawarathna stayed in June '21
"Beautiful cottage in a very scenic area of the country. The cottage was perfect for a family of family of 3. It was very clean and modern. It had all amenities and the kitchen was very well equipped. There is a great pub less than 5mins from the cottage that serves absolutely great food and places like Bakewell, Buxton and Dovedale are all within very short distance in a car." "Hello, We loved our stay at Applehoe cottage. It was extremely clean and located in a very scenic village.
Sophia Mirchandani stayed in June '21
A really lovely place in a great village. Beautifully presented and well equipped. Thanks so much. will be recommending it to friends. Sophia
Watson stayed in May '21
Cosy cottage, beautifully decorated and spotlessly clean.
Brecknell stayed in April '21
Applehoe Cottage is in the perfect location for exploring the Derbyshire Dales. The cottage is well equipped and extremely clean. The sofas and beds are very comfortable and lovely soft towels are provided. The kitchen is on the cosy side but well equipped. We highly recommend The White Lion a few minutes' walk away (you need to book). We ate in the garden at the back one evening and another evening had a delicious take away pizza from them.
Emilio stayed in October '20
"Beautiful place to stay, interior was perfect and with everything you need. Modern whilst still cosy at the same time. Perfect for a group or family looking to get away in the Peak District. Hosts were quick to respond and very friendly. Will definitely return here again."
Coles stayed in September '20
".... We have had a wonderful time, we are sad to leave so soon but thank you so much again. You have a beautiful cottage in a wonderful location. We have been to the area a lot in recent years and your cottage is the best by far!! Thank you for having us...."
Hare stayed in August '20
"Gorgeous cottage, very comfortable, well equipped to a very high standard. . Great location. The host was really helpful and kind. It's a shame there is no outside space, but other than that perfect."
Vracar stayed in August '20
"Alex's place was outstanding in every way. I stayed here with my partner and parents for a long weekend in the Peaks and I'm really glad we picked her cottage! We found the place sparkling clean, extremely stylish and perfectly equipped, particularly as we spent a lot of time eating in due to COVID19 (the kitchen had all the utensils you could possibly wish for!) It's really close to a lot of places like Bakewell, Chatsworth and Ladybower, but in a lovely, quiet village for those who don't have a car and fancy local walks/a lovely little local pub. Alex herself was very friendly and prompt at replying and check-in/check-out were super straightforward. All in all, absolutely cannot fault this place and will definitely be recommending to all my friends!"
Lewis stayed in March '20
"Alex was an excellent host and replied to my messages very quickly. The cottage itself is stunning, the interior was immaculate and it was a very stylish, warm and cosy space to come back to after a day of hiking. The kitchen was full of everything we needed for our stay and had a great selection of equipment and crockery for us to make our own meals. The beds were also incredibly comfortable. The location is great too, it's a 5 minute drive from Bakewell and is central enough to be close to a number of hike trails, which suited us perfectly. I couldn't recommend this cottage enough, we had a fantastic stay. Thank you Alex!"
Sign the Guestbook
If you have comments you'd like to leave then please get in touch. We love to hear all feedback - good or bad.
Your Stay At Applehoe Cottage
Our Favourite Places to Eat Nearby
​Pubs
Restaurant
The Woodyard, Bakewell - Great location by the river in Bakewell for a family friendly Restaurant – serves both Lunch and dinner.​
PieDaniels, Bakewell - A fine French restaurant and cafe bar in the heart of Bakewell offering a selection of fine French & English cuisine.
Rajas Indian Restaurant, Bakewell - A great Indian restaurant located in the Bridge House just on the edge of the famous Bakewell Bridge. They also do take-aways.
Cafes
The Bean and Bag, Bakewell - Family run café in the heart of Bakewell offering locally sourced freshly prepared meals, cakes and scones.
The Upstairs Café, Bakewell - A nice child –friendly café located in the centre of Bakewell.
Lavender Tea Rooms, Bakewell - A lovely quaint tea room, hidden in the corner of Hebden court, the charming décor includes vintage memorabilia and there's outside seating in the sheltered courtyard. A great place for afternoon tea.
Aisseford Tea Room, Ashford in the Water - Pretty village tea room with lots of outdoor seating. 
Hassop Station Café & Bookshop - A family friendly cafe with outdoor covered seating and play, with a focus on food, family & fresh air. Enjoy brunch, lunch or afternoon tea on the terrace on the renown Monsal Trail or in the newly refurbished station building. Now fully licensed.
Hobbs Café, Monsal Head Hotel, Monsal Head - Situated at Monsal Head this cosy café offers great views and serves locally made ice cream.
The Old Smithy Café, Monyash - Rustic! Famous for its breakfast featured in the Top 50 Breakfast Book in the country. Character décor, open year round – walkers and bikers welcome. Also serves lunch daily with dinner on certain days.
Fresh Delivered Meals & Take Aways

Sauced Here - fantastic selection of home made prepared meals from local chef/cooks - great for large groups. They also provide a full basket of groceries from local producers that can replace a supermarket delivery
Scoff - Delicious, home-cooked food, delivered to you in the Peak District
Eastern Cottage (Chinese)
Hope Valley Pizza Co - Take away pizza with free delivery
Maazi- Sumptuous Indian meal or buffet delivered to your door. Numerous catering options and can also provide waiting on staff and even take away the washing up.
Our Top 5 places to visit nearby
1. Spend a day exploring the historic market town of Bakewell
Bakewell is the largest town within the Peak District National Park and is a hub of activity. Market day is on a Monday and as well as a large range of stalls there is also an agricultural market which is definitely worth a look around as it offers a great insight todays farming community. The town also hosts a craft and gift fair every weekend in Brigade town hall. The Bakewell Old House Museum occupies one of the oldest buildings in Bakewell and dates back to 1543, it provides a fascinating glimpse into the towns past and is very interesting and informative with lots to appeal to all ages.Obviously no trip to Bakewell would be complete without sampling an original Bakewell pudding. The Old Original Bakewell Pudding Shop claims to have the old the original recipe and still makes the puddings by hand from the secret recipe. 
Click here for a link to further information on Bakewell.

2.Cycle or Walk the Monsal Trail
With the Monsal Trail so close by it would be rude not to take the opportunity to cycle/walk along this old Midland Railway line which runs from Bakewell right up to Blackwell Mill, in Chee Dale. The trail offers 8.5 miles of traffic free and mud free cycling/walking and with the recently reopened tunnels offers one of the most spectacular leisure routes in Britain for cycling, walking and horse riding. The nearest cycle hire is at Hassop station which is great place to stop for a bite to eat or for a coffee and nice piece of homemade cake! There is also a lovely little gift shop and book shop and a children's play area. If walking it also worth leaving the trail and dropping down in to Monsal Dale itself to enjoy walking along down by the river.
Click here for a link to cycle hire at Hassop Station or here for more information on the Monsal Trail.

3.Take a tour around the Thornbridge Brewery
This award winning brewery is just down the road from the property and for any real ale lover taking a tour of this state-of-the art brewery is not to be missed. Tours take place very Wednesday and Friday at 3pm, booking is advisable. Also if you are lucky enough to be staying with us in the last week of the month, the brewery holds two socials on the last Wednesday (5-9pm) and the last Saturday (12-8pm) of each month. They generally have a range of 10 cask and keg Thornbridge beers, including Thornbridge favourites and also some of their rarer beers. They also run brewery tours on these socials at 6 and 7pm on the Wednesday and 3 and 5pm on the Saturday, again booking is advisable. 
Click here for a link to Thornbridge Brewery.
4. Chatsworth House and Park
No visit to the Peak District would be complete without visiting the fabulous Chatsworth House. At Chatsworth there is something to do for every member of the family. The Farmyard and Adventure playground is a brilliant day out for children of all ages - with animal handling, milking demonstrations and daily activities, plus a woodland adventure playground with slides, trampolines and more!Then there is obviously the house itself, steeped with history it's one of Britain's greatest stately homes and has been passed down through 16 generations of the Cavendish family. The gardens are equally as impressive as the house, over 100 acres and as well and the beautiful flowers and plants, there are giant water features and sculptures dotted around. Again suitable for all the family, with the maze, the garden trails, and the famous water cascade to keep the little ones occupied.
Click here for a link to Chatsworth House and Park.

5.Walk along the Edges
Baslow, Curbar and Froggatt Edges are only a short drive away and offer a spectacular walking route where you can view both the Dark and White Peaks. These three gritstone edges are part an almost continuous line of cliffs running from Stanage Edge down to Birchen Edge at the southern end. These Edges once famous for millstones, are now known as great places to rock climb. There over 200 rock-climbing routes on Curbar Edge alone, making the edges a mecca for walkers and climbers alike. For walkers Baslow Edge also offers interesting features including a memorial to the Duke of Wellington, a giant rock called the Eagle Stone which in years gone by the young men of Baslow used it to show off their prowess and fitness for marriage by climbing to the top and even some resident Highland cows.There are many different routes, some circular, some linear around the edges and also different staring/finishing points. A nice circular route which also includes walking along the river Derwent can be viewed by clicking here.
Finer Details
What to expect at Applehoe Cottage
​A basic weekend supply of the following (as there are no staff on site if you run out you will have to replace):
Anti bacterial Hand Soap​
Toilet Rolls (1 on the holder and 2 spare)
Washing Up Liquid
Basic Cleaning Products
2 x Tea Towels
1 x Dish Cloth
Dustpan & Brush
Utilities (Electric, Gas, Heating, Hot Water)
Hoover


Useful Information
1 x High Chair
1 x Travel Cot
Fresh Linen with beds made up on arrival
Fresh Towels - Bath and Hand Towel per guest
1 x TV with DVD player
JVC Bluetooth Speaker
Free WiFi
Hair Dryer
Washing Machine and Tumble Dryer ( Dryer is in the outhouse)
Cooking & Dining
​Microwave 
Tassimo Coffee machine
Blender
Toaster
Kettle
Under Counter Fridge with freezer compartment
Gas Hob and Electric Oven
Roasting Tins, pots, pans
Cafetiere
Wine glasses / tumblers and Champagne flutes
Plates / bowls / mugs
Plenty of cutlery and kitchen utensils
Chopping Boards
Dining for 4
Should there be a particular cooking item that you need for your stay we do suggest to bring it along with you - for peace of mind.

Outside
​Outhouse opposite the front door with the space for bicycle storage for up to 4 bicycles
Tumble Dryer and cleaning equipment stored in here 
Free on street car parking immediately outside the house and further parking in the village
​You Should Know
​Please note that we are dog friendly at this property however there is no outdoor space or garden at Applehoe. The property is next to the road and we therefore advise that any dogs are always kept on a lead whilst outside the property. For your information, a maximum of one dog is allowed on site if pre-arranged - you will be expected to keep it out of the bedrooms and off the soft furnishings. We do charge £30 per dog for the duration of your stay. Please see our dog policy for further details. 
Due to the character and age of the cottage, please note the stairs are steep so may be unsuitable for the less agile or toddlers.
Noise Policy - due to the quiet village location, late night noise must be confined to inside the building by 10pm. Neighbours are in close proximity - not suitable for rowdy groups due to residential area.
WiFi – we provide free WiFi however as the Peak District is in a beautiful rural location sometimes there can be intermittent WiFi signal that is beyond our control, we also hope you appreciate that we cannot guarantee WiFi if there are technical issues out of our control.

No fireworks due to village location
Note that the fire on the photos is for decoration only and not in use.

​Location
The postcode is DE45 1TG - for more details check the directions page
In the heart of the village of Great Longstone and within walking distance of The Monsal Trail. The popular White Lion gastropub is a two minute walk from the cottage. 
Great Longstone village shop provides all the basics as well as an excellent stock of locally sourced goodies, and homemade pies, cakes and treats. They also stock everyday essentials, and logs for your fire! Should you wish for something more sophisticated the Chatsworth Farm Shop is only a short drive away. Bakewell is also a short drive away with an Aldi and Co-Op supermarket and a variety of good quality local stores.
The nearest town is Bakewell
​Booking & Payment Process
We ask for a 25% deposit to confirm a booking​
The balance is due 12 weeks prior to arrival
Full payment is due upon booking if it is booked with 12 weeks prior to arrival
A cautionary damage deposit of £100 is held and returned after your stay
​Shopping & Delivery Information
For ease, lots of our guests pre-ordered a shopping delivery. You are very welcome to organise this however, please do make sure you have arranged the delivery time slot to arrive after you have checked in, as we are unable to accept it on your behalf (as the property is let as exclusive use there are no Peak Venues staff on site).

​
​Local Shopping Delivery from Local Producers - Sauced Here
Keep it local! Our guests often ask for recommendations for local farm shops and butchers for the all-important celebration meals and this is a brilliant and very easy service. Sauced Here has similar functionality to an online supermarket but is only stocked by local suppliers in the Peak District - order your wine, meat, vegetables, dairy and so much more with a choice of over a thousand products and at reasonable prices. It's a great service which delivers straight to your holiday cottage or you can click and collect at a local pick up point.

Dates Already Booked? Click Here or Call Us for Fabulous Alternative Options
Ready to Book?
Quick Enquiry
Key
Available
Not Available
Changeover Day