River CottageSleeps 20
Beautiful large group self catering house full of character in stunning gardens with a riverside setting. A five minute stroll to arguably the most beautiful village in the Peak District, Ashford in the Water. Flexible accommodation for groups of up to 20 guests.
Stunning Large Self Catering Cottage in the Picturesque Village of Ashford in the Water
Highlights......
7 gorgeous bedrooms
7 private bathrooms
1 Bunk Room
Sleeps up to 20 guests
Dog Friendly
Set in a stunning garden setting, right on the banks of the River Wye, enjoy watching the wildlife while sitting in the established manicured gardens. 

Village location - take an easy 5-10 minute stroll down the country lane, to arguably the most beautiful village in the Peak District National Park

You can enjoy walking to the local village pub, The Bull's Head, or the tea room and  village shop.
Conveniently located near to Bakewell, known as the 'heart' of the Peak District as well as being near to the stately homes of Chatsworth and Haddon Hall.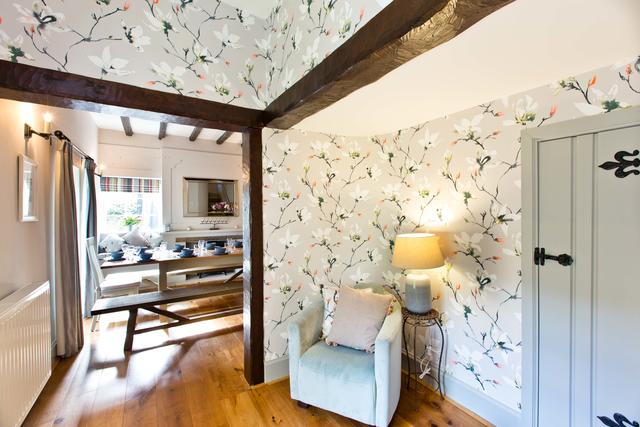 Bedrooms and Bathrooms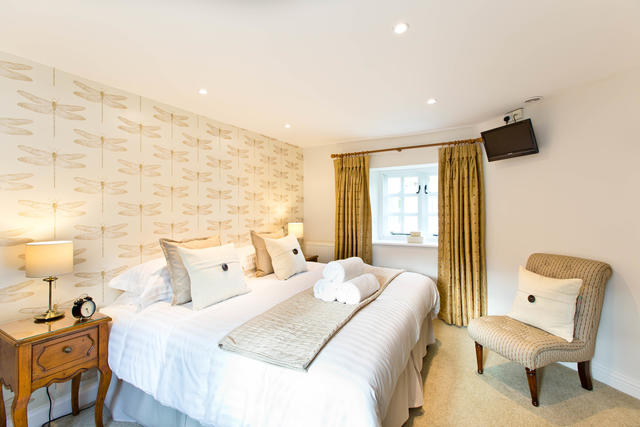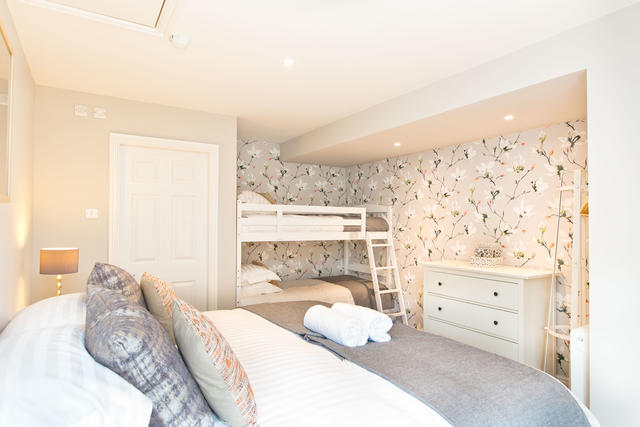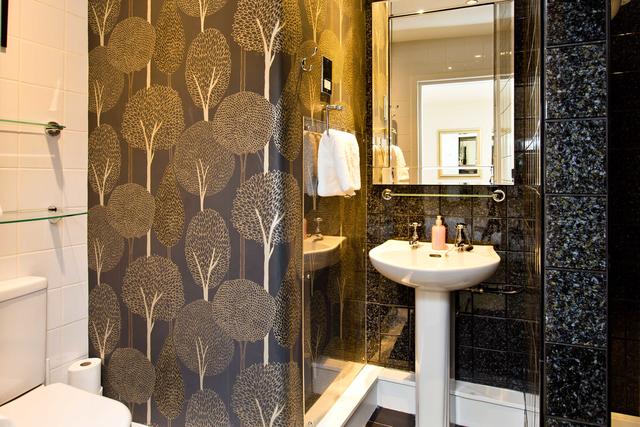 There are eight fabulous bedrooms in total. We know that groups come in all shapes and sizes and have different requirements so there is a mix of doubles, twins and bunk beds so you can pick and choose your layout to suit up to 20 adult guests. 
Please click here for the bedroom layout.

Cooking and Dining
There is plenty of space to cater for your group with a Range Master double oven with grill and 6 gas hobs plus an additional smaller oven has been added for extra cooking capacity. The kitchen is well stocked with all the equipment and mod cons you need to self cater for large groups. You can enjoy delightful views of the stunning garden and direct access to a  large paved terrace.
To one end of the kitchen there is a lovely informal dining space with built in comfortable bench seating and a separate beamed dining room with plenty of space to dine up to 20 guests.
Please click here for the finer details of what to expect at the property.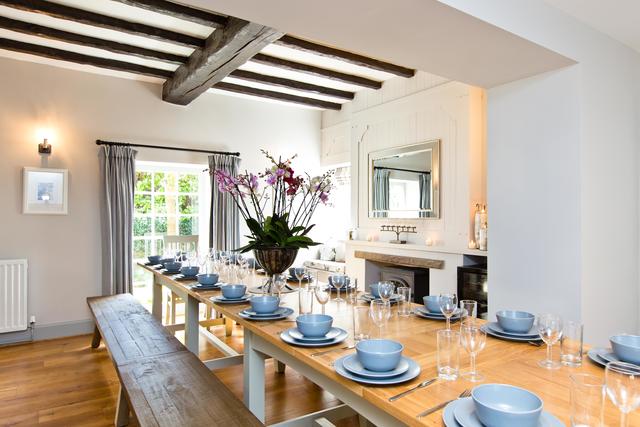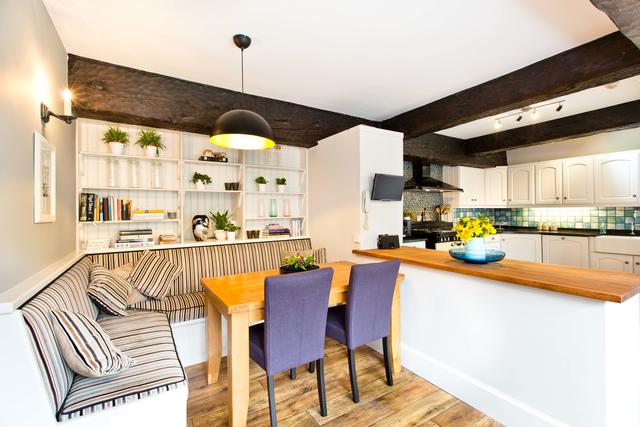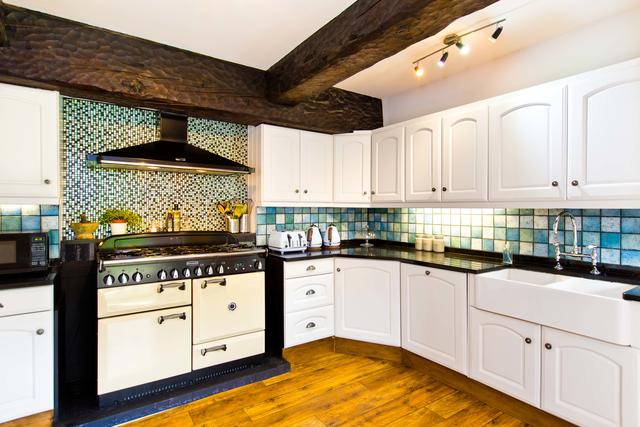 Living Spaces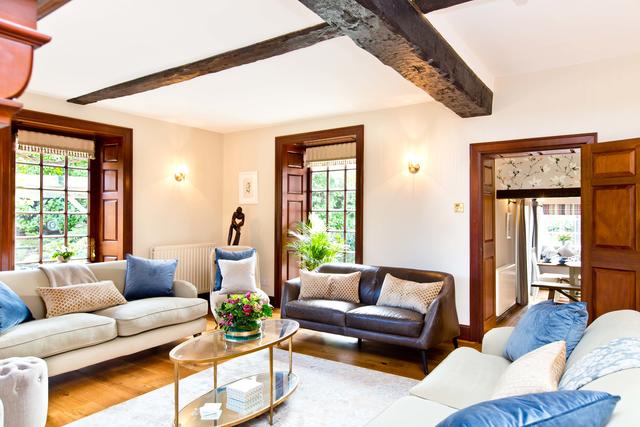 After a day exploring The Peaks, you can relax in the beautifully styled sitting room with the warmth of an electric fire creating a cosy atmosphere.  Decorated in neutral decor and filled with gorgeous soft furnishings and comfy sofas. The rich tones of the mahogany finish and solid oak floor provide a lovely place to gather. 

The floor to ceiling windows attract masses of light that flood the room and enjoy views of the garden towards the river and the hills beyond.

Please click here for the floorplans of the property.

Garden and Outdoor Space
Although the house is located on the main road (A6 between Buxton and Bakewell), you'll find the established and beautifully manicured garden to be a riverside refuge.  Guests often congregate at the edge of the river of an evening, usually with a glass of wine, and enjoy watching the trout and the ducks competing for food.
There is plenty of garden furniture with an extendible table for outdoor dining.  When the weather is kind you could cook outside and use the large BBQ available for use from 01st April through to 31st October, please supply your own charcoal and lighting equipment, so you can eat and drink whilst enjoying some fresh country air, riverside views with dramatic hills as a backdrop.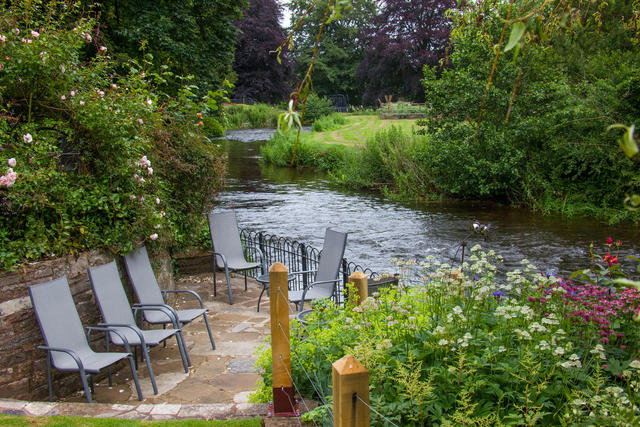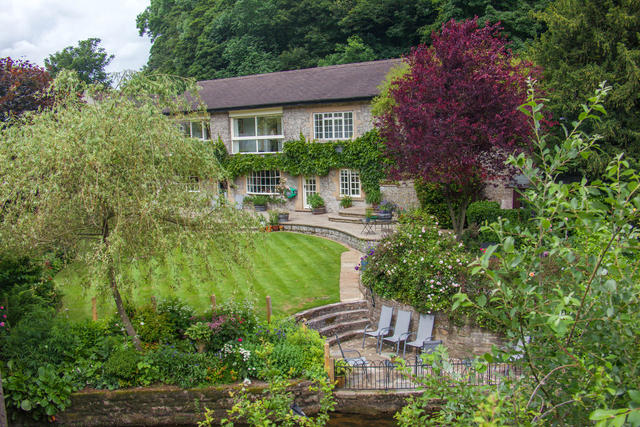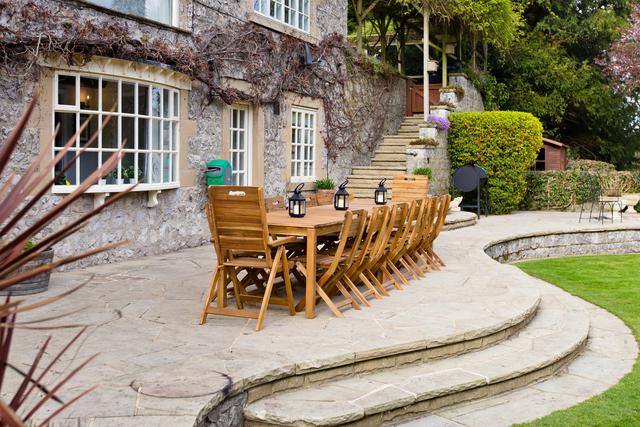 The Peak District and Surrounding Area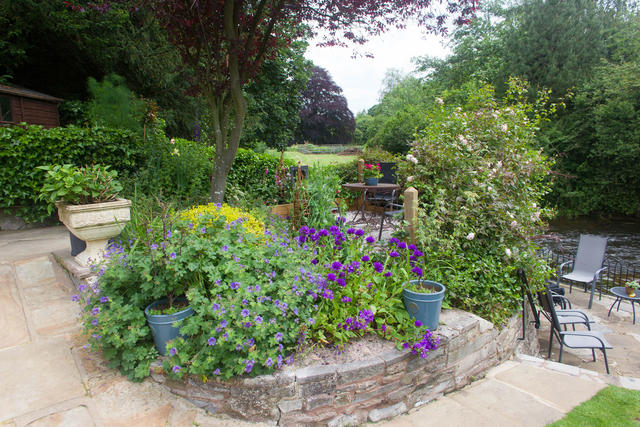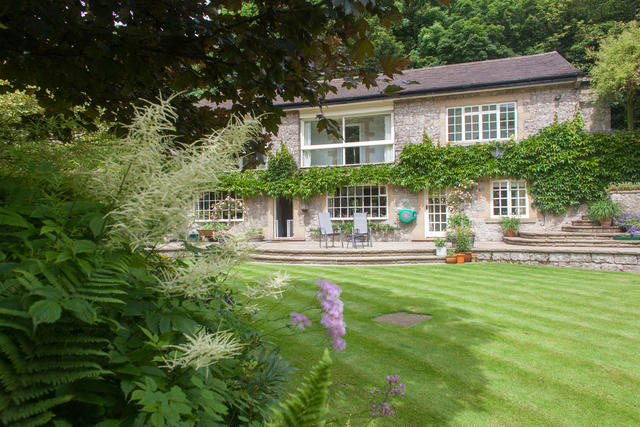 River Cottage is situated on the edge of Ashford-in-the-Water, one of the most scenic and popular villages in the Peak District National Park. You are a few minutes level stroll into the village which is well served with amenities such as a country pub and village store.

Just two miles (3.2 km) to the north west of Bakewell and conveniently located on the main A6, River Cottage makes a great base for visiting the most amazing of Peak District treats for you to enjoy - the ancient market town of Bakewell (2 minutes dive), Chatsworth House (10 mins drive), Haddon Hall (10 minutes drive), historic spa town of Buxton (12 minutes) to name just a few.

Alternatively, head off on foot in whatever direction takes your fancy with access to the most incredible walks and dramatic landscape the Peak District has to offer right from your door step. The famous Monsal Head is one of our recommended circular walks from Ashford or you can drive there to enjoy the view in only 3 minutes.
Please click here for our recommendations to help you plan your stay.

Photo Gallery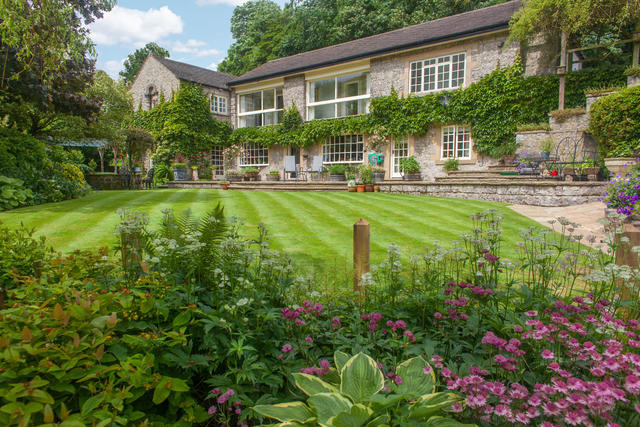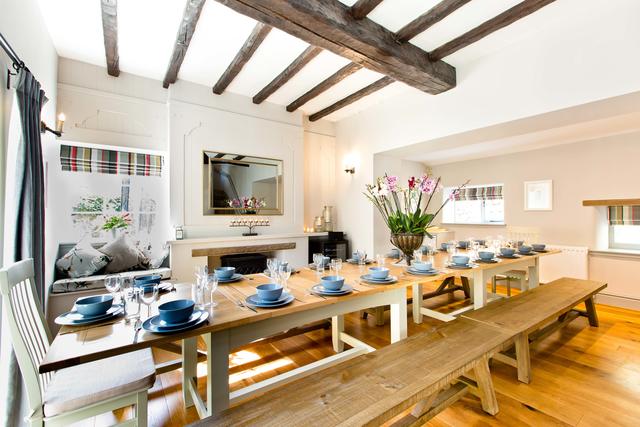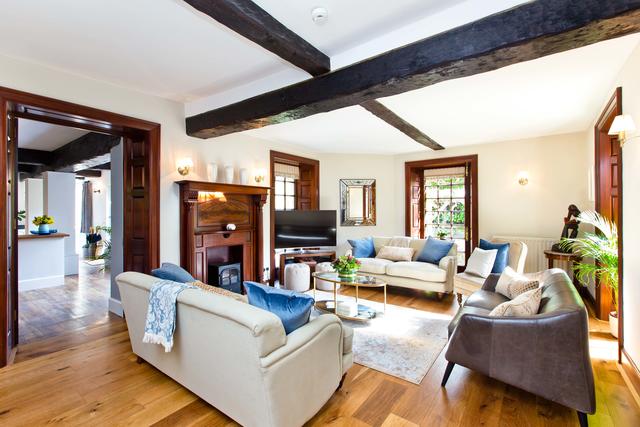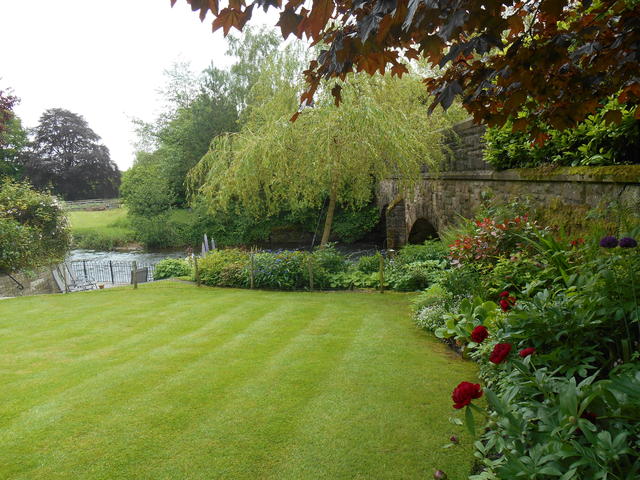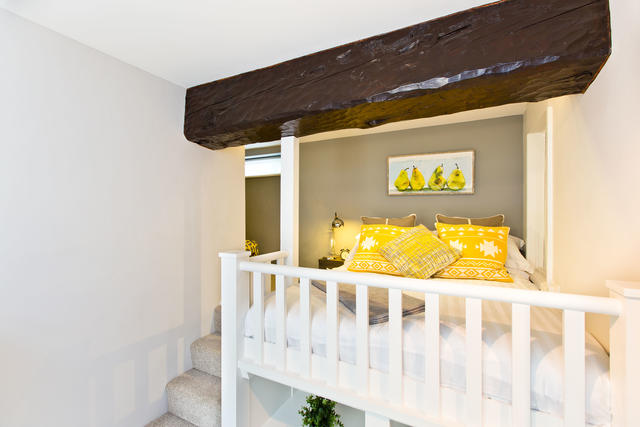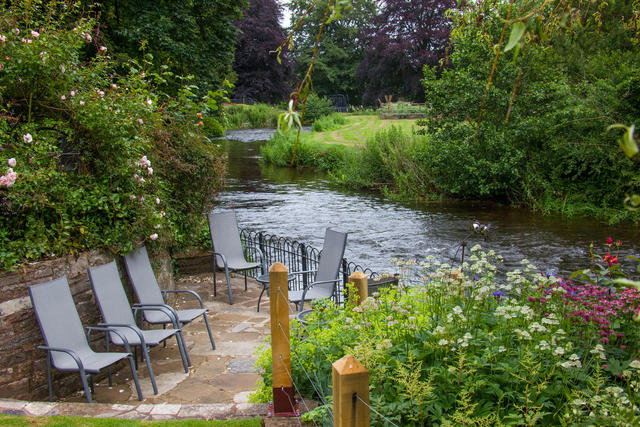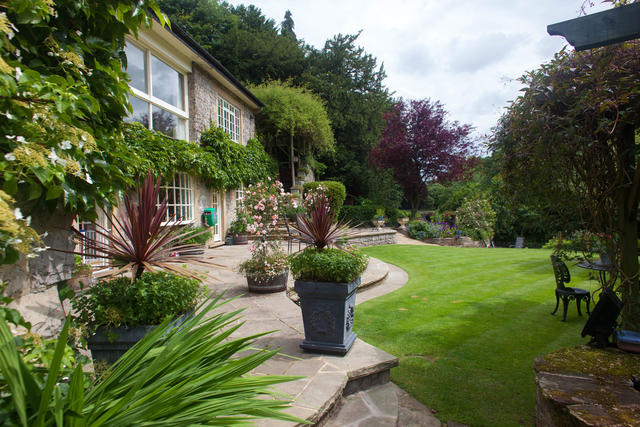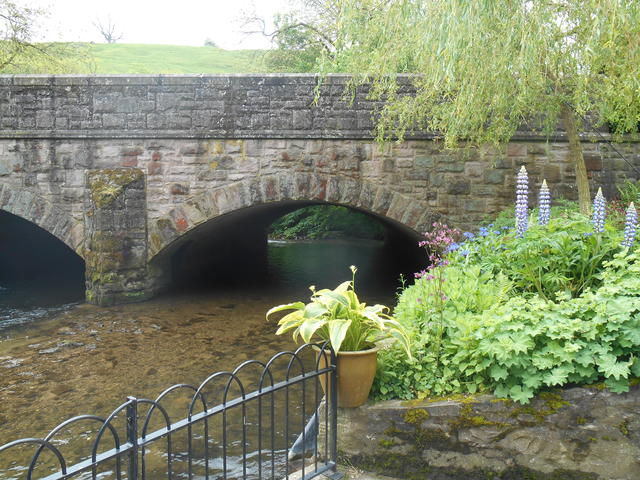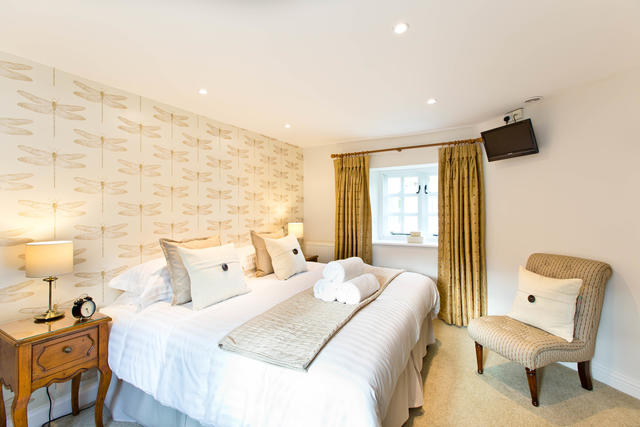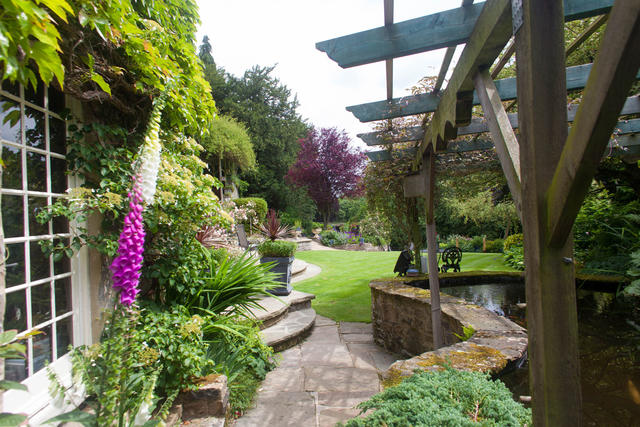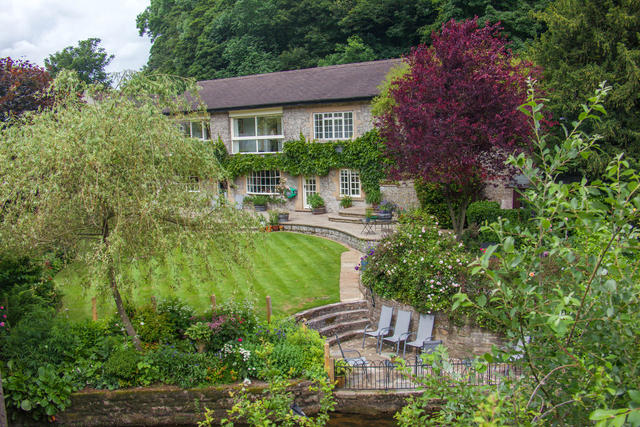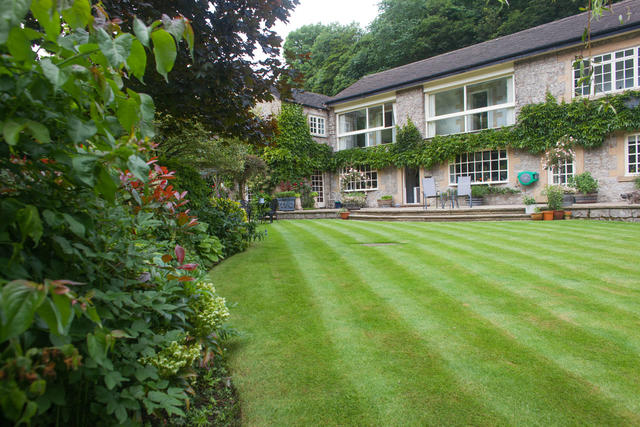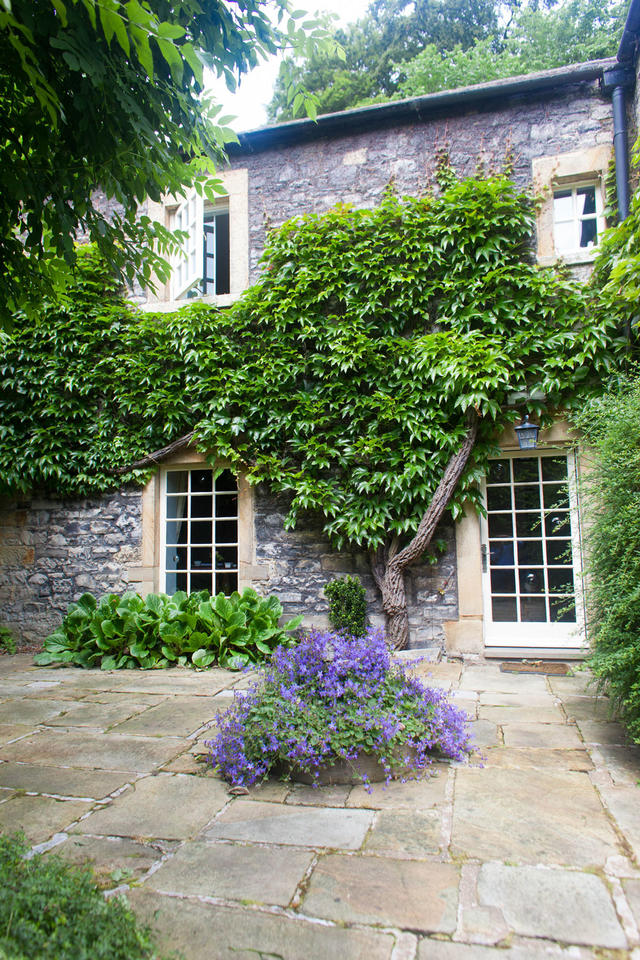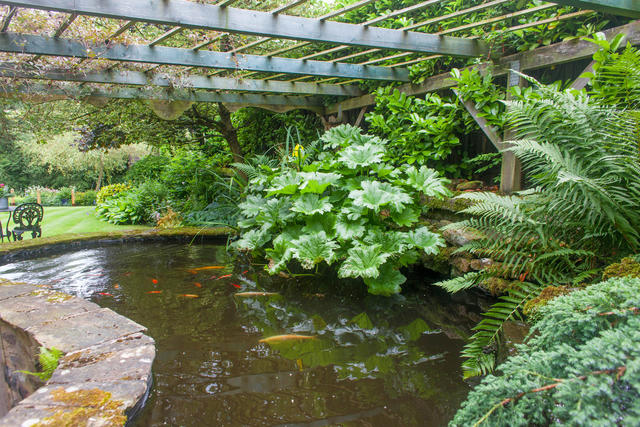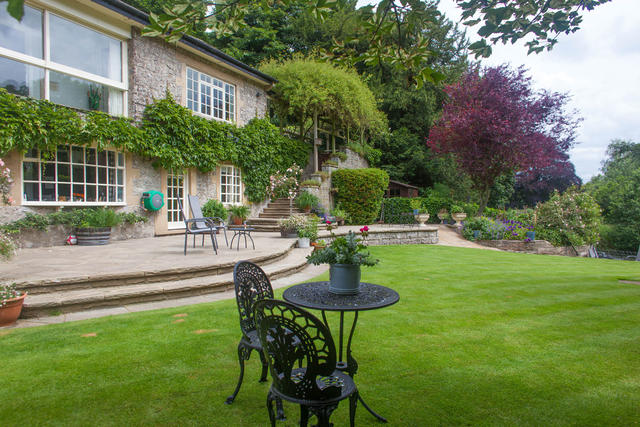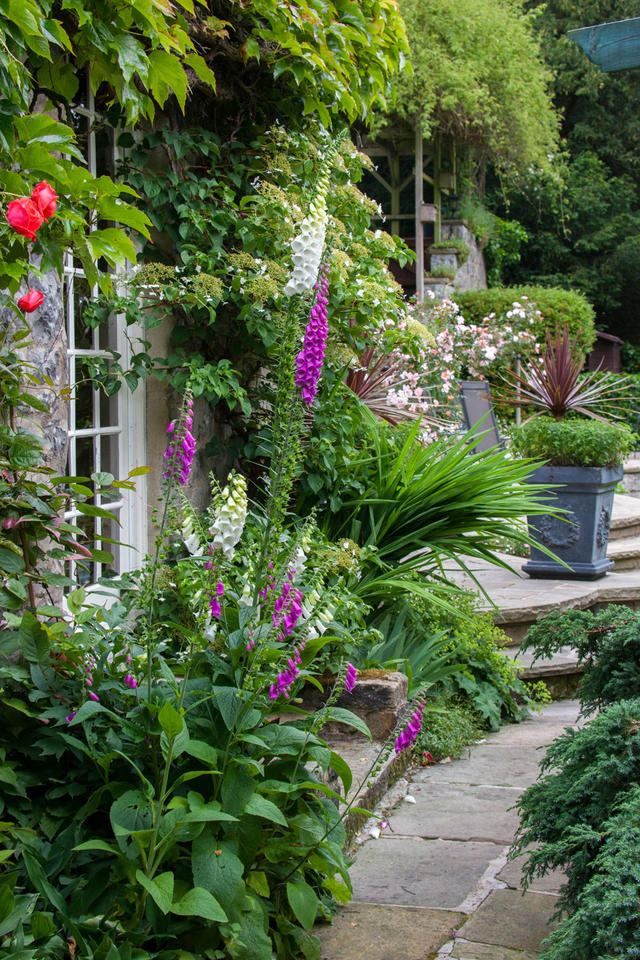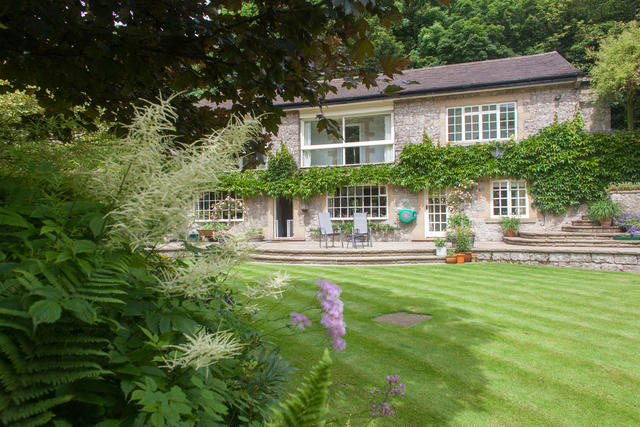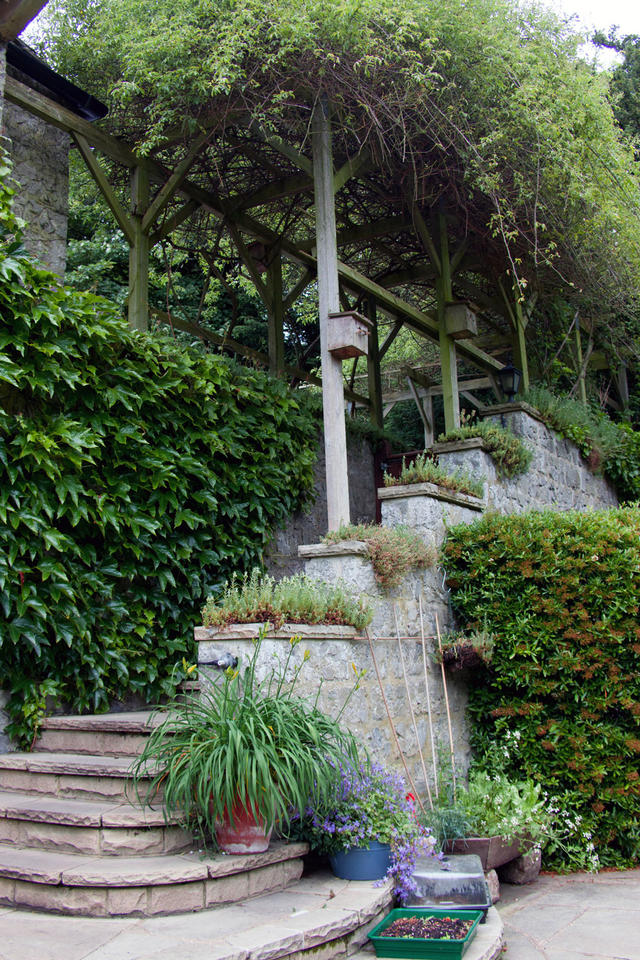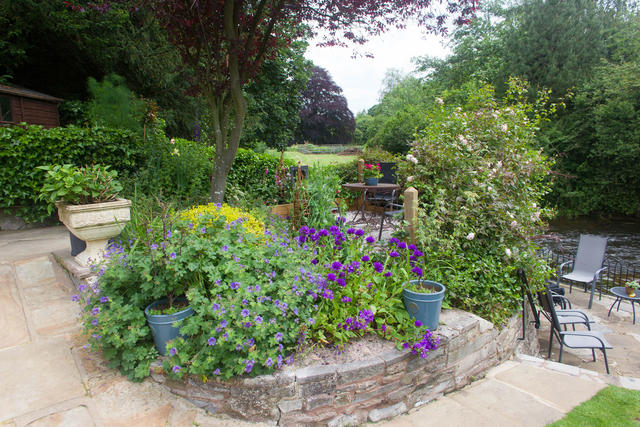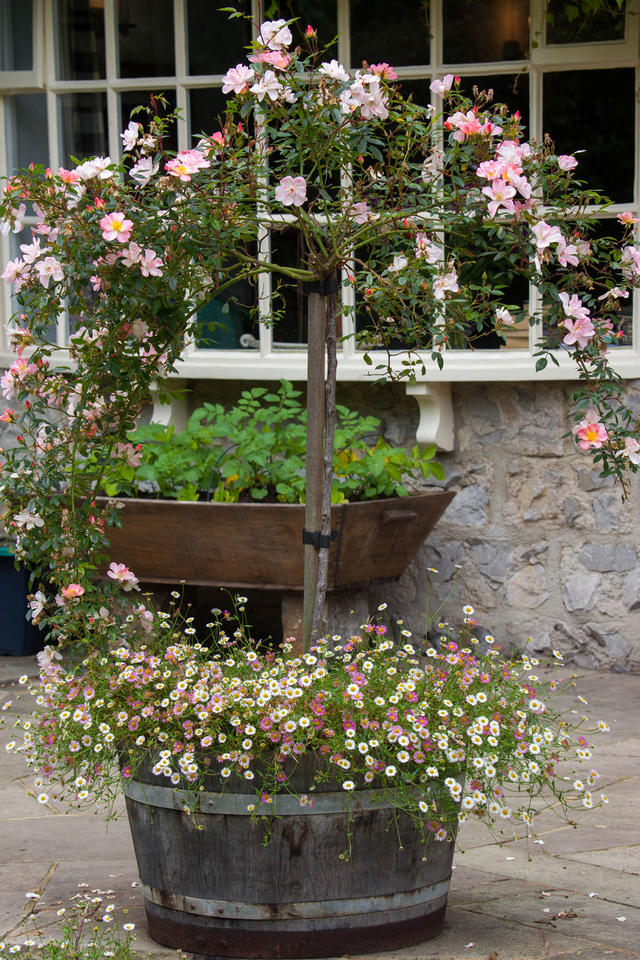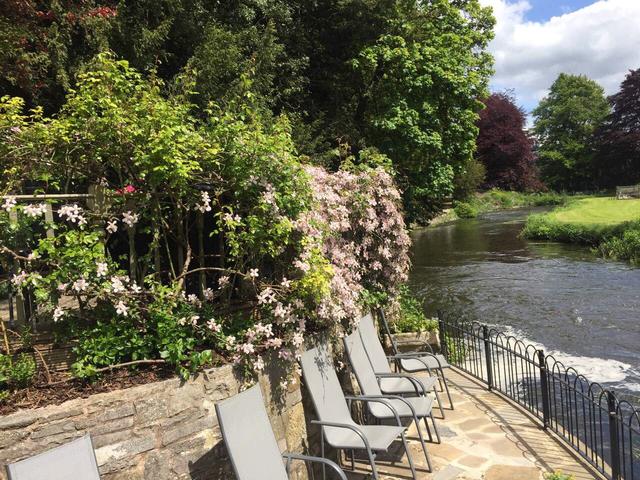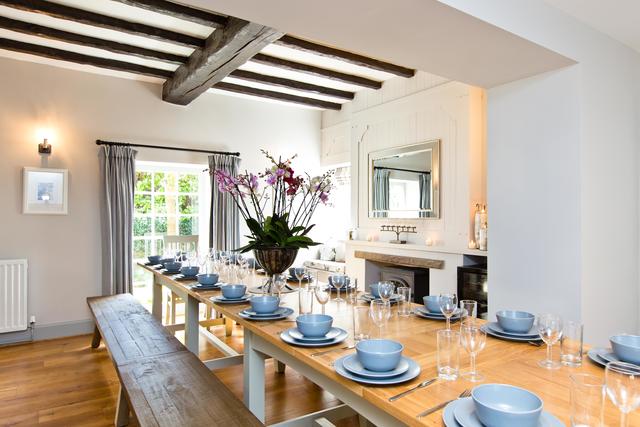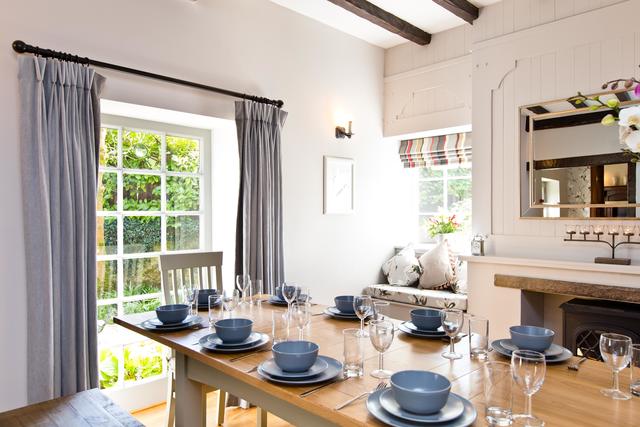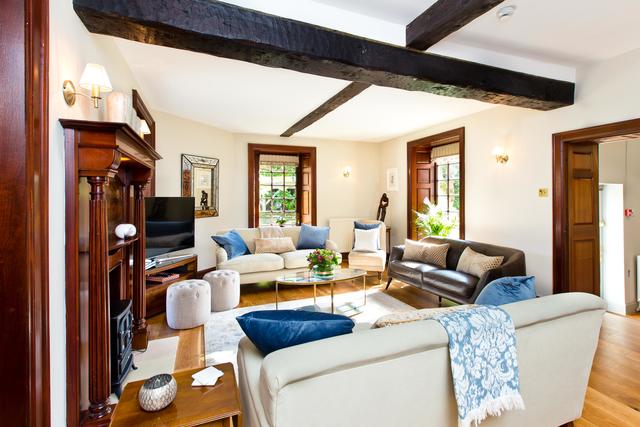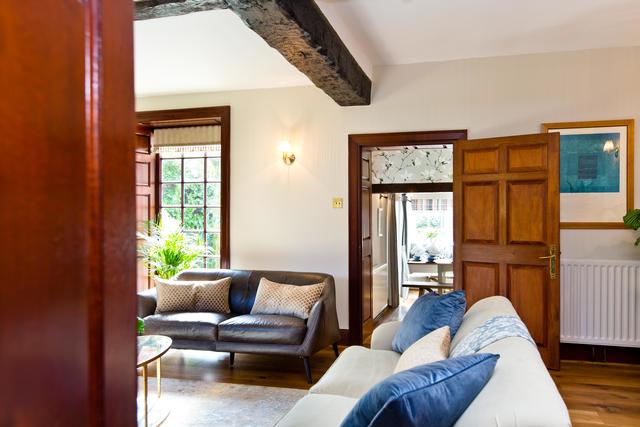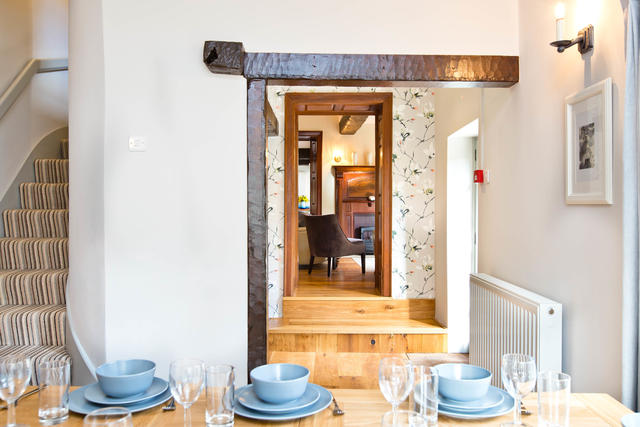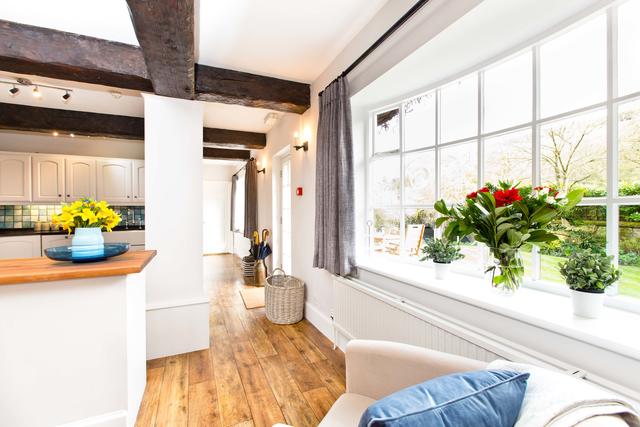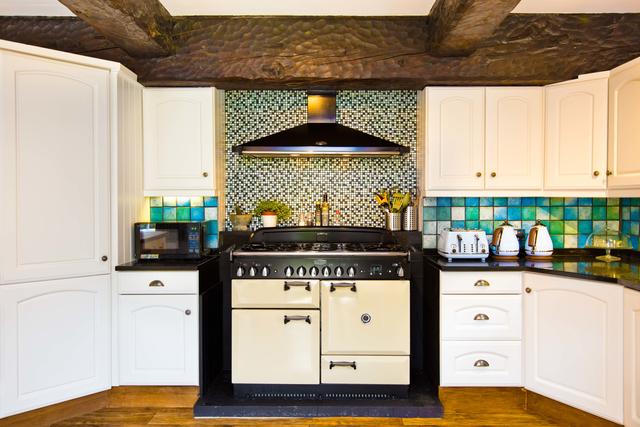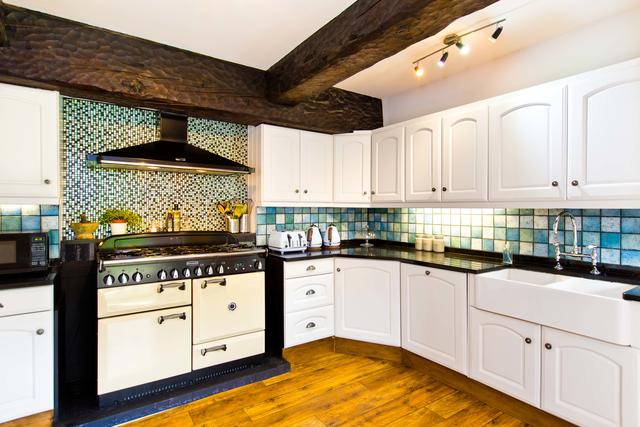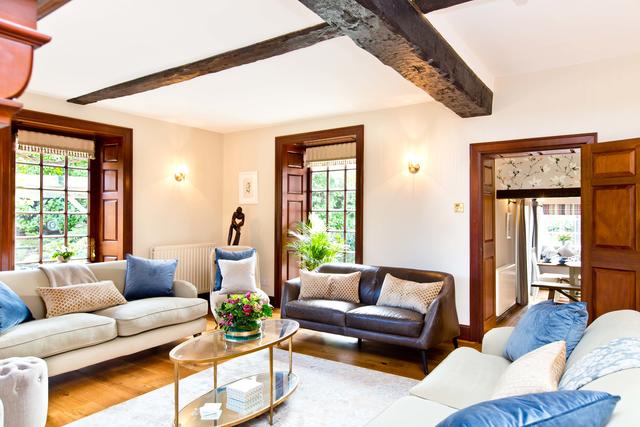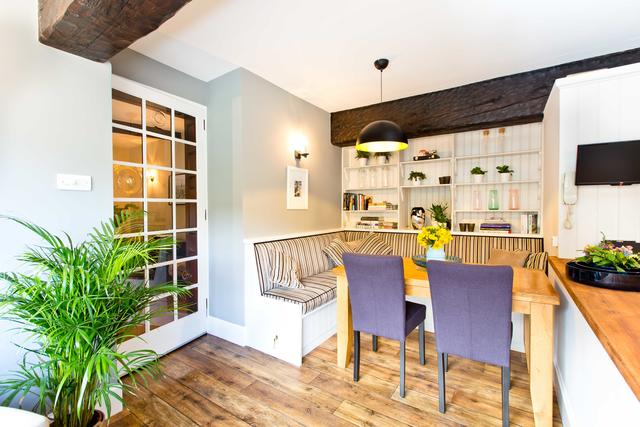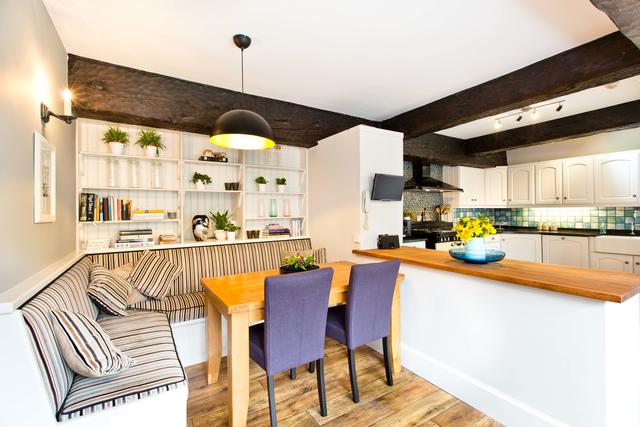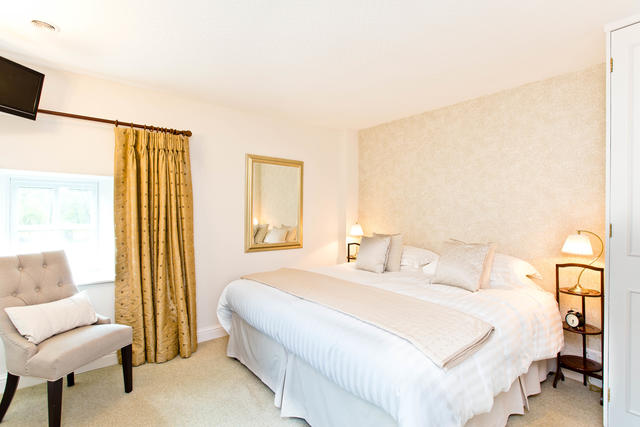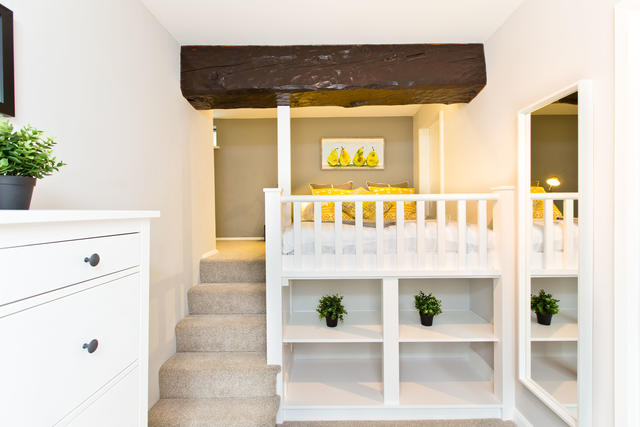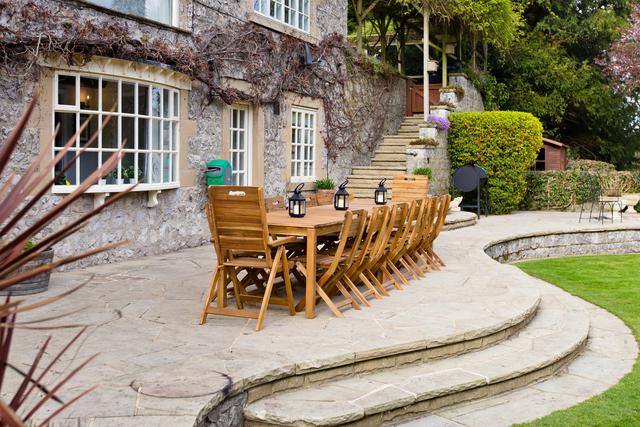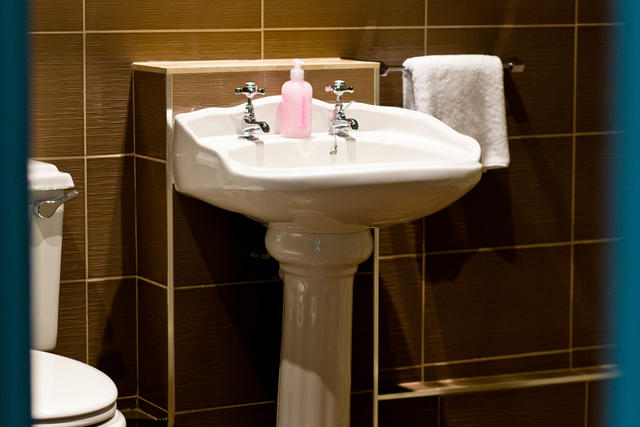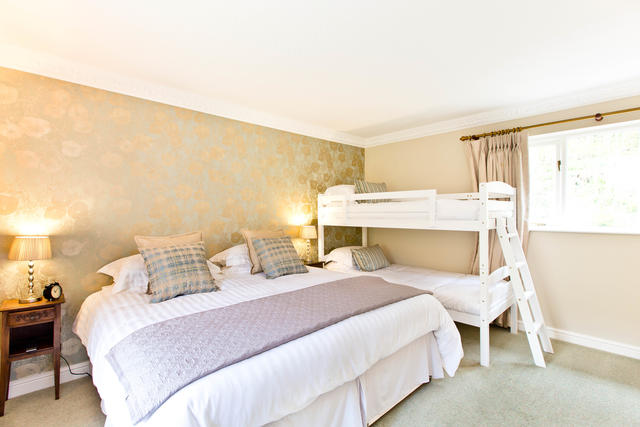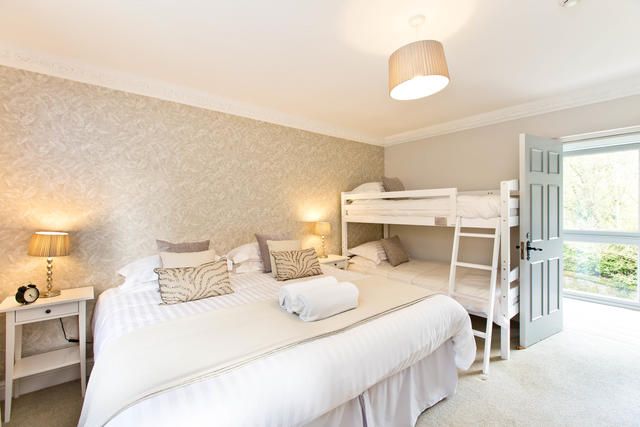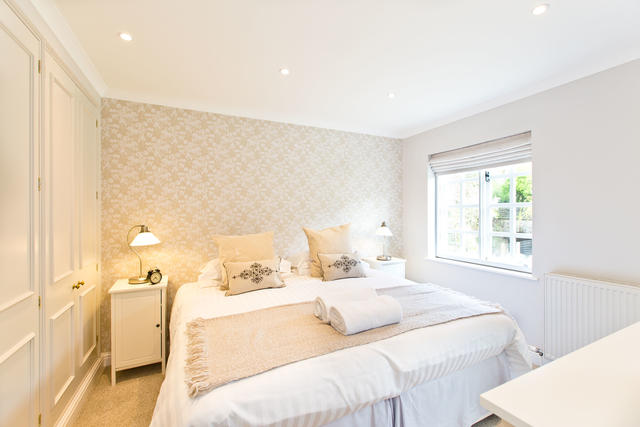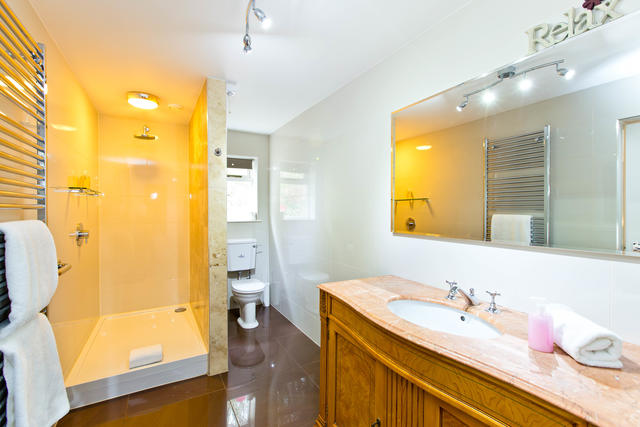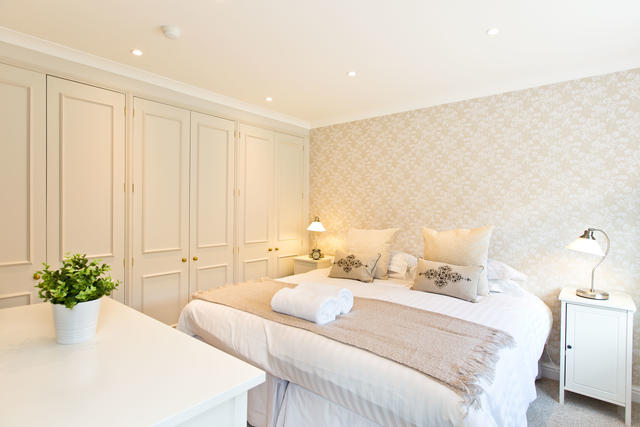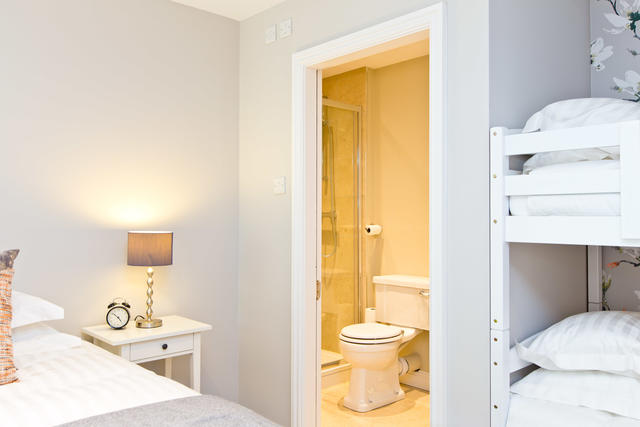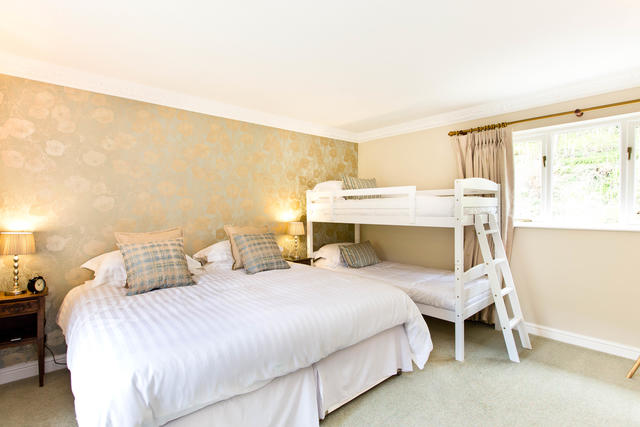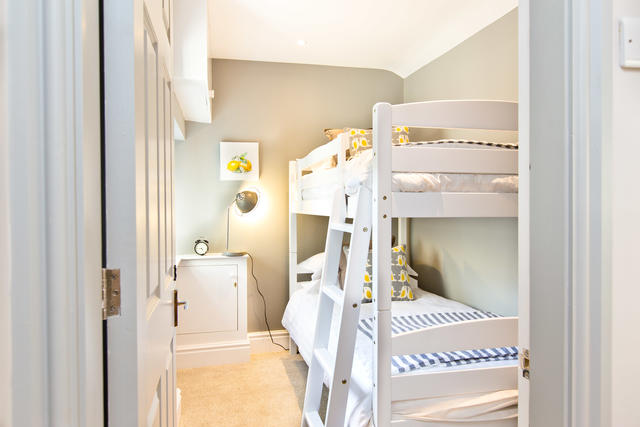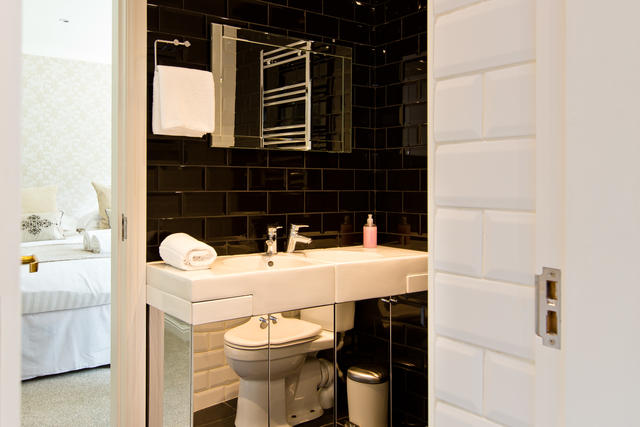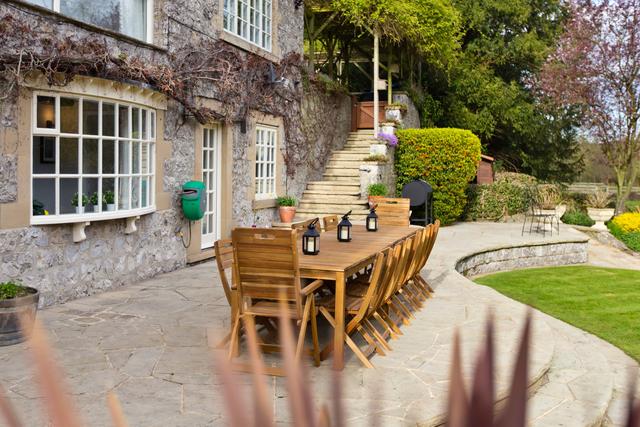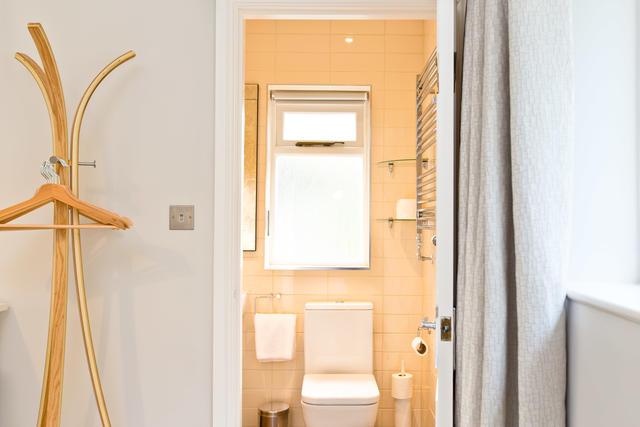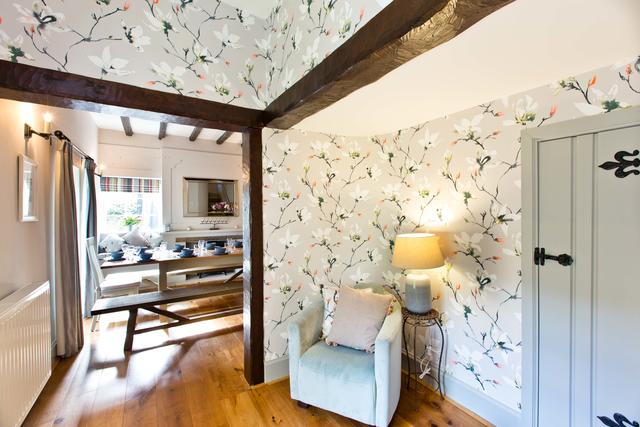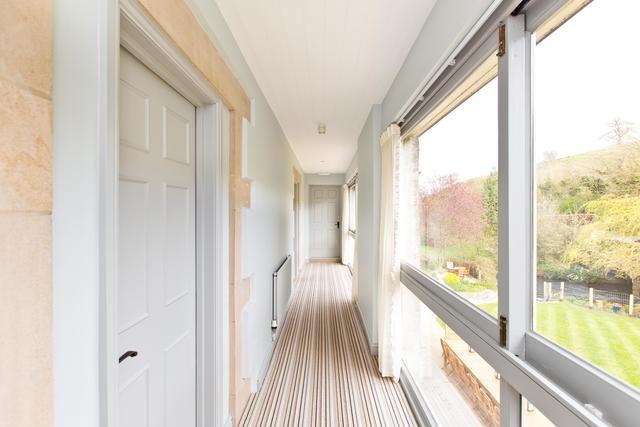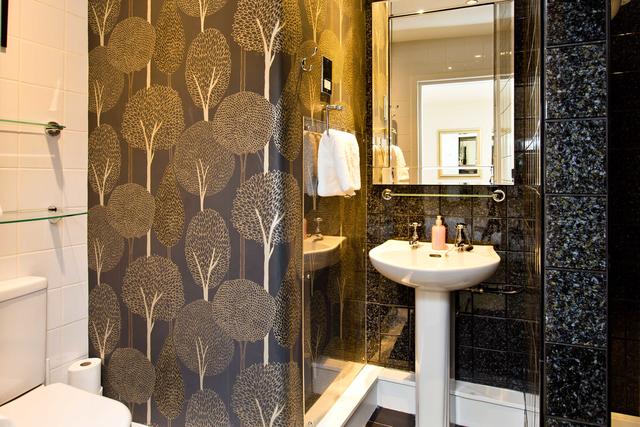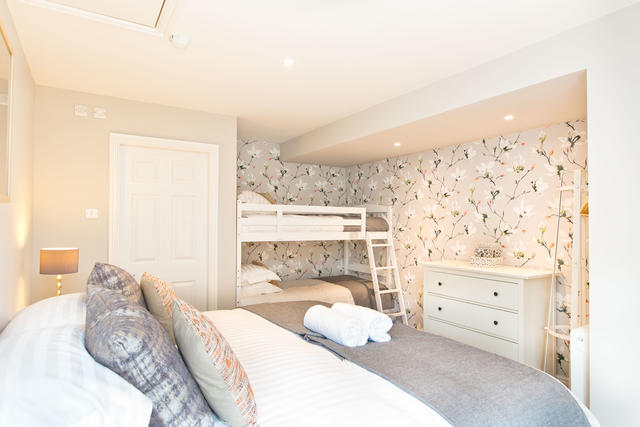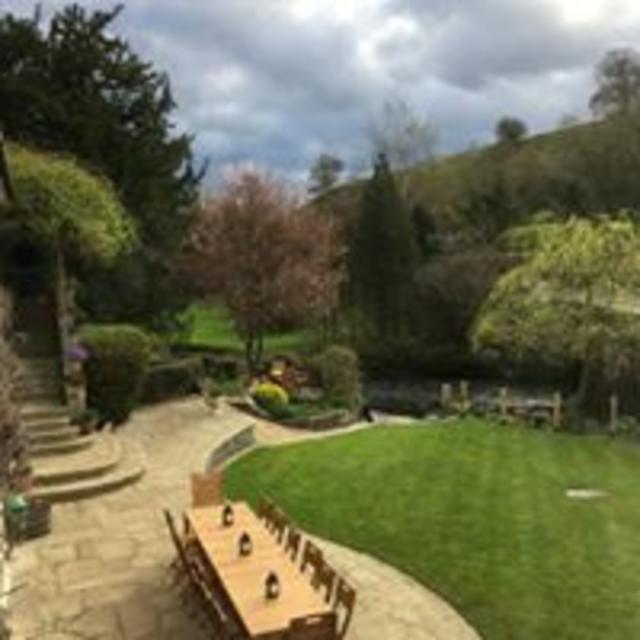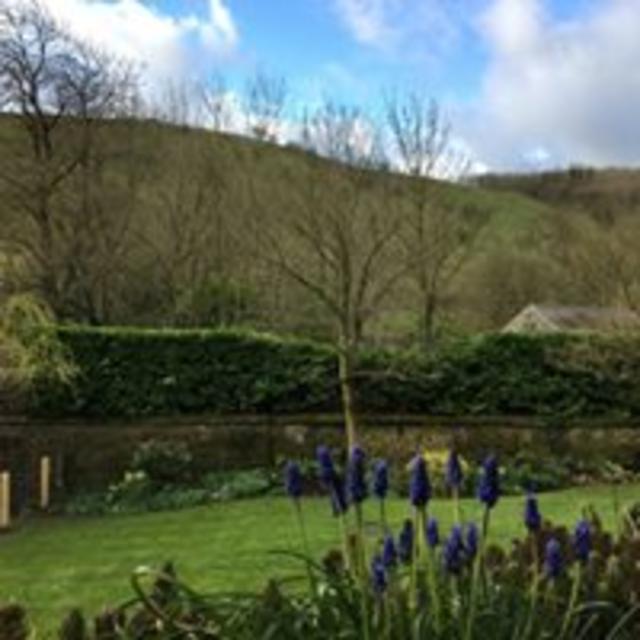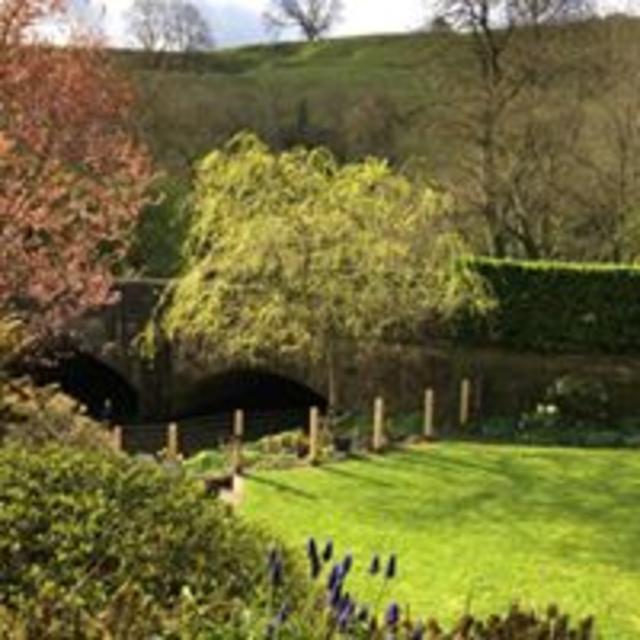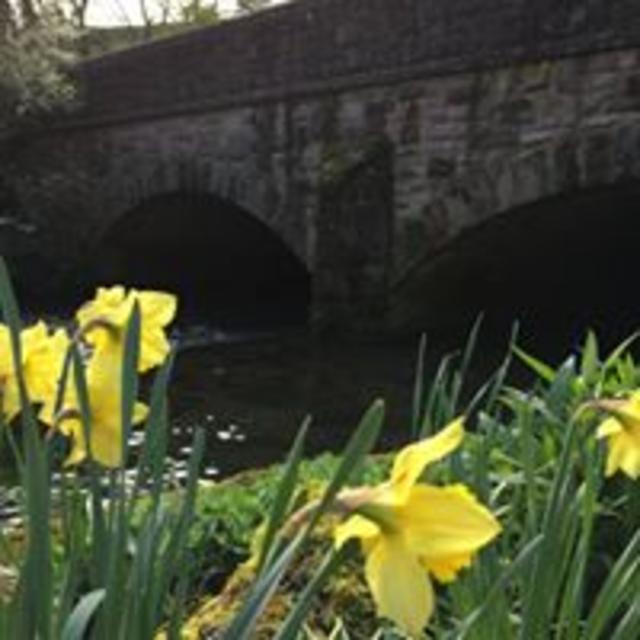 How To Find Us
Directions
The address of River Cottage is:
Buxton Road,Ashford-in-the-Water,Derbyshire.DE45 1QP
Approx GPS coordinates of the property are: 53.222239, -1.716592
Use 'What3Words' to find exact location: ///mastering.accusing.areas Download the 'App' here: 'What3Words' 
Directions to River Cottage by car from Bakewell (approx. 5 mins):
Follow signs to the A6 (Buxton Road)- continue along this for 1.8 miles.
You will go past a right hand turning to Ashford / Ashford-in-the-Water, Chesterfield & Sheffield.
Shortly after there will be a smaller turning on your left to Sheldon
At this point make your right signal, River Cottage is situated on the corner of the next right-hand side turning.
Take the turning and River Cottage will be immediately on your right hand side.
You have arrived at River Cottage!
Directions to River Cottage by car from Buxton (approx. 15 minutes):
Follow signs to the A6- continue along this for approximately 9 miles.
You will come to a sign post on your left saying Ashford /  Ashford-in-the-Water take this left turn and River Cottage is immediately on your right hand-side.
You have arrived at River Cottage!
Parking
There is off-road parking for approximately 4 cars.
Either side of the off-road parking there is roadside swing on/swing off parking for a further 3-4 cars either side.



Floor Plans
To view or download the floorplan for this property click here.
Viewing PDFs
The file is in PDF format so you'll need a PDF viewer, such as Adobe Acrobat, to view them.
Virtual Tour
Why not take a closer look. Using state of the art technology we can let you take a walk around the wholeof this property.
If you're using a phone or a tablet, you may find the tour easier to navigate in a window of its own. Click here to launch.
---
Guestbook
The following comments are taken straight from the guestbook we keep for River Cottage. Verbatim.
Culshaw stayed in October '21
We really enjoyed our weekend there – the house and its surroundings are lovely and we had good weather for walking and sightseeing. Please thank the owners. Thank you for your attention and help in the more than two years since we made this original booking!
Mcgilloway stayed in September '21
We had a fabulous weekend in River Cottage, it was a stunning venue for our celebrations. Thank you! it was extremely well equipped for us, especially in the kitchen and all the bedrooms were very comfortable. Even the weather was kind to us!
Mrs M Gisbourne stayed in August '21
"What a truly brilliant time we had here! We were so lucky with the weather so the kids we able to run around and play safely outside - which was big enough but not so vast we couldn't always see them. The cottage was impeccably clean, with nice new pillows, really tastefully styled and decorated. I was super impressed that though there were lots of us we never had a problem finding enough plates/cups etc and all the bathrooms were modern and beautifully clean. We had a wander into the village one afternoon which was a perfect little stroll with a nice park, cafe, pubs etc and we were within a short drive for a lovely day at chatsworth! All in all a great weekend and we will definitely book it again next time we want to get families together."
A Turner stayed in August '21
"We had an absolutely superb few days with friends at River cottage and it was beautiful. Firstly its a huge cottage but still manages to feel cosy and very welcoming. Our room was lovely, large comfy bed and all the normal facilities you could need. We stayed in the corner room so could see part of the garden as well as the rolling hills out of the other window and despite being roadside we couldn't hear traffic at all. The rooms are to a high standard - good sleep all round for us! We stayed here in summer so we were outside much of the time so didn't use the sitting room or the ample dining area much - although it is well equipped with a small bar and a very handy toilet. The sitting room was really useful for a chill out area for the children. The outside space is a lovely mature garden with a koi pond which the children loved, and of course you have the river right at the end of garden! Several different seating areas and a sizable lawn which was great for the children to play. The BBQ area is fabulous, which of course we made use of. The location is stunning and it was easy to find, wonderful to be nearby such pretty villages so there is always something to go and do or go and look at or even hike to. We loved our stay and cannot wait to return. Highly recommend."
R Shearer stayed in August '21
"We had the most phenomenal stay at River Cottage! The house is simple exquisite. So much space, yet lots of intimate cosy areas to relax in. Beautifully and tastefully decorated, felt like we were staying in our very own boutique hotel. The beds were exceptionally comfortable and we slept like logs, despite being with a large group of friends the bedrooms were extremely quiet. The cottage was set in the most divine location; we enjoyed lots of al fresco meals out on the terrace overlooking the stream. The garden is simply beautiful. I cannot recommend this cottage enough, counting down the days until we return!"
anonymous stayed in November '19
The house was great and was its location.
Mcdonald stayed in November '19
I cannot tell you how much we loved our few days at River Cottage. We had a ball and my husband loved his celebrations. As for the house, it had EVERYTHING you could possibly need and suited our large party down to the ground. We thought it was absolutely gorgeous, the actual house itself, the soft furnishings and everything in it … beautiful. We actually couldn't fault it, it was truly wonderful and are thinking of returning in the summer as we would have liked more time to explore and sit out next to the river. I hope we left the house as we found it. Thanks once again for being great and for enabling us to have such a wonderful memorable time.
Scott stayed in August '19
Honestly it was such an amazing venue for the weekend... our bride to be loved it!
anonymous stayed in May '19
Truly fabulous venue and service.
anonymous stayed in December '18
Super service, good comms via email, really good recommendations of local produce suppliers, delivery of other shopping and pubs etc.
Bardgett stayed in September '18
Many thanks, we had a wonderful weekend and the house was beautiful and the perfect location for us.
Anonymous stayed in April '18
Fantastic venue in a lovely village, the cottage was ideal for our family celebration.
Little stayed in January '18
We had a great time at River Cottage over the weekend - the house was perfect for our group.
Fowler stayed in December '17
We had a wonderful stay and the house and your service was amazing.
Gallop stayed in September '17
We had a great stay!
Norton stayed in August '17
Thanks again for everything. The cottage, your communication and Gilly's we're all amazing. We will definitely be back with our families!
Fletcher stayed in July '17
We thoroughly enjoyed our stay! The house was brilliant! The decor was fab, there was great communal space for us all, and it was very well equipped!
Philp stayed in June '17
We had a fabulous weekend at River Cottage, it really has been superbly finished, furnished and equipped.
Farmanfarmai stayed in June '17
House was amazing, perfect for what we needed!
Smith stayed in June '17
It was a great trip and I have already recommended River Cottage and Peak Venues to friends. It was well decorated and well appointed. Many thanks
Tue stayed in April '17
We all enjoyed the stay and the house was lovely!
Sieber stayed in April '17
Just to say how VERY much we all enjoyed being at 'River Cottage' this weekend. We were a large family group of retired people, young professionals, teenagers, students and a 9 month old and it suited us all!!! We spent lots of time in the garden of course and made friends with the ducks and the fish. I intend to send an email to 'PeakVenues' to say what a lovely place you have. We would love to come back next year about the same time and will try to get it booked up asap.
Oram stayed in March '17
We had a great weekend, thank you
Sign the Guestbook
If you have comments you'd like to leave then please get in touch. We love to hear all feedback - good or bad.
Your Stay At River Cottage
Our Favourite Places to Eat Nearby
Cafes
Aisseford Tea Room, Ashford in the Water - Pretty village tea room with lots of outdoor seating.
The Bean and Bag, Bakewell - Family run café in the heart of Bakewell offering locally sourced freshly prepared meals, cakes and scones.
The Upstairs Café, Bakewell - A nice child –friendly café located in the centre of Bakewell.
Lavender Tea Rooms, Bakewell - A lovely quaint tea room, hidden in the corner of Hebden court, the charming décor includes vintage memorabilia and there's outside seating in the sheltered courtyard. A great place for afternoon tea.
Hassop Station Café & Bookshop - A  family friendly cafe with outdoor covered seating and play, with a focus on food, family & fresh air. Enjoy brunch, lunch or afternoon tea on the terrace on the renown Monsal Trail or in the refurbished station building.
Hobbs Café, Monsal Head Hotel, Monsal Head - Situated at Monsal Head this cosy café offers great views and serves locally made ice cream.
The Old Smithy Café, Monyash - Rustic! Famous for its breakfast featured in the Top 50 Breakfast Book in the country. Character décor, open year round – walkers and bikers welcome. Also serves lunch daily with dinner on certain days.
Fresh Delivered Meals and Take-Aways

Sauced Here - fantastic selection of home made prepared meals from local chef/cooks - great for large groups. They also provide a full basket of groceries from local producers that can replace a supermarket delivery
Scoff - Delicious, home-cooked food, delivered to you in the Peak District
Eastern Court (Chinese)
Hope Valley Pizza Co - Take away pizza with free delivery
Maazi- Sumptuous Indian meal or buffet delivered to your door. Numerous catering options and can also provide waiting on staff and even take away the washing up.
Our Top 5 Places to Visit Nearby
1. Explore the pretty village of Ashford in the Water
Ashford in the Water is probably one of the most beautiful villages in the Peak District and is famous for its beautiful low arched medieval Sheepwash Bridge. You can easily spend an hour or so exploring the pretty village, it is particularly worth visiting when the well dressing festival is on as the village has 6 wells to dress, making it one of the largest well dressings in the area.
Click here for a link to further information on Ashford in the Water.
2. Cycle or Walk the Monsal Trail
With the Monsal Trail so close by it would be rude not to take the opportunity to cycle/walk along this old Midland Railway line which runs from Bakewell right up to Blackwell Mill, in Chee Dale. The trail offers 8.5 miles of traffic free and mud free cycling/walking and with the recently reopened tunnels offers one of the most spectacular leisure routes in Britain for cycling, walking and horse riding. The nearest cycle hire is at Hassop station which is a great place to stop for a bite to eat or for a coffee and piece of homemade cake! There is also a lovely little gift shop and book shop and a children's play area. If walking it is also worth leaving the trail and dropping down in to Monsal Dale itself to enjoy walking along down by the river.
Click here for a link to cycle hire at Hassop Station or here for more information on the Monsal Trail.
3. Take a tour around the Thornbridge Brewery
This award winning brewery is just down the road from the property and for any real ale lover taking a tour of this state-of-the art brewery is not to be missed. Tours take place very Wednesday and Friday at 3pm, booking is advisable. Also if you are lucky enough to be staying with us in the last week of the month, the brewery holds two socials on the last Wednesday (5-9pm) and the last Saturday (12-8pm) of each month. They generally have a range of 10 cask and keg Thornbridge beers, including Thornbridge favourites and also some of their rarer beers. They also run brewery tours on these socials at 6 and 7pm on the Wednesday and 3 and 5pm on the Saturday, again booking is advisable.

Click here for a link to Thornbridge Brewery.
4. Spend a day exploring the historic market town of Bakewell
Bakewell is the largest town within the Peak District National Park and is a hub of activity. Market day is on a Monday and as well as a large range of stalls there is also an agricultural market which is definitely worth a look around as it offers a great insight into today's farming community. The town also hosts a craft and gift fair every weekend in the Brigade town hall. The Bakewell Old House Museum occupies one of the oldest buildings in Bakewell and dates back to 1543, it provides a fascinating glimpse into the towns past and is very interesting and informative with lots to appeal to all ages.Obviously no trip to Bakewell would be complete without sampling an original Bakewell pudding. The Old Original Bakewell Pudding Shop claims to have the old original recipe and still makes the puddings by hand from the secret recipe.
Click here for a link to further information on Bakewell.
5.Chatsworth House and Park
No visit to the Peak District would be complete without visiting the fabulous Chatsworth House. At Chatsworth there is something to do for every member of the family. The Farmyard and Adventure playground is a brilliant day out for children of all ages - with animal handling, milking demonstrations and daily activities, plus a woodland adventure playground with slides, trampolines and more!Then there is obviously the house itself, steeped with history it's one of Britain's greatest stately homes and has been passed down through 16 generations of the Cavendish family. The gardens are equally as impressive as the house, over 100 acres and as well and the beautiful flowers and plants, there are giant water features and sculptures dotted around. Again suitable for all the family, with the maze, the garden trails, and the famous water cascade to keep the little ones occupied.
Click here for a link to Chatsworth House and Park.
Finer Details
What To Expect At River Cottage
A basic weekend supply of the following (as there are no staff on site if you run out you will have to replace):
Anti Bacterial Hand soap
Loo rolls
Bin bags
Washing up liquid
Cling film & kitchen foil
Dishwasher tablets
 4 x tea towels
1 x dish cloth
Basic cleaning materials
Utilities - electric, gas, heating and hot water
Useful Information
2 x high chairs (if requested)
2 x Travel Cots
5 x hair dryers
Fresh linen with beds made up upon arrival

Fresh towels - Bath towel for each guest & hand towels in the bathrooms
 Iron & ironing board and indoor clothes drying rack.

Hoover and mop
Washing machine and separate tumble dryer
Sonos 5 smart speaker
 6 x TV's located throughout the property. All of the TV's have Freeview, the largest TV which is a SMART, curved, 55inch TV is located in the sitting room.
Books and board games

Christmas - throughout December the property will have a Christmas Tree decorated with a set of lights
Cooking and Dining

For any kitchen items that are absolutely vital for your stay, please check with us before your visit to ensure that they are at the property (as things do sometimes get broken).
Crockery, glassware and cutlery enough for the maximum allowance of guests
Pans consist of 2 large, 3 medium and 3 small two handled ones. 2 one handled pan, large frying pans x 4, 1 x medium and 1 x small frying pan
Colander
3 large, 2 medium, 2 small baking trays
Yorkshire Pudding tray x 2
Ceramic oval serving platter x 2
Large and Medium Flan Dish
Medium Cake Tins x 2
Glass Salad Bowl / 2 large wooden salad bowls
Large Plastic Pitchers x 2
Large Glass Lasagne dish
Pizza trays x 2
Wooden Chopping Boards x 5
Plastic Chopping Boards x 8
Double oven with grill, 6 gas hobs. Also a further smaller oven.

1 x microwave
Nespresso Pixie coffee machine (guests will need to bring their own pods - takes the original Nespresso capsules).

Large fridge and separate freezer, there is also a drinks fridge located in the dining room.
2 x Double toasters
3 x Cafetieres
2 x Kettles
2 x Dishwashers

Kitchen scales
Kitchen Diner seating for 5/6 guests
2 long refectory tables and benches in the dining room, and a further 4 chairs. Dining for up to 20 guests.
​Outside
Large charcoal BBQ – 

available for use from 

01st April through to 31st October, please supply your own charcoal and lighting equipment.

Outdoor seating and extendable tables to seat 20 guests, 

available for use from 

01st April through to 31st October.



Riverside seating 

Enclosed garden
Fencing against the river 1.1metres tall and the fish pond is covered with railings for children's safety.
You Should Know
Please note that we are dog friendly at this property however there are livestock in the surrounding fields so dogs must be kept under control at all times. For your information, a maximum of two dogs are allowed on site if pre-arranged - you will be expected to keep them out of the bedrooms and off the soft furnishings. We have oak flooring throughout the ground  floor entertaining areas suitable for dogs. We do charge £30 per dog for the duration of your stay. Please see our dog policy for further details.

There is a fast flowing river at the bottom of the garden. For those with young children, you can rest assured that the garden has been made safe and is fully secure but as always we advise that you must never leave your youngsters unattended in this environment.

There is also a steel grid covering the fish pond.

There are steps down from the parking area which are not ideal for anyone with restricted mobility.
Bedroom two has a raised platform with double mattress (3ft from floor accessed via steps with low ceiling height) – great for children (not suitable for guests with mobility issues as there are steps up to it.)

Mobile reception - as this is a lovely rural location mobile reception can be limited dependent on your network.

No fireworks.
Noise Policy - due to the quiet village location, late night noise must be confined to inside the building by 10pm. Neighbours are in close proximity.
Wifi – we provide free wifi however as the Peak District is in a beautiful rural location sometimes there can be intermittent wifi signal that is beyond our control, we also hope you appreciate that we cannot guarantee wifi if there are technical issues out of our control.

Location

The postcode is DE45 1QP - Important please check directions page as the post code does not take you direct to the property.
On the outskirts of the village of Ashford in the Water the village has a shop and also a pub
Further shops, cafes and pubs in the nearby town of Bakewell only 2 miles away.
Nearest Supermarkets are Aldi which is on the main road just before Bakewell and then The Co-op situated in Bakewell's town centre
Parking for 4 cars on the drive and then 3-4 cars on either side of the drive (parking for at least 10 cars in total.)
There is a bus stop by the off-road parking which the Transpeak buses run hourly. Details of destinations can be found here . Please note this is a flag-down bus stop and the bus will only stop if you flag it down - you need to wait on the same side where the bus stop sign is for both directions

Booking and Payment Process
We ask for a 25% deposit to confirm a booking
The balance is due 12 weeks prior to arrival
Full payment is due upon booking if it is booked with 12 weeks prior to arrival
A cautionary damage deposit of £400 is held and returned after your stay
Click here for a full description of how to make a booking

Standard Supermarket Deliveries
For ease, lots of our guests organise a pre-ordered shopping delivery. You are very welcome to organise this however, please do make sure you have arranged the delivery time slot to arrive after you have checked in, as we are unable to accept it on your behalf (as the property is let as exclusive use there are no Peak Venues staff on site).

Local Shopping Delivery From Local Producers - Sauced Here
Keep it local! This is a brilliant alternative to the supermarkets. Our guests often ask for recommendations for local farm shops and butchers for the all-important celebration meals. Sauced Here has similar functionality to an on line supermarket but is only stocked by 30 or more local suppliers in the Peak District - order your wine, meat, vegetables, dairy and so much more with a choice of over a thousand products and at reasonable prices. It's a great service which delivers straight to your holiday cottage or you can click and collect at a local pick up point.
Dates Already Booked? Click Here or Call Us for Fabulous Alternative Options
Ready to Book?
Quick Enquiry
Key
Available
Not Available
Changeover Day