The Farmhouse at Benty GrangeSleeps 18
The Farmhouse at Benty Grange, situated near the village of Monyash, is a lovingly refurbished country Farmhouse. Offering six en suite bedrooms which are all decorated to their own individual design. This property is perfect for 14-18 guests.
A Luxury Refurbished Six Bedroom, all with en suites, Self Catering Holiday Accommodation in a Rural Location.
​Highlights.....
​Six Individually Designed bedrooms with one being a luxurious family suite
Six Exquisite en suites
Sleeps up to 18 guests
Dog Friendly
Separate Games Room
Converted Stone Barn  finished to an outstanding standard, giving you a warm and cosy self catering property
Ideal for your stay in the picturesque Peak District.
Situated near to the village of Monyash which gives you the village amenities yet close enough to step outside to enjoy country walks in the rolling hills of Derbyshire and close to the Tissington and High Peak Trail.
Fantastic open plan kitchen and seating area to socialise altogether with an additional cosy lounge to retreat to after a day outdoors.
The charming towns of Bakewell and Buxton are about a 10 minutes drive away. Why not enjoy a days visit to either of the local Country Parks,  Chatsworth House or Haddon Hall which are a short drive away to enjoy a great family day out.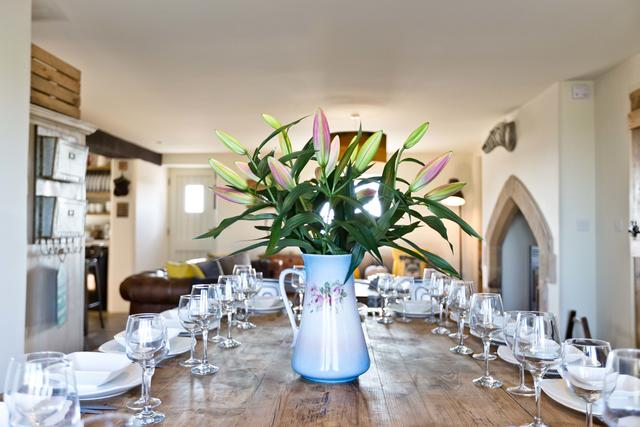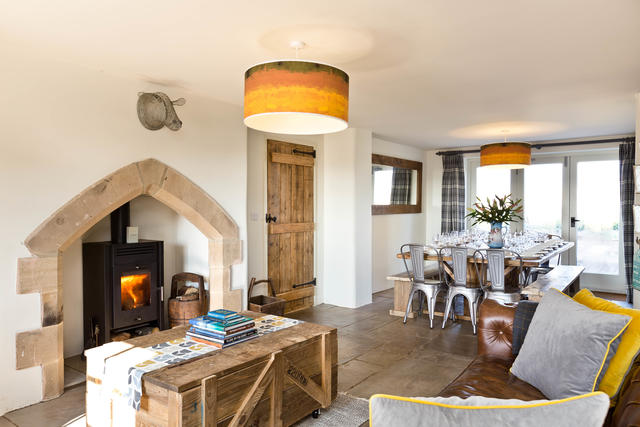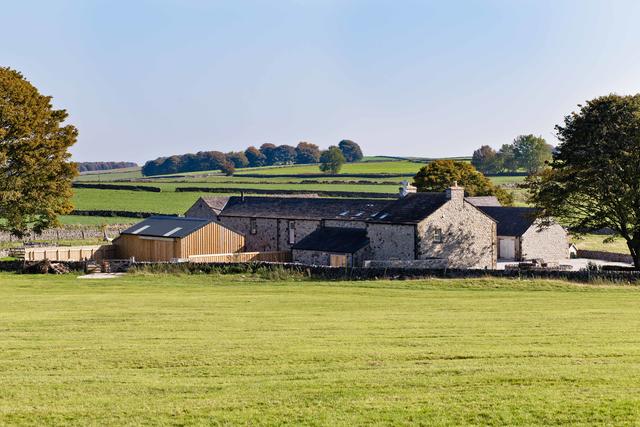 Bedrooms and Bathrooms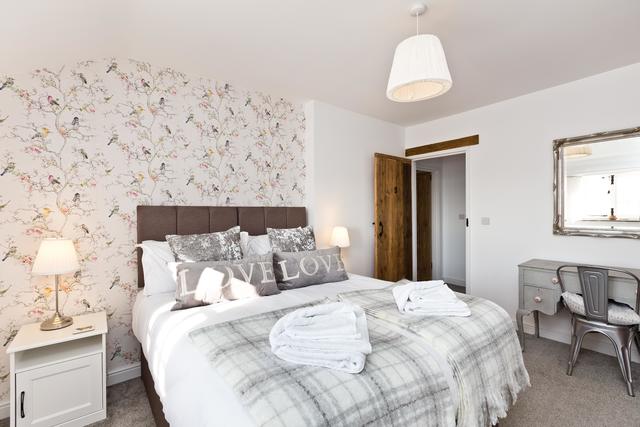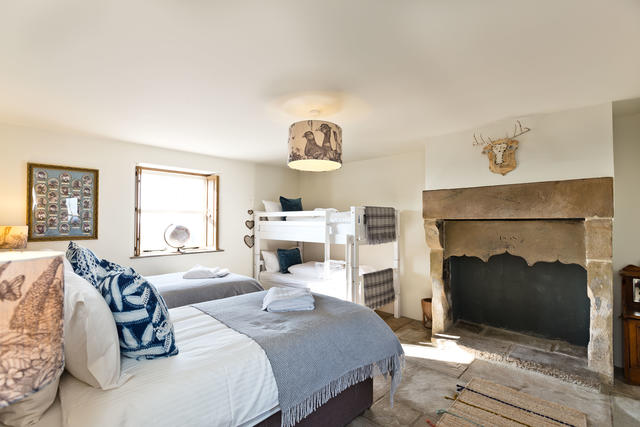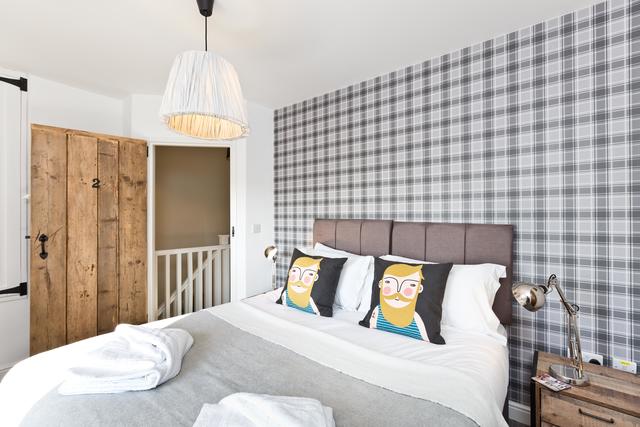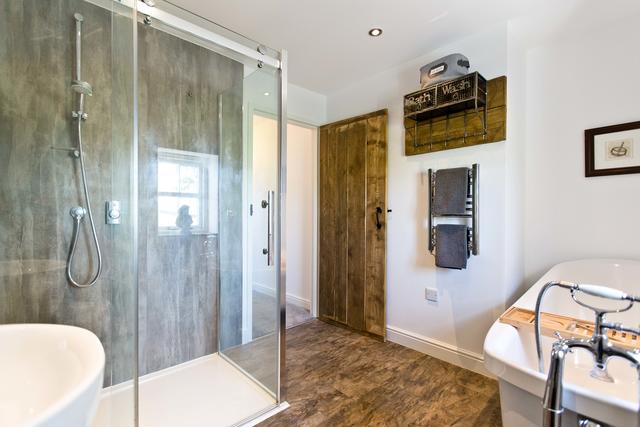 The Farmhouse at Benty Grange has a total of 6 bedroom all with en suites.  One of the bedrooms is a family suite, with bunk beds in the main bedroom and also an additional bunk bed alcove, giving you a choice of sleeping arrangements depending on your group.
Each bedroom has its own unique style and has been elegantly designed to still keep the natural charm of the property.  All beds have the option of being set up as either a double or twins.
Please click here for the bedroom layout.



Cooking and Dining
The fabulous large open plan kitchen / dining / seating  area  is fantastic for those group holidays allowing all of your group to come together to help prepare your meals or just to sit and socialise over a glass of wine and enjoy the comfortable surroundings. 
There is a large central island for preparing your meals with 3 stools underneath for an additional seating option. 
The kitchen has a  large dining table that seats 18, with a mixture of benches and chairs and is positioned next to French doors that can be opened to allow you that alfresco feel whilst dining.
The well equipped kitchen has all the items you would expect to find at home to make sure your stay is as comfortable and as easy as it can be.
Please click here for the finer details of what to expect at the property.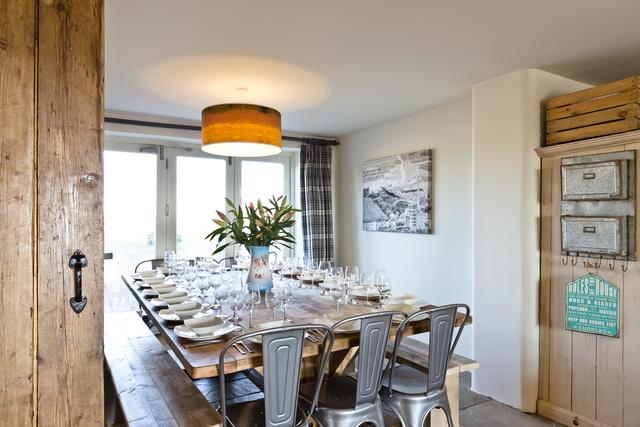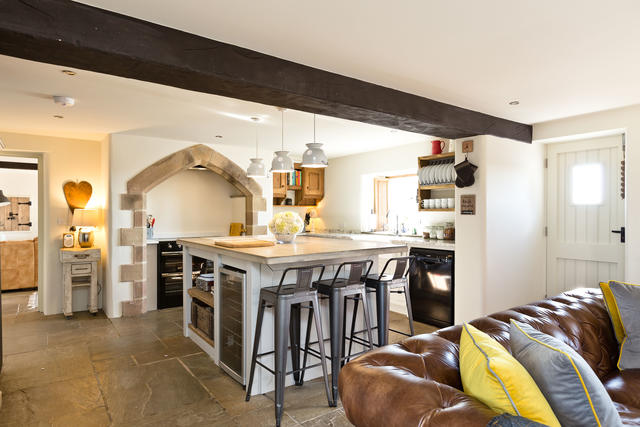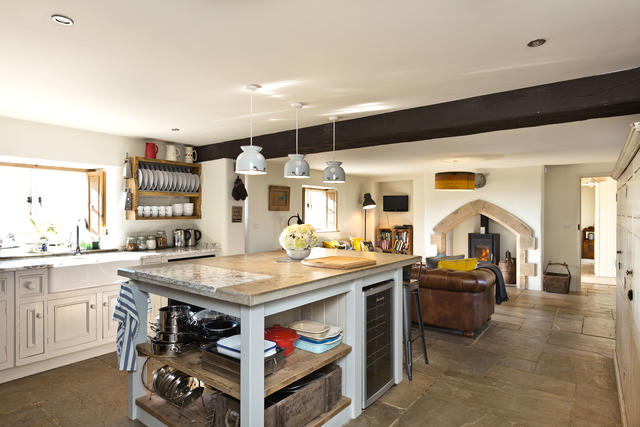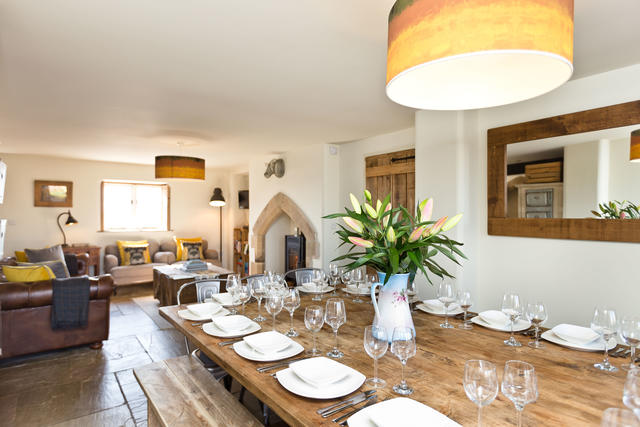 Living Space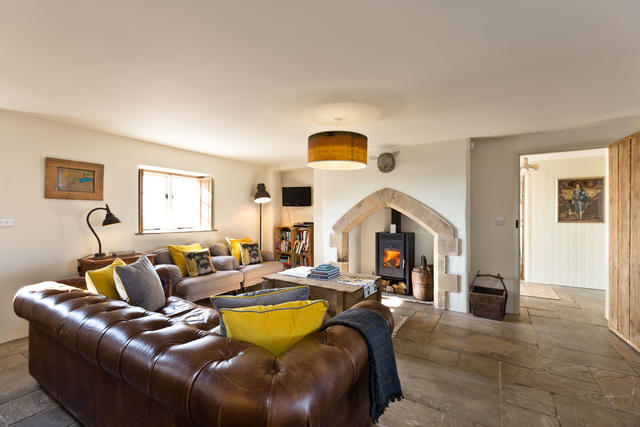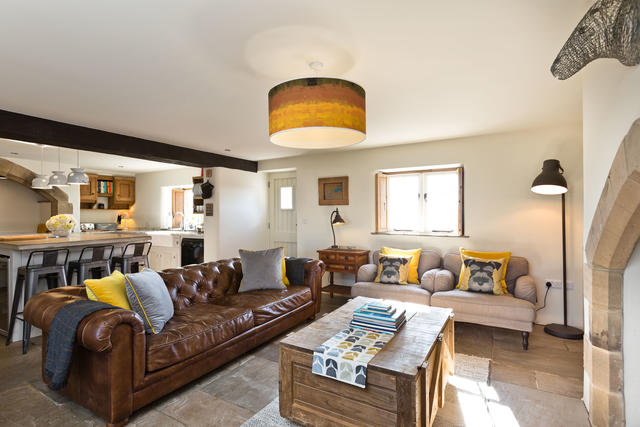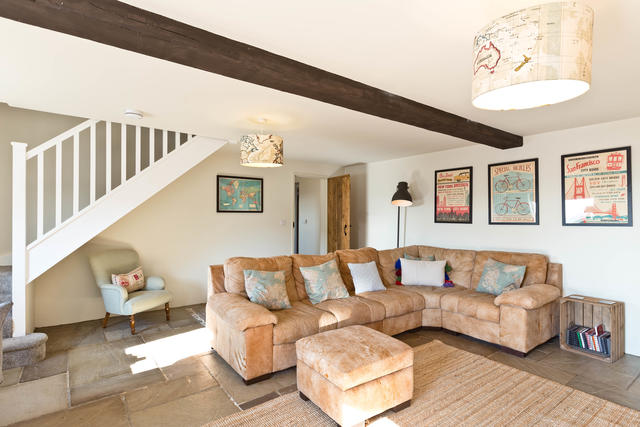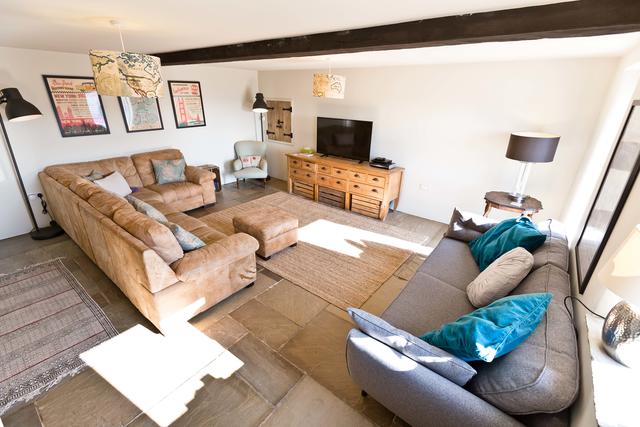 There are two living spaces for you to enjoy.  After a days walking in the Peaks you can relax in the cosy kitchen seating area where you can sit and enjoy the log burning fire in the colder months, or sit in the daytime catching up with your fellow guests.  There are homely touches of local walking books to give you inspiration for the next day and also plenty of books to sit and read, should you wish to do so.
Leading off from the kitchen is the patio area, where you can sit and unwind and enjoy a BBQ on those warmer days.
Situated off the kitchen is the warm, inviting, additional seating / socialising area. This Peak District cottage has 2 large sofas which are perfect for you and your guests to sit and unwind enjoying  the views or catch up on a bit of TV in the evening, should your time staying here allow you to do this!
Please click here for floor plans.
Garden and Outdoor Space
The Farmhouse at Benty Grange is situated in the breathtaking heart of the Peak District, where you can enjoy the stunning uninterrupted views.  There is a private decked patio area with outdoor seating and raised planted beds that blend in with its surroundings. A lawned area is situated to the side of the property. 
In the warmer months why not sit outdoors and enjoy the external dining space and have a BBQ - available for use from 01st April through to 31st October, please supply your own charcoal and lighting equipment.

Just to the rear of the property, is a super rustic converted outbuilding where guests have use of a fabulous games room with a bar area, pool table and dart board. Great for teenagers and big kids! 
If you bring your bikes along too you can all enjoy a scenic ride as you are situated near to the Tissington and High Peak Trail  (you are able to hire bikes at nearby 
There is ample private parking at the front of the property.
The property is dog friendly, allowing 2 dogs, so don't feel you have to leave them behind - but please make yourself aware of our Dog Policy.
The Farmhouse at Benty Grange is on a shared site with The Barn at Benty Grange and also has the convenience of the managers' accommodation being on site too should you need any immediate help, but also allowing you total privacy for your stay.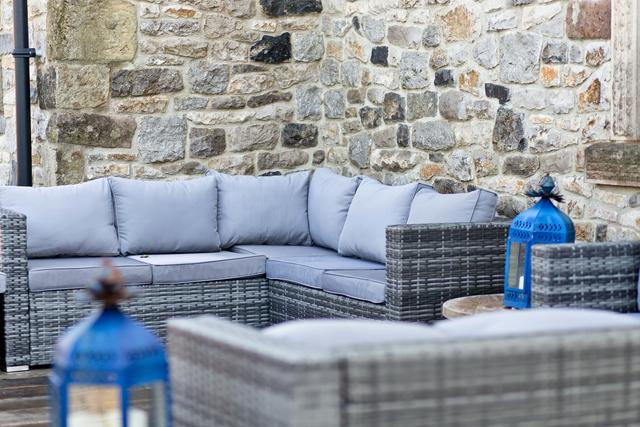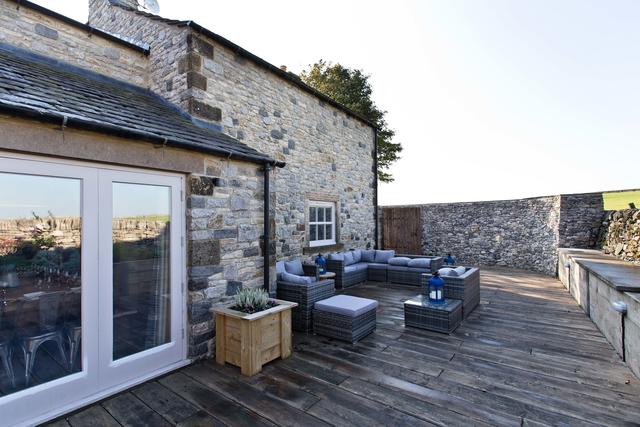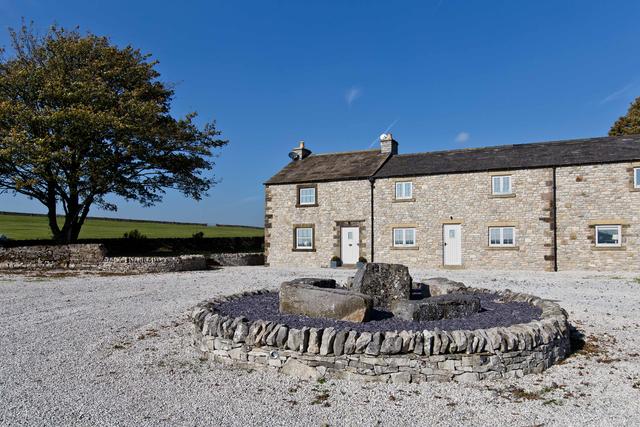 The Peak District and Surrounding Area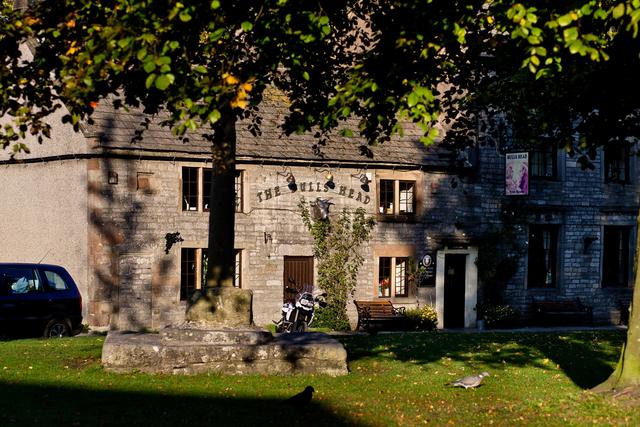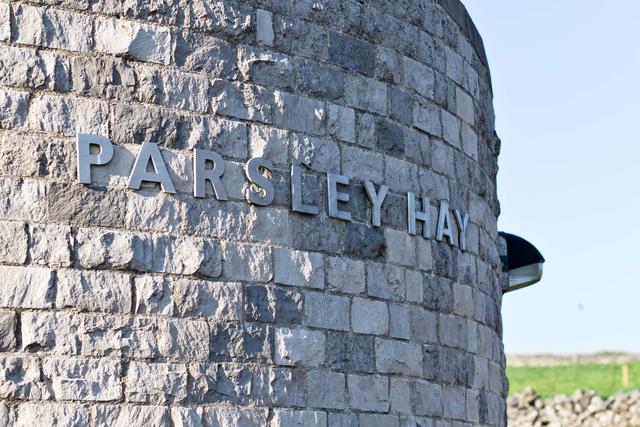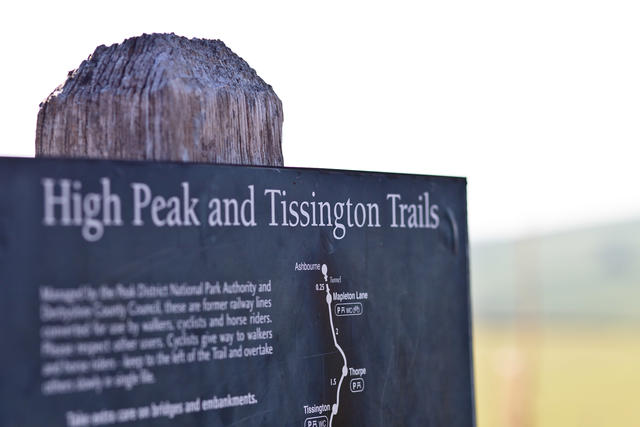 This holiday home is located in the White Peak and boasting a beautiful rural position - making it an ideal location to see this stunning national park, and enjoy your short break. You can walk and cycle until you hearts content - popular destinations such as Hartington, Tissington and even Ashbourne can be reached off road on the former nearby converted disused railway line. Parsley Hay Cafe and Cycle hire is just down the lane on the Tissington and High Peak Trail.  (Parsley Hay does shut for Winter from 01st Nov until February)

Benty Grange is steeped in history too, being a site of an interesting archaeological find (google it and you will see)! The prehistoric site of Arbor Low, is set amid high moorland above Benty Grange is also walk-able.
The Derbyshire famous spa town of Buxton, known as the cultural capital of the Peak District is a short 10 minute drive and the historic market towns of Ashbourne and Bakewell are also close by. There is something for everyone – individuals, families and groups – whether you want a challenging hike or a short stroll.  For an exciting adrenaline filled day Alton Towers is also close within a 25 minute drive.
Click here for our recommendations to help plan your stay.
Photo Gallery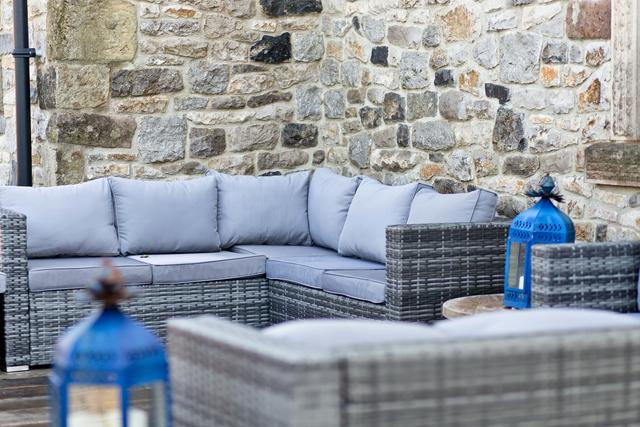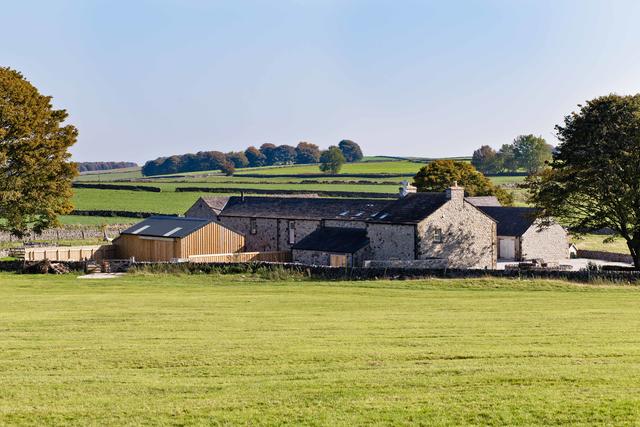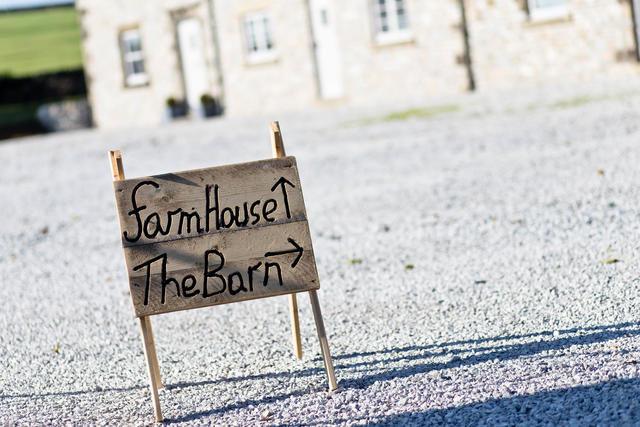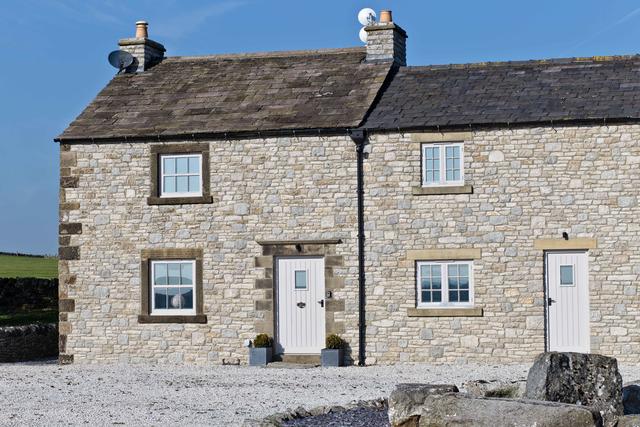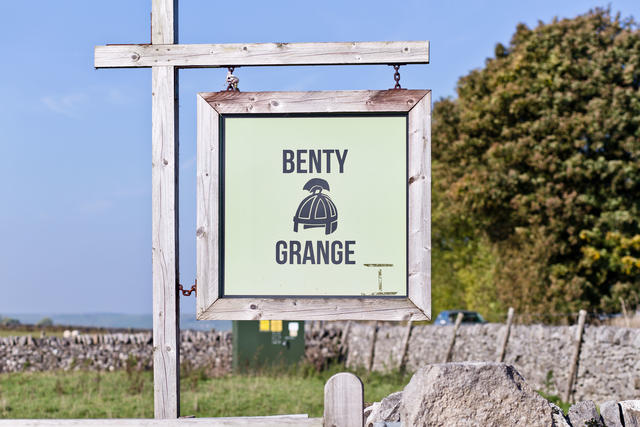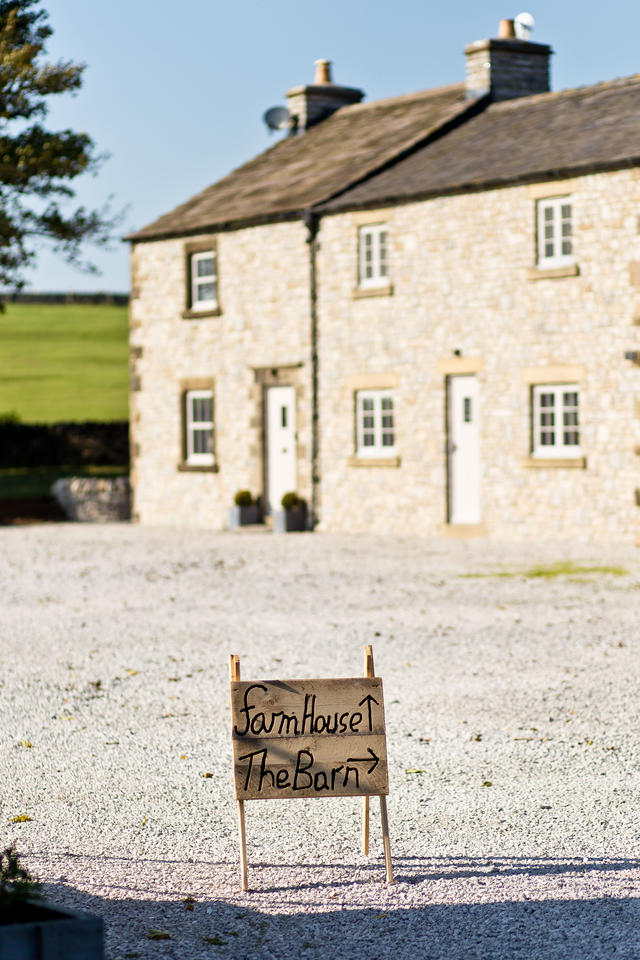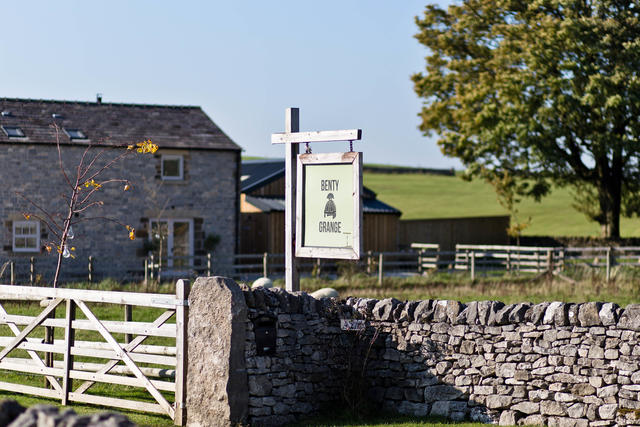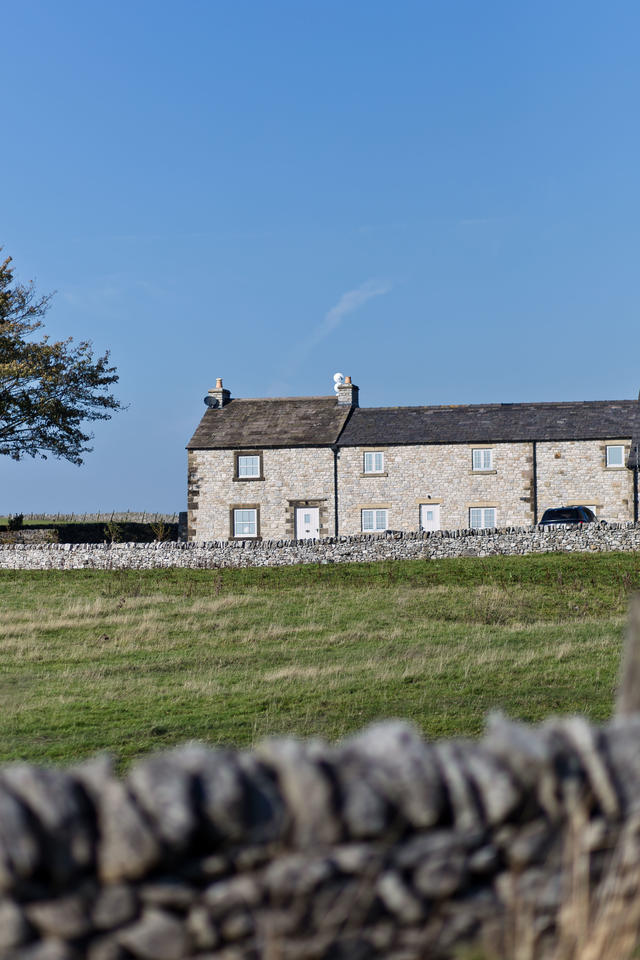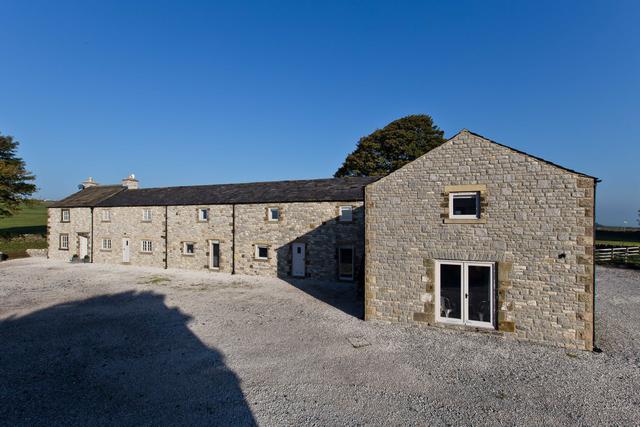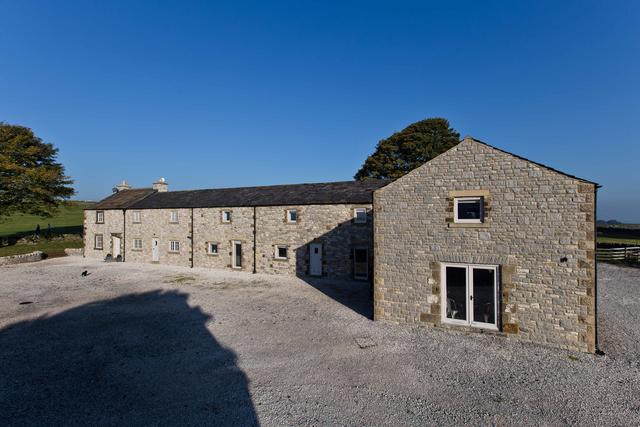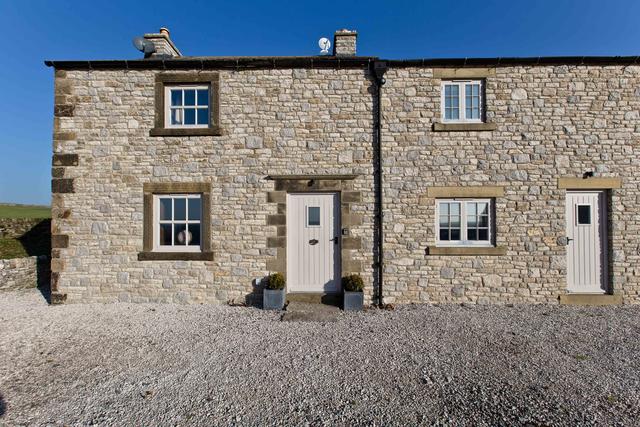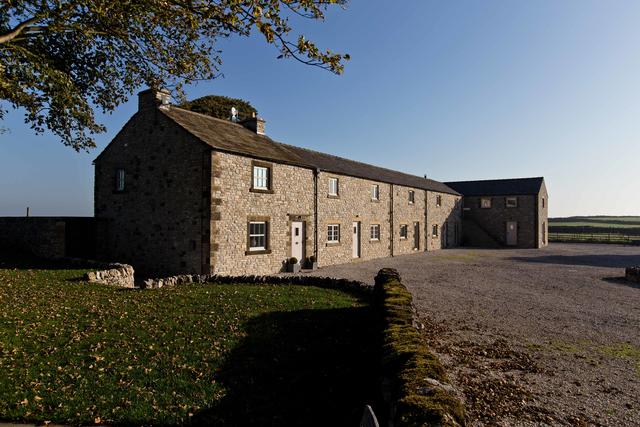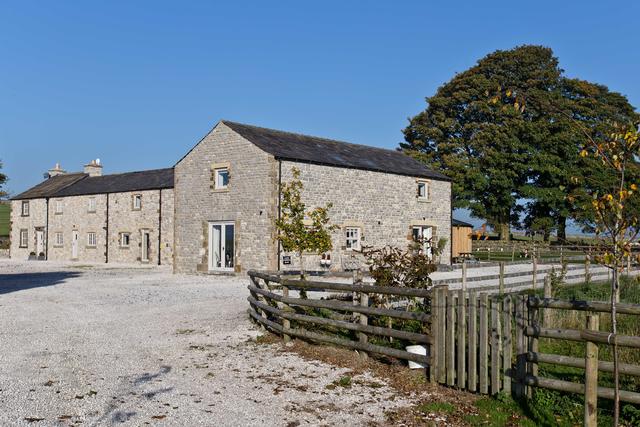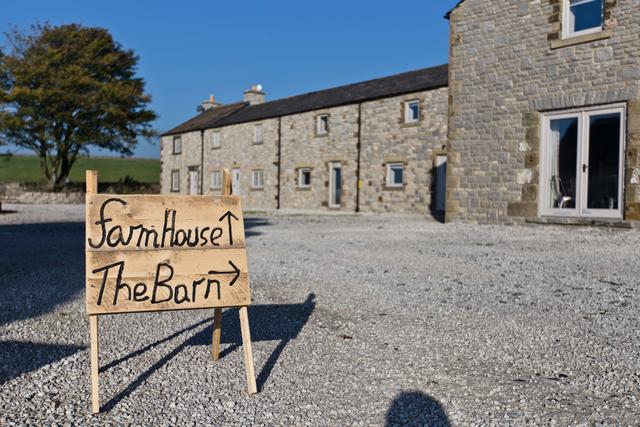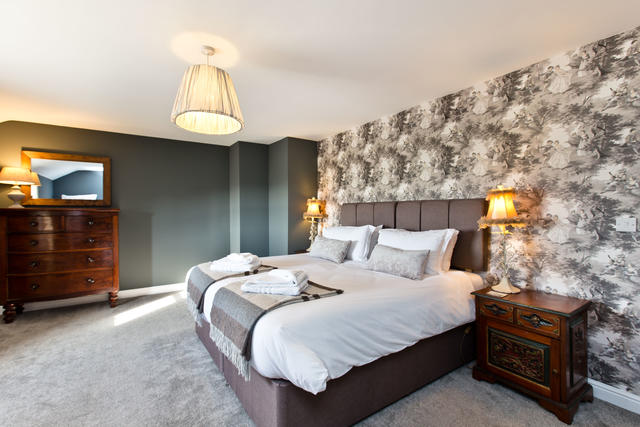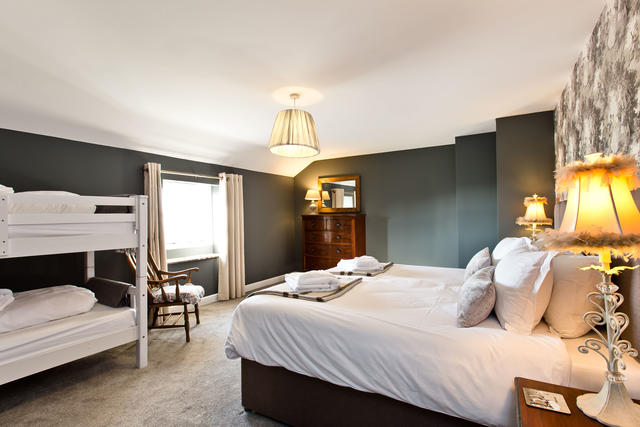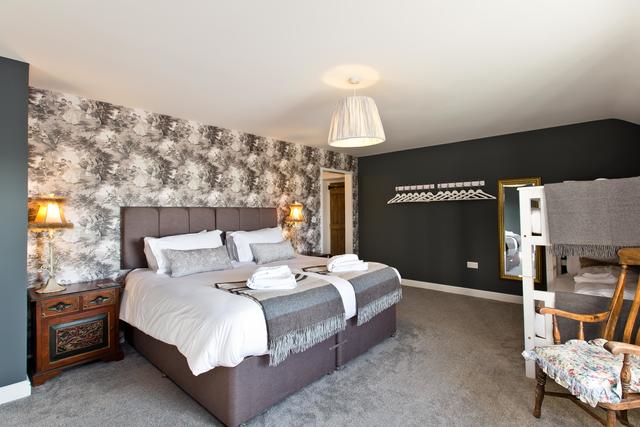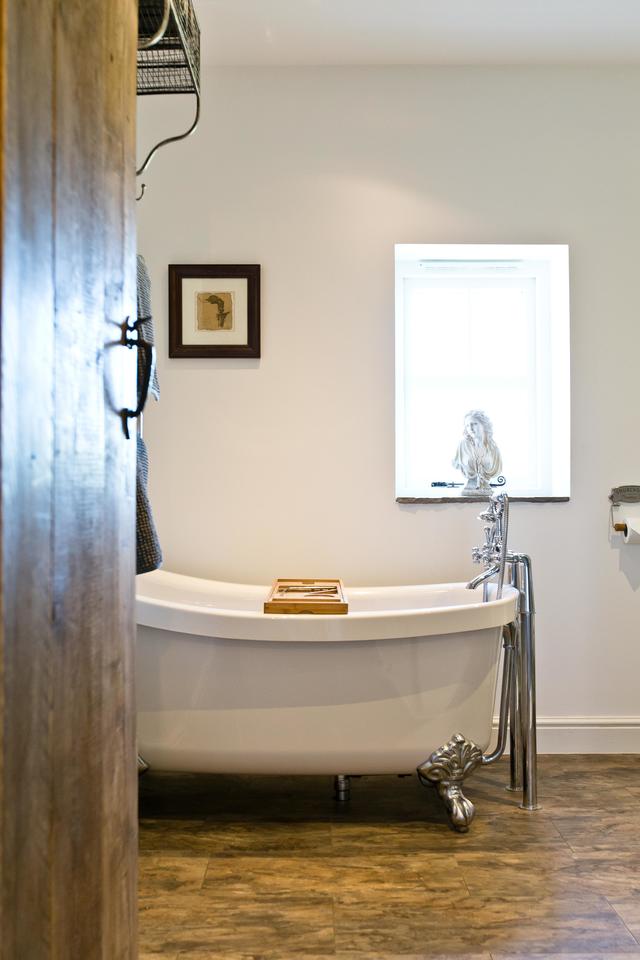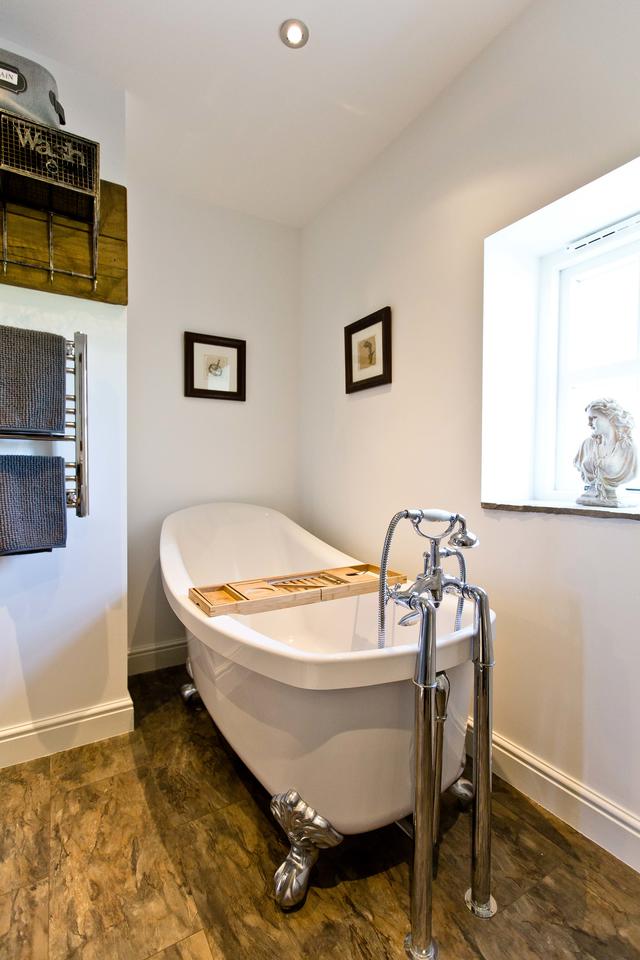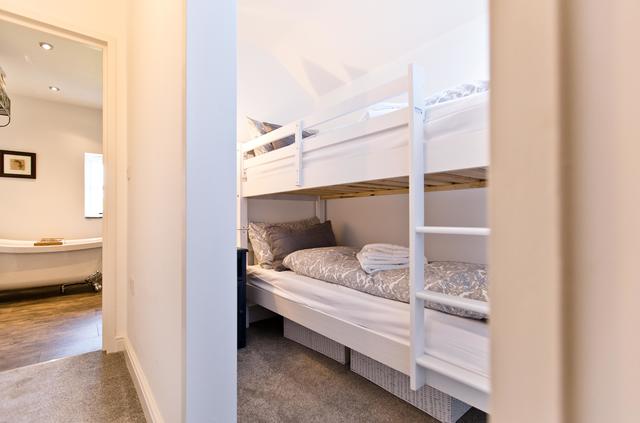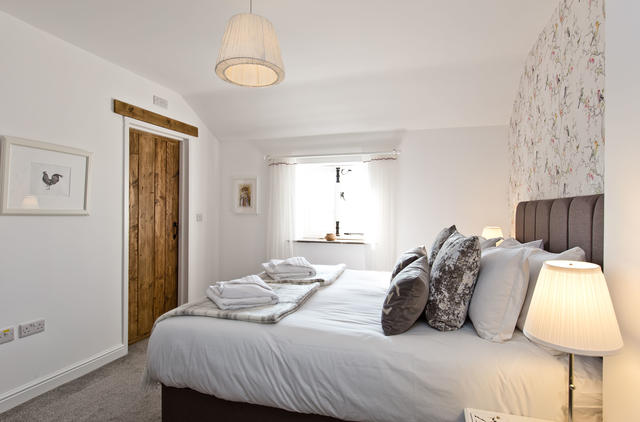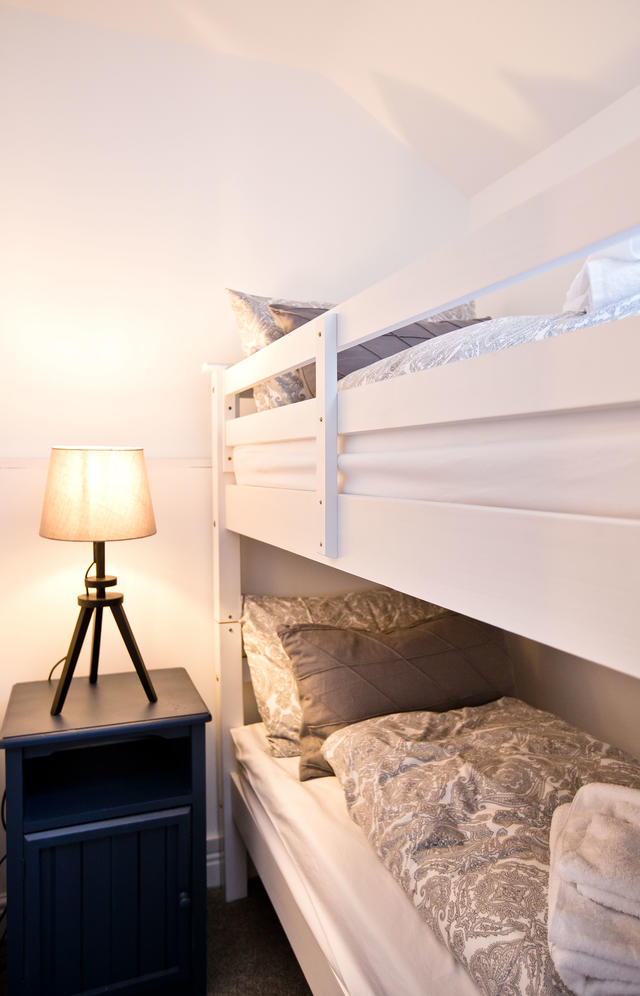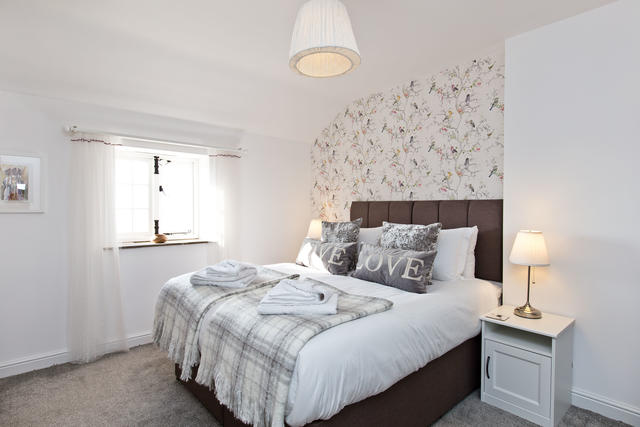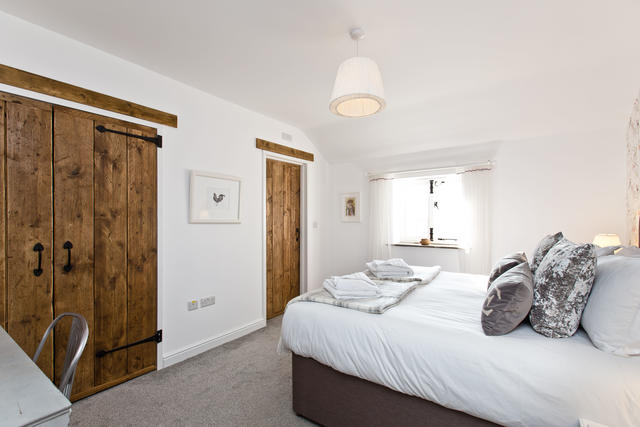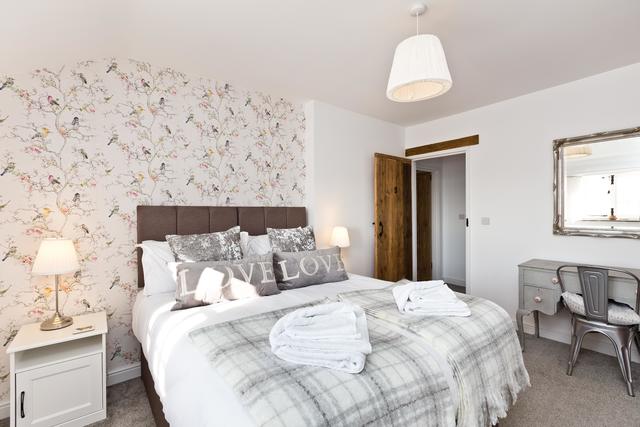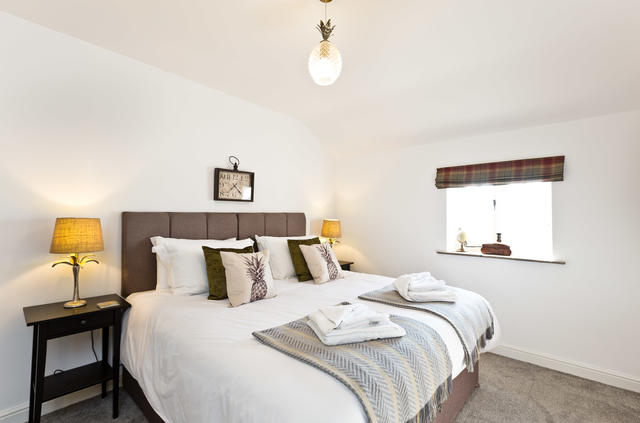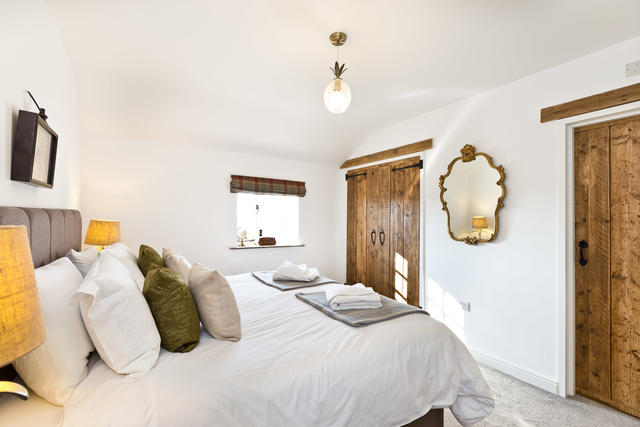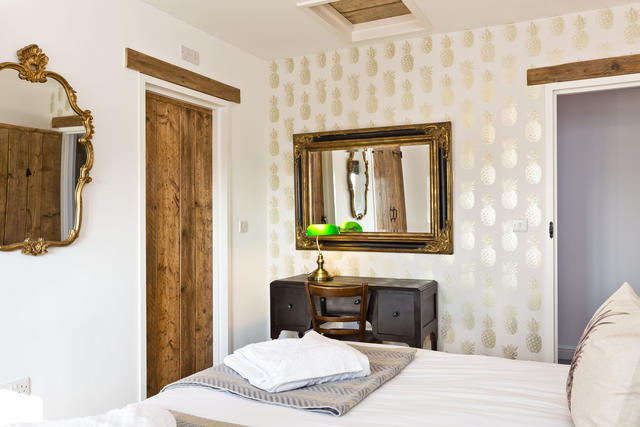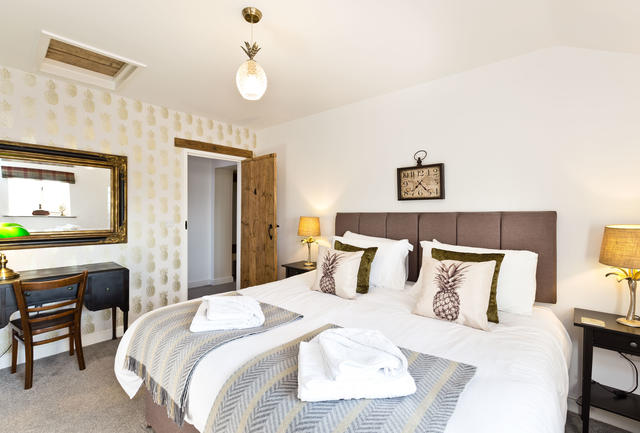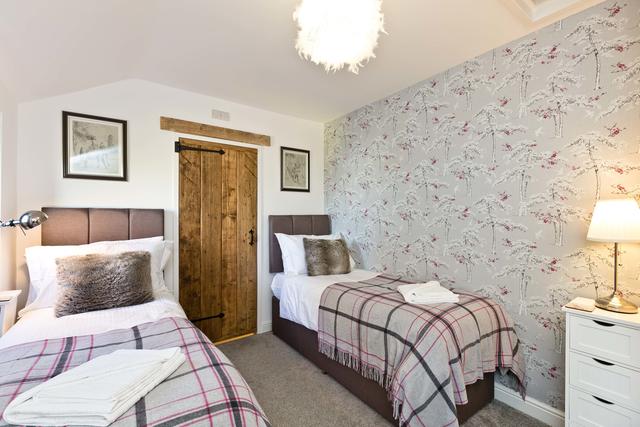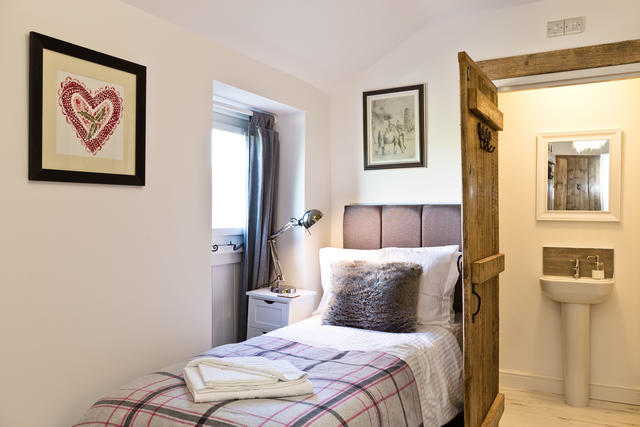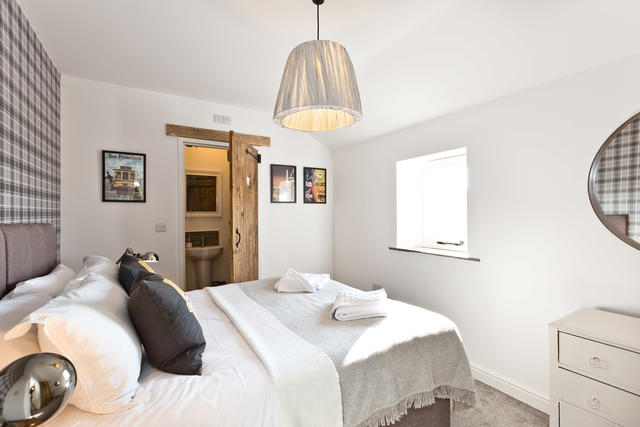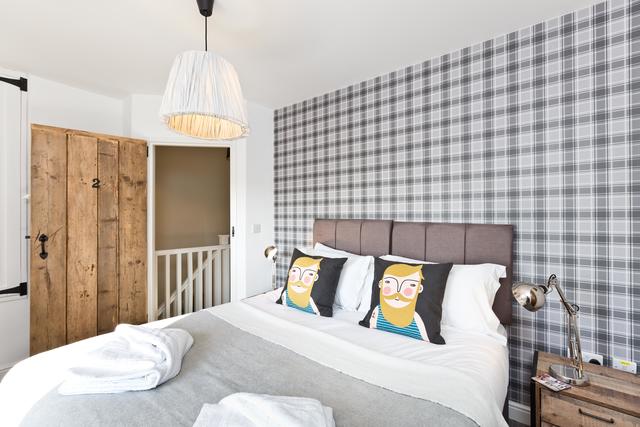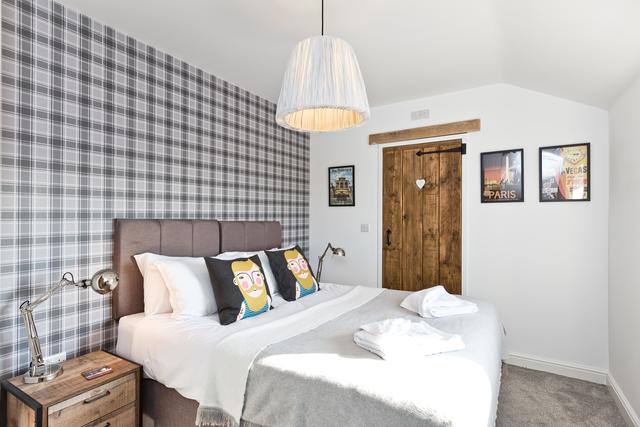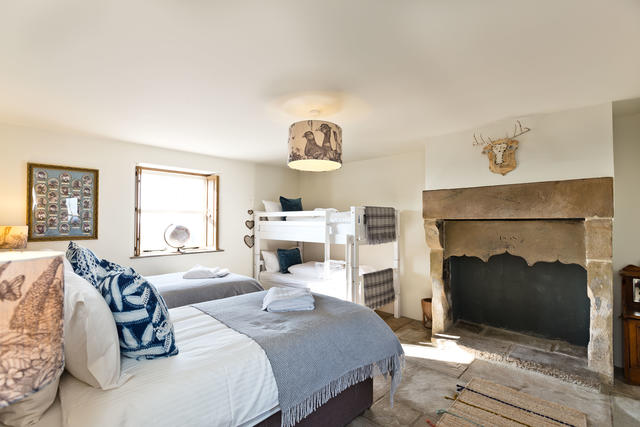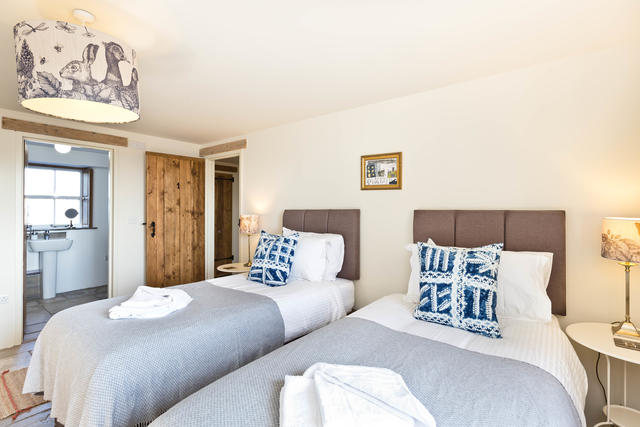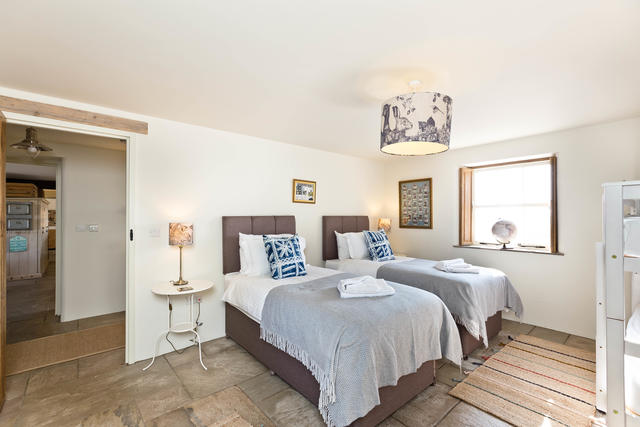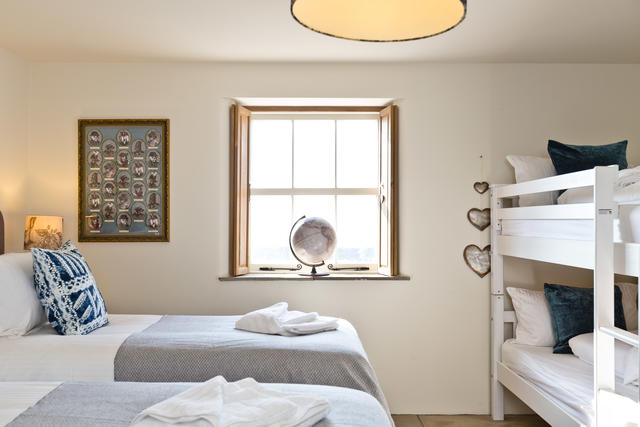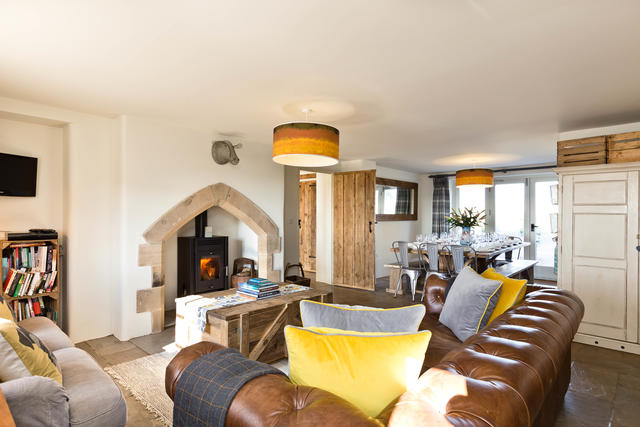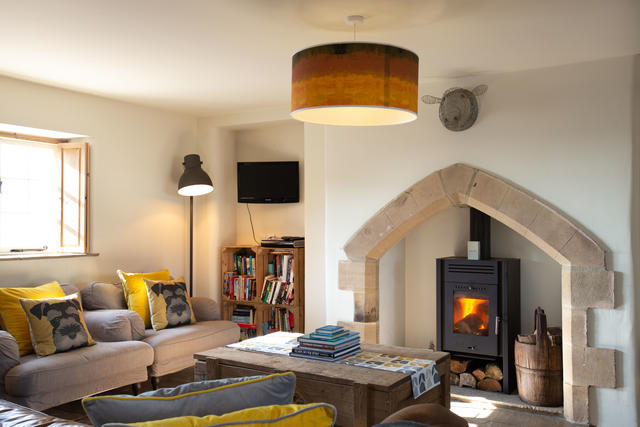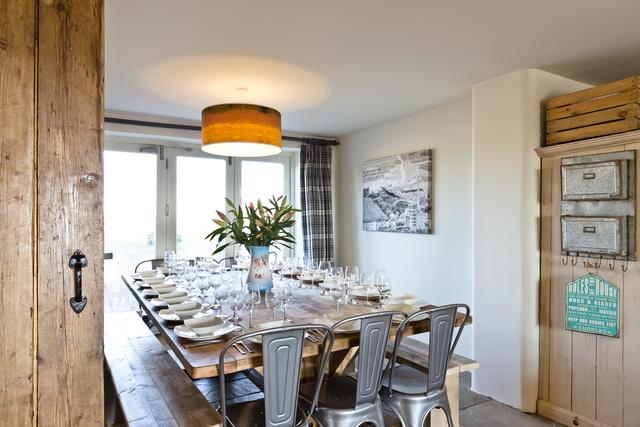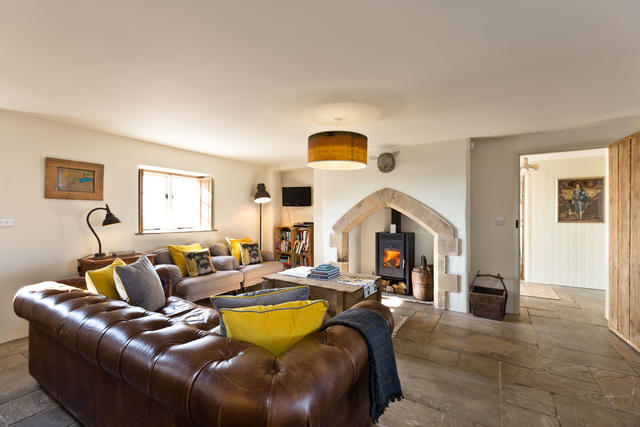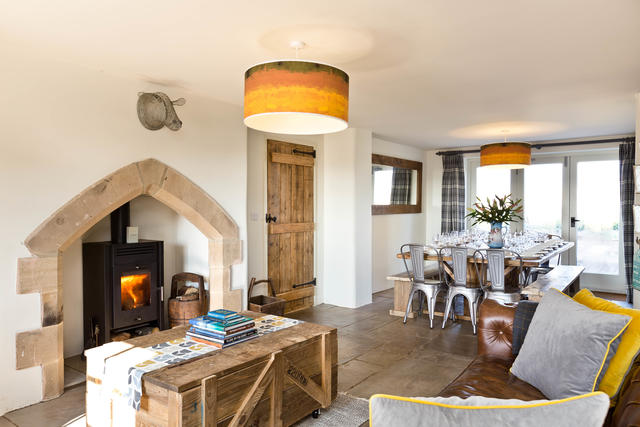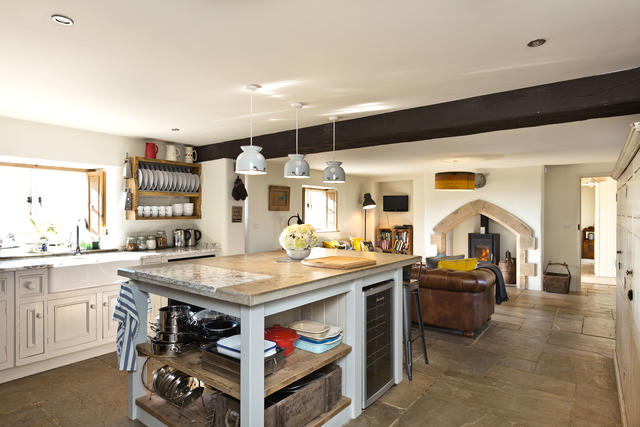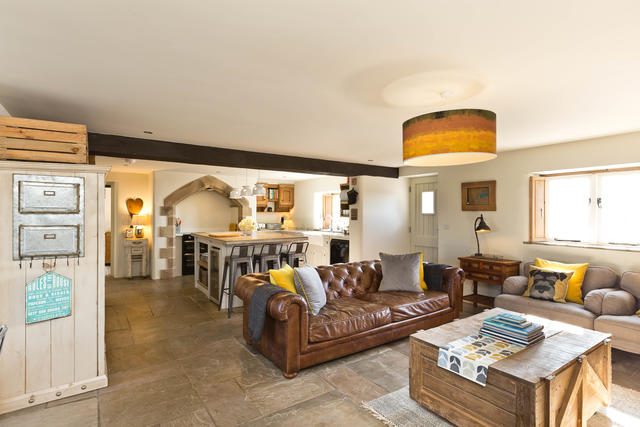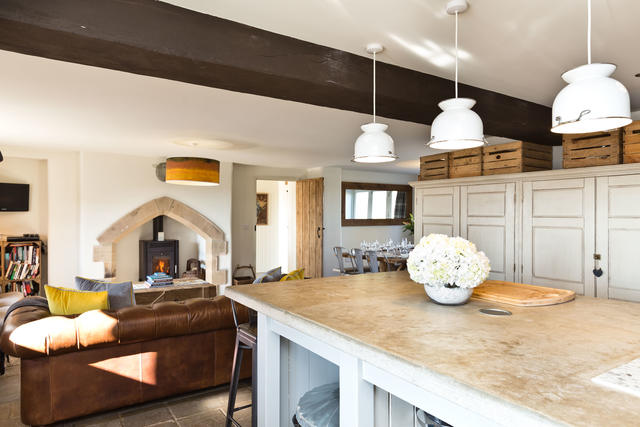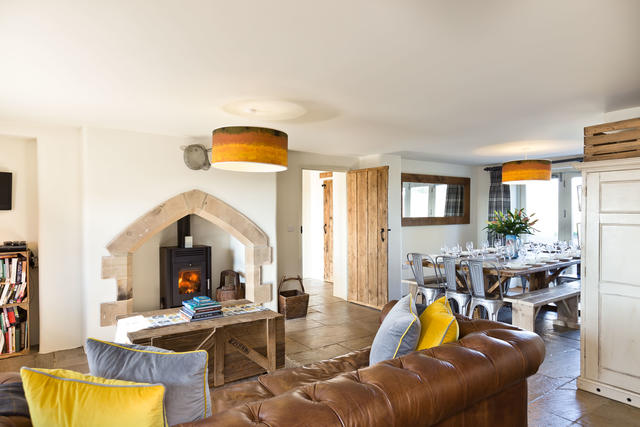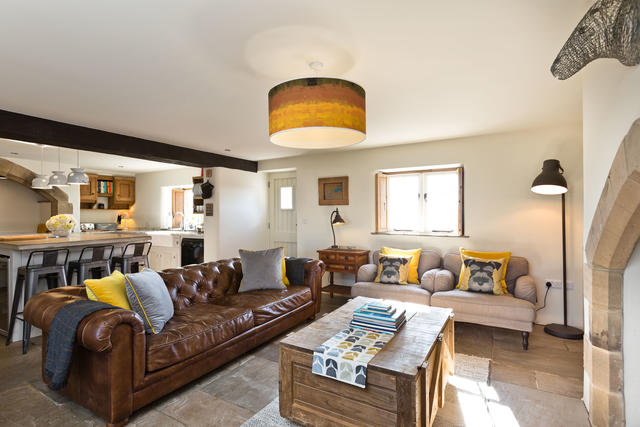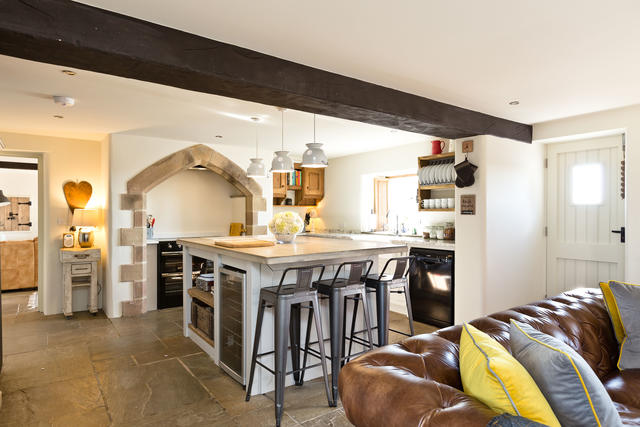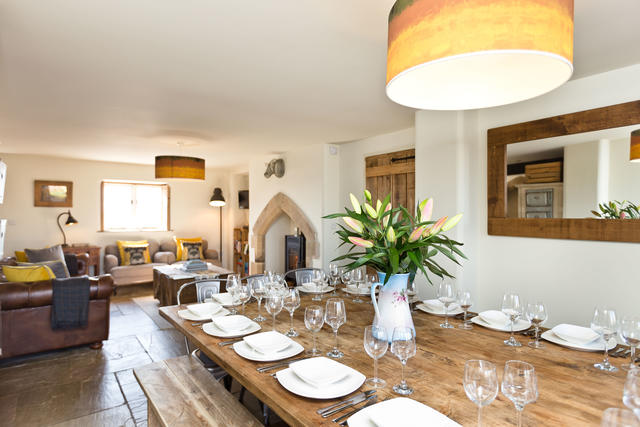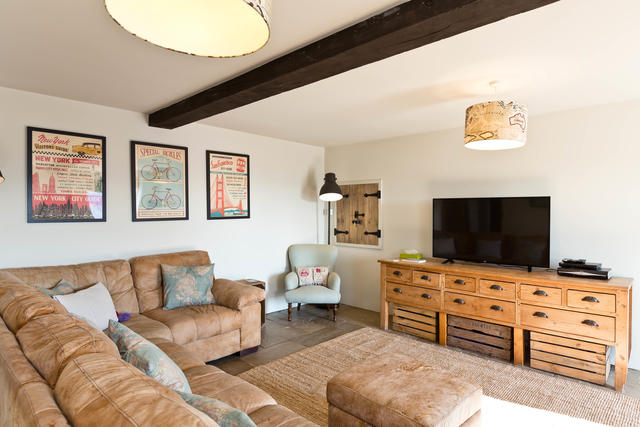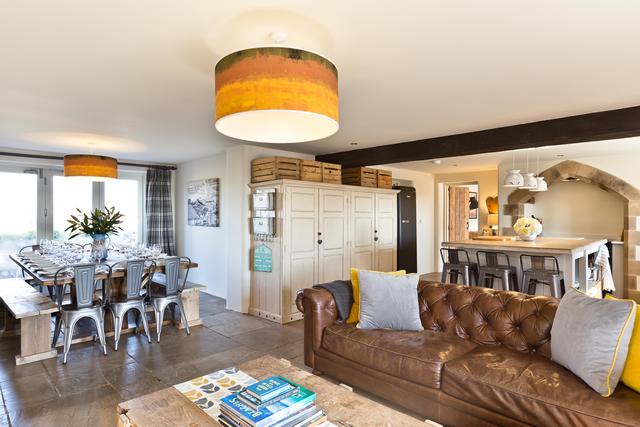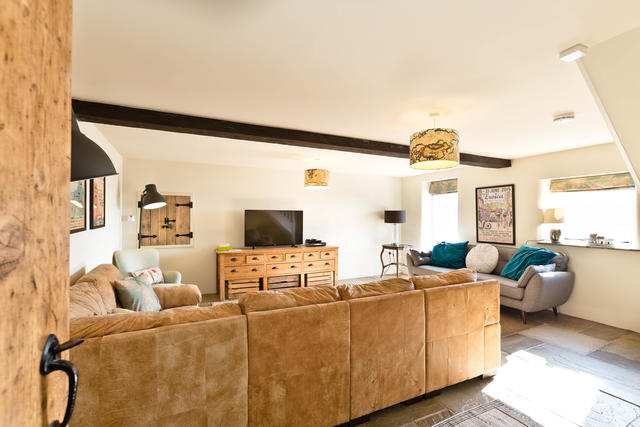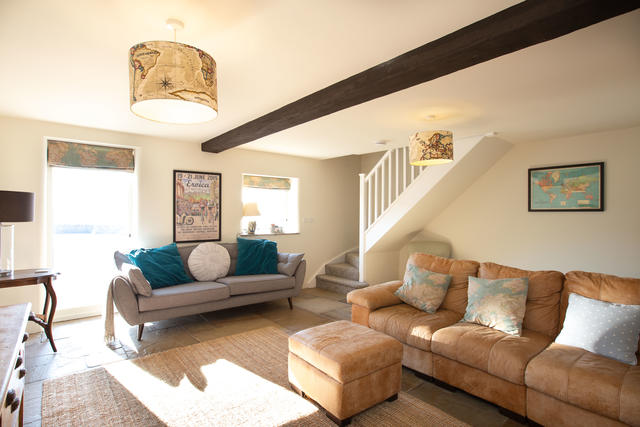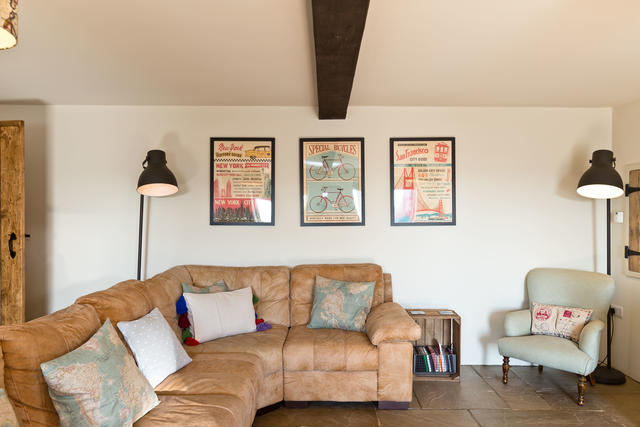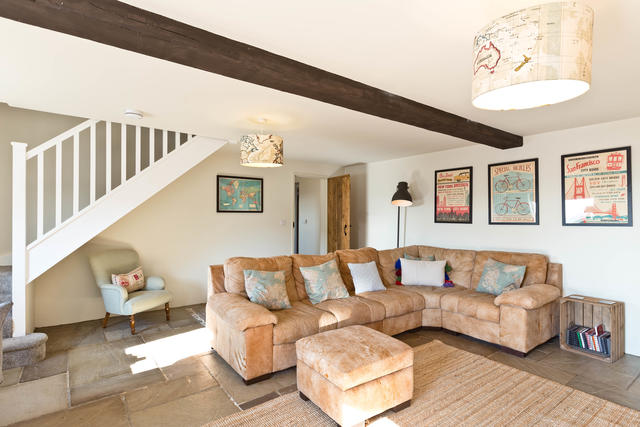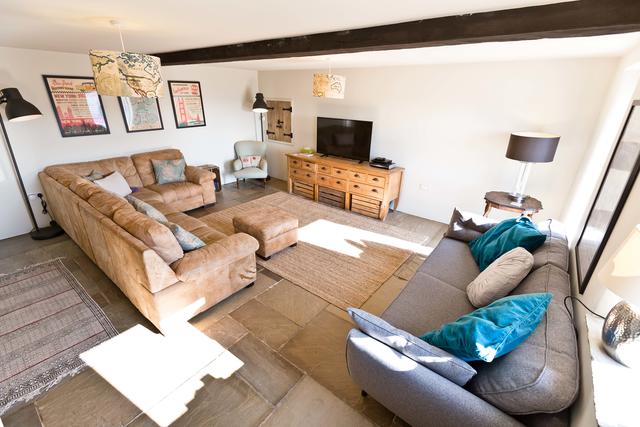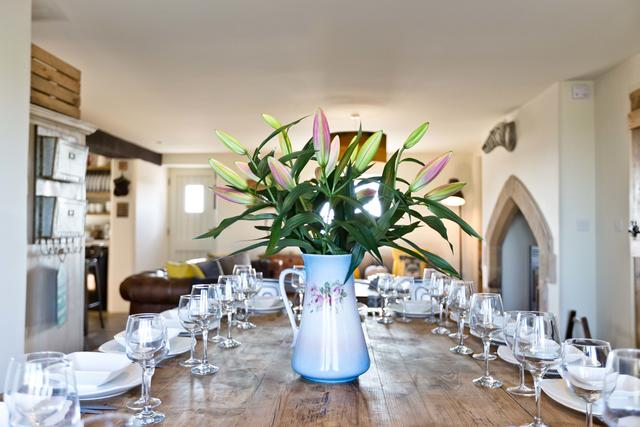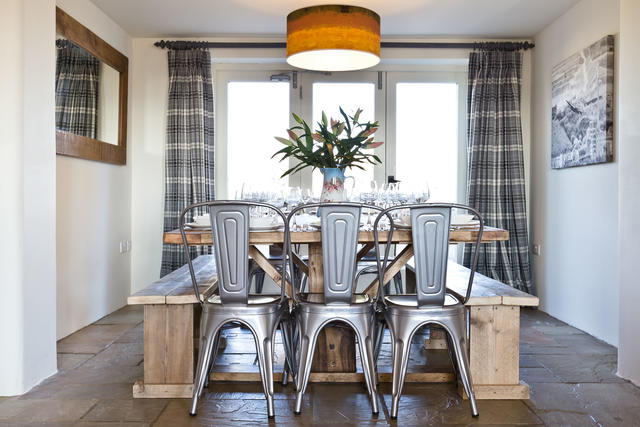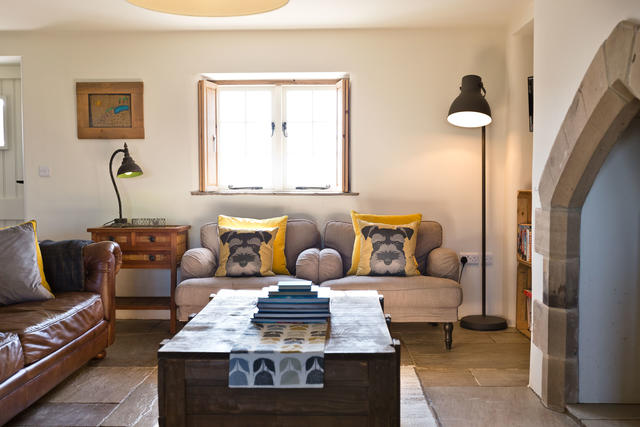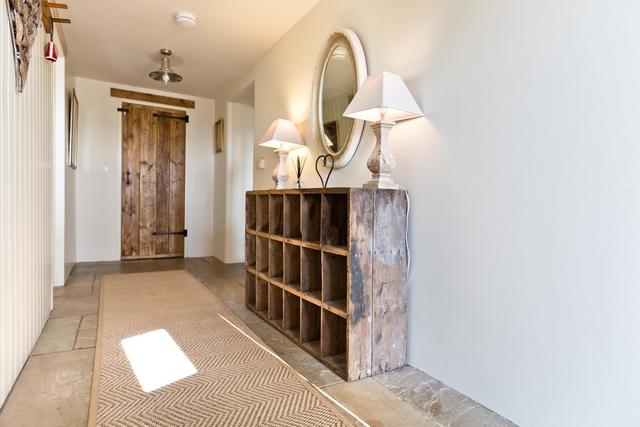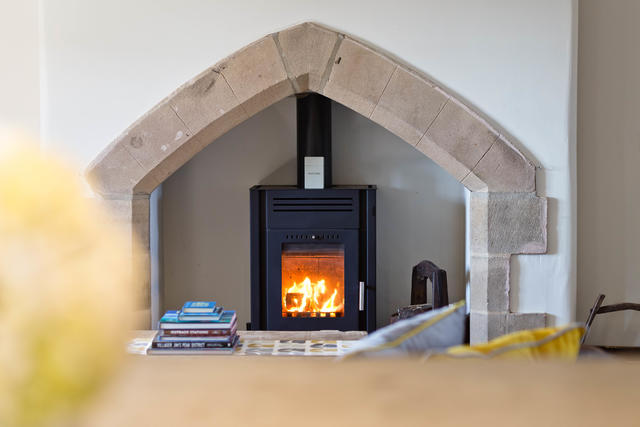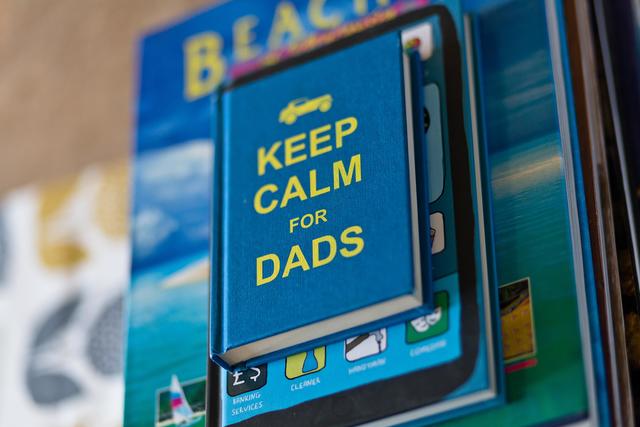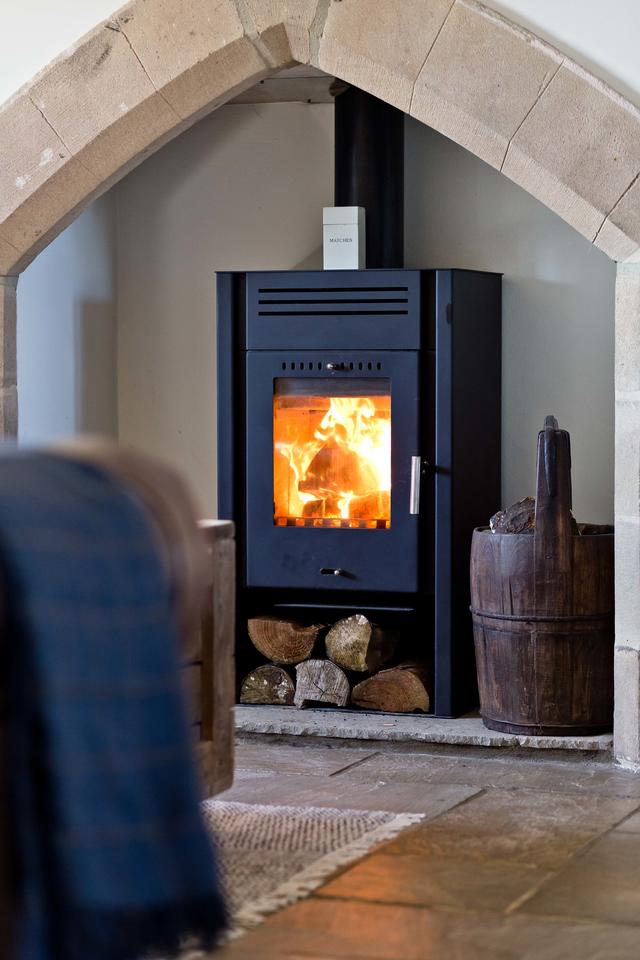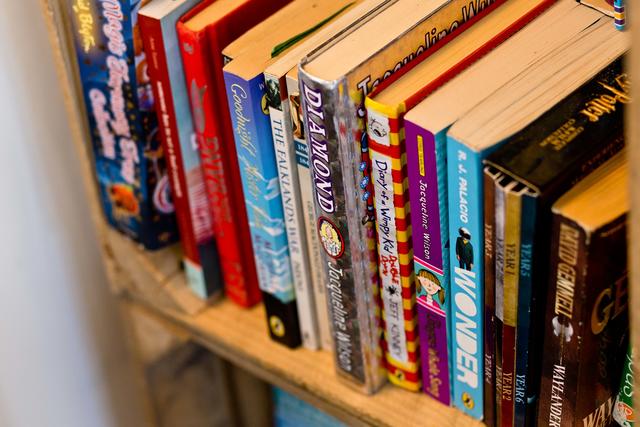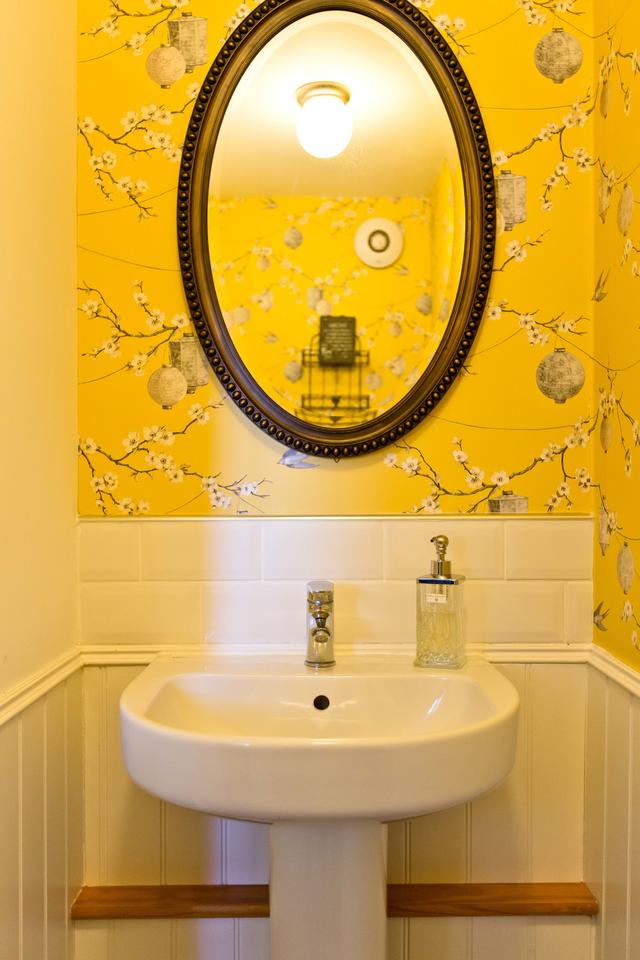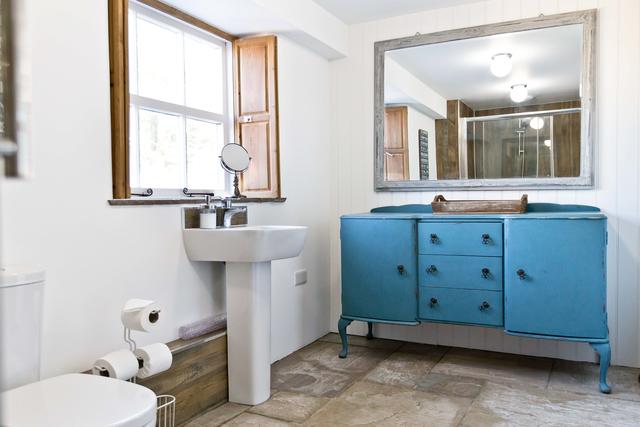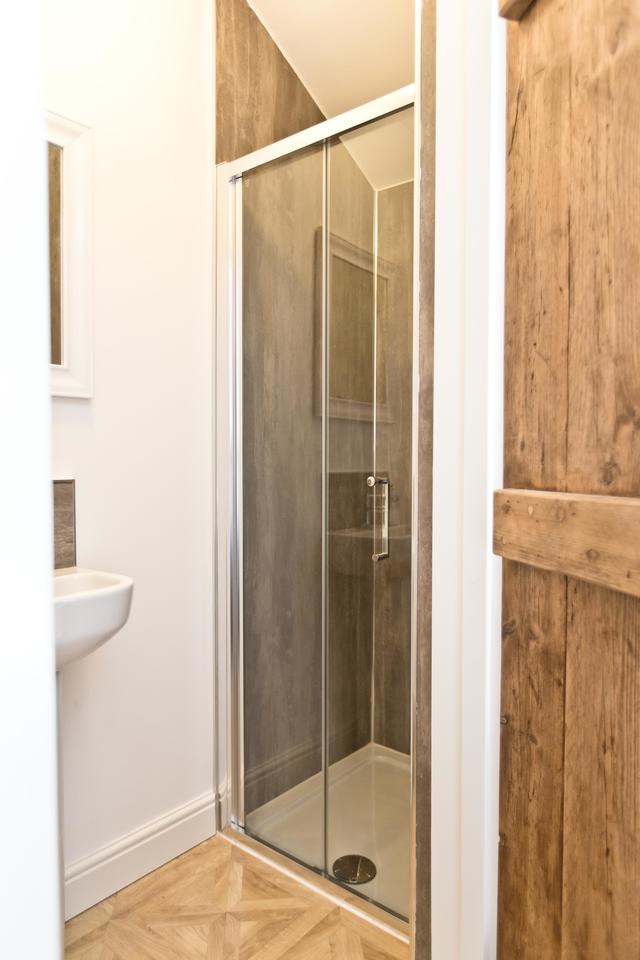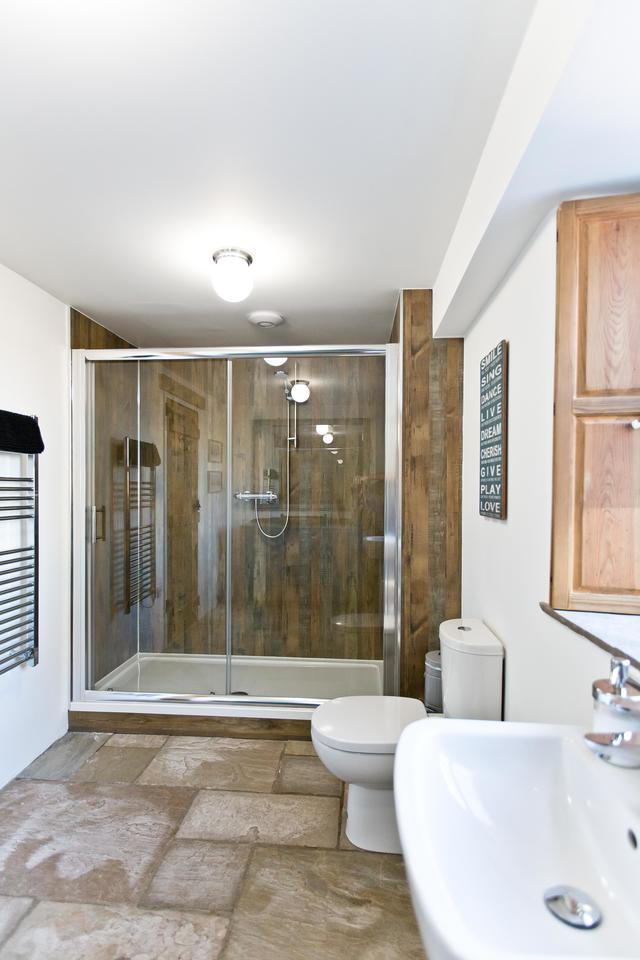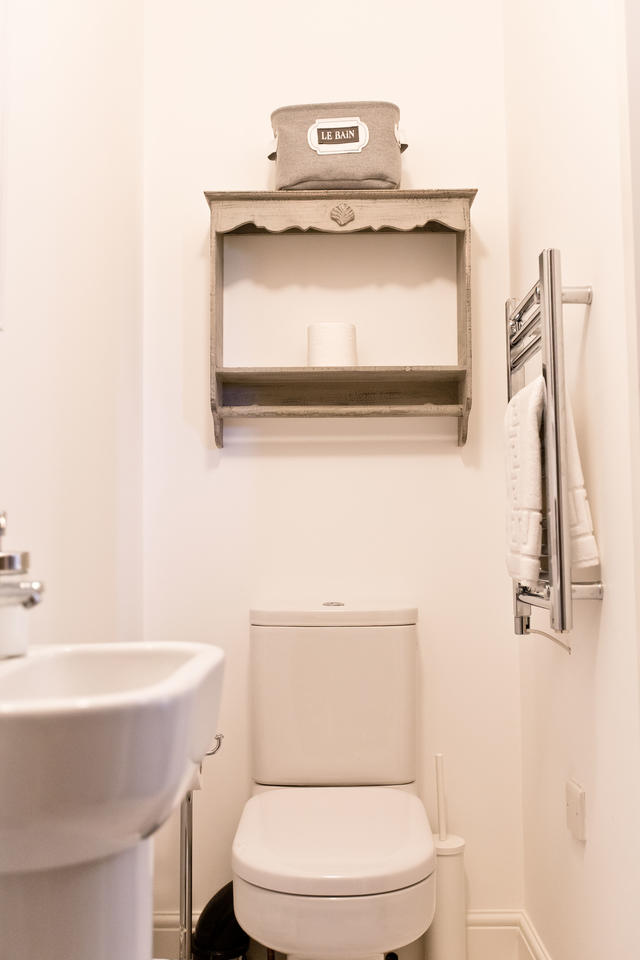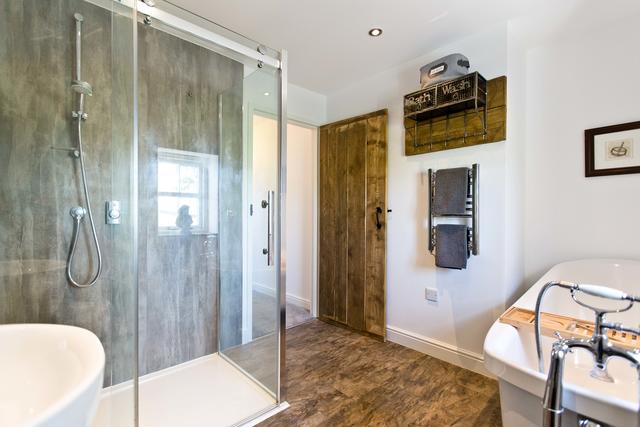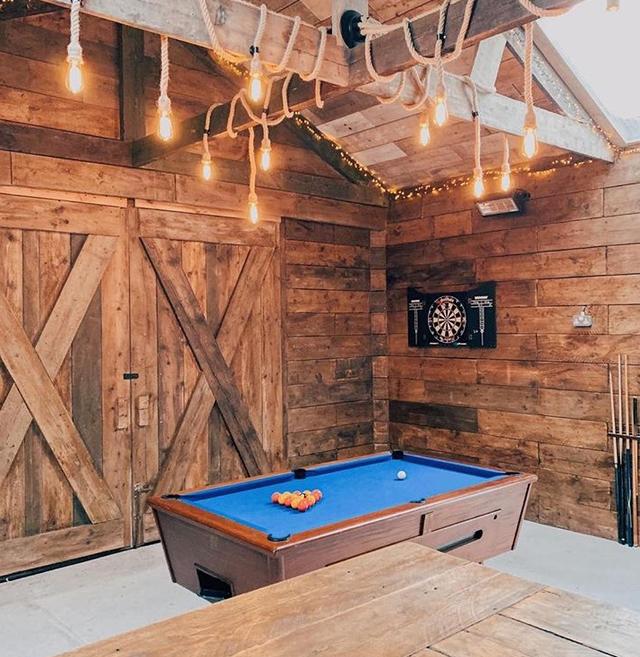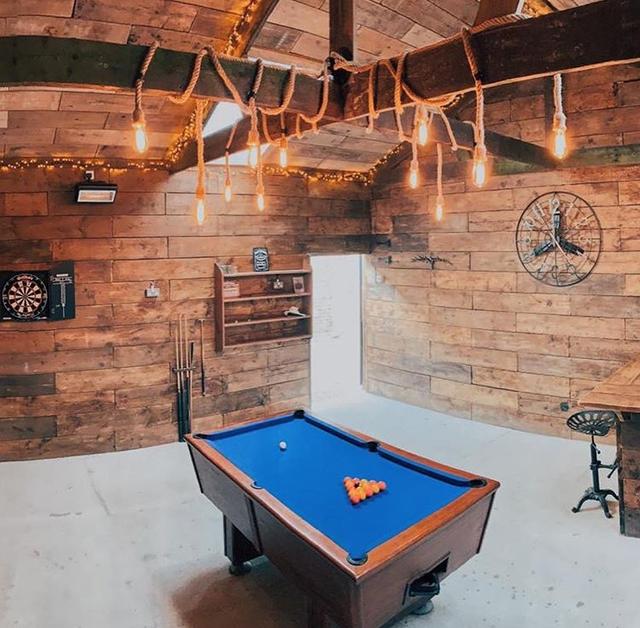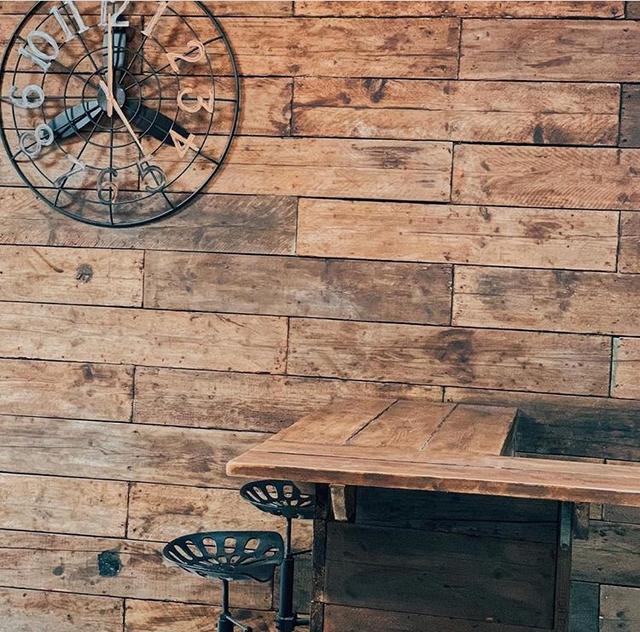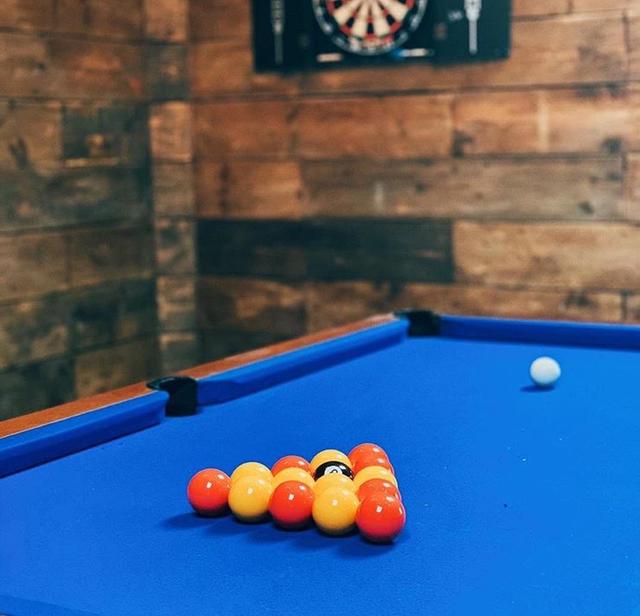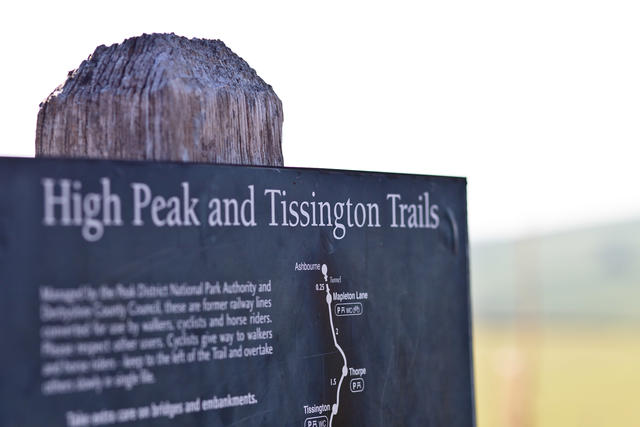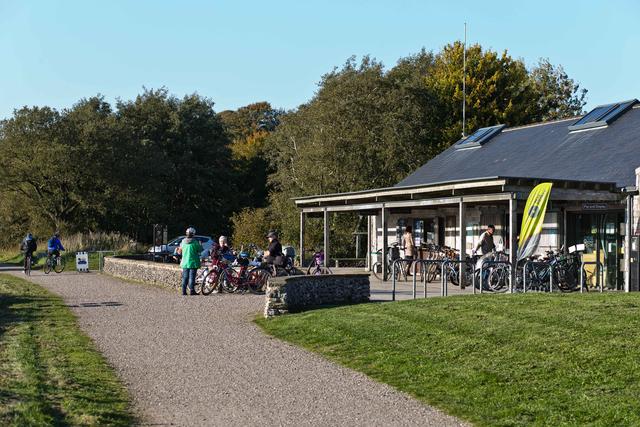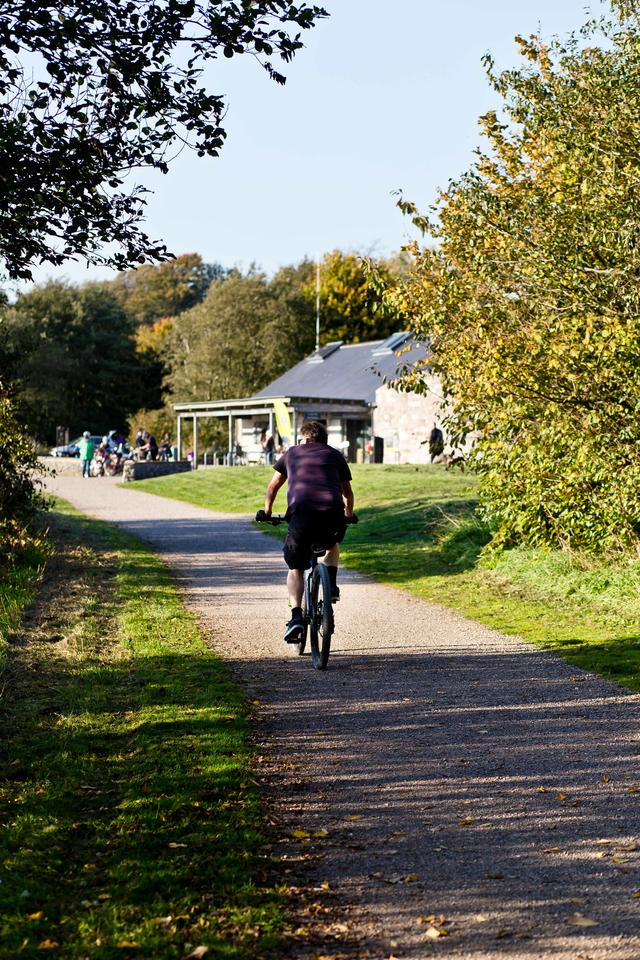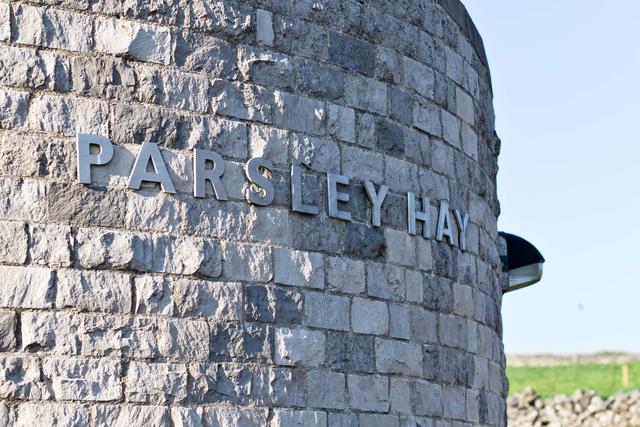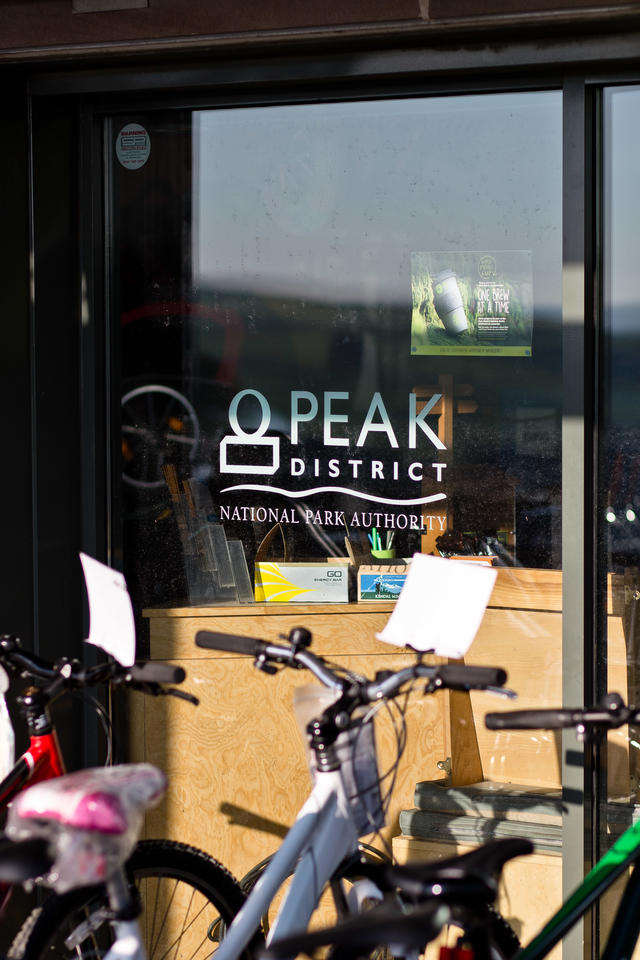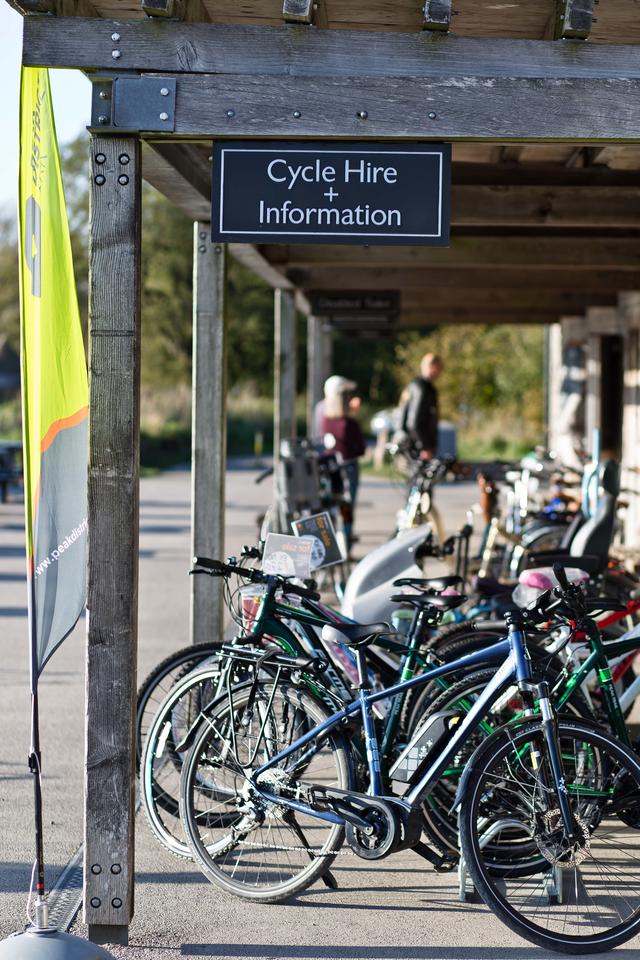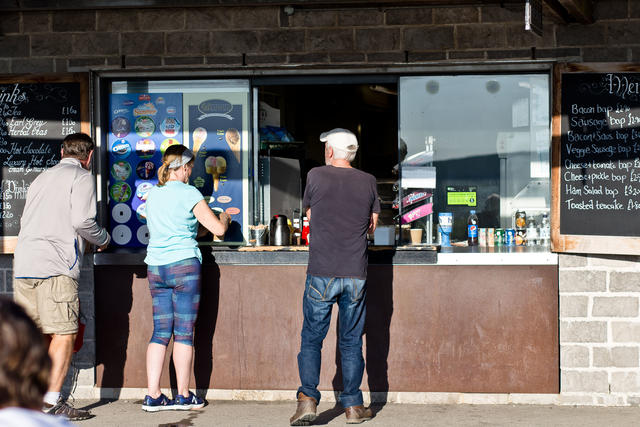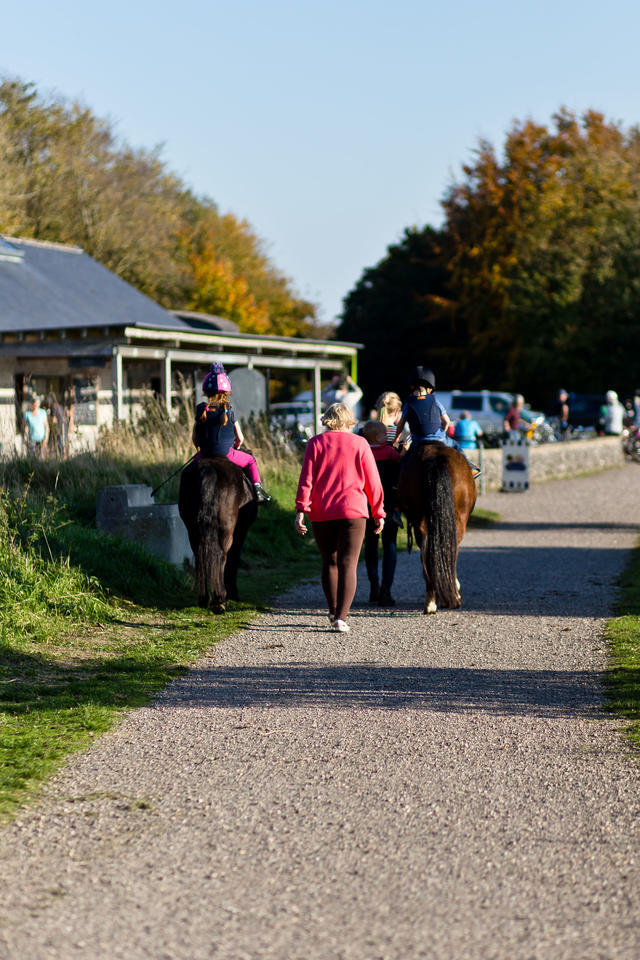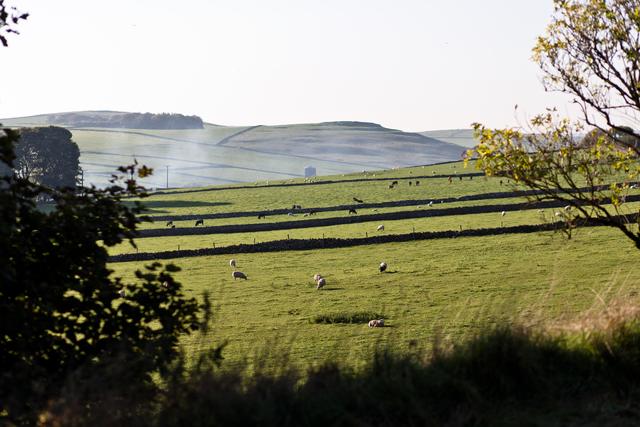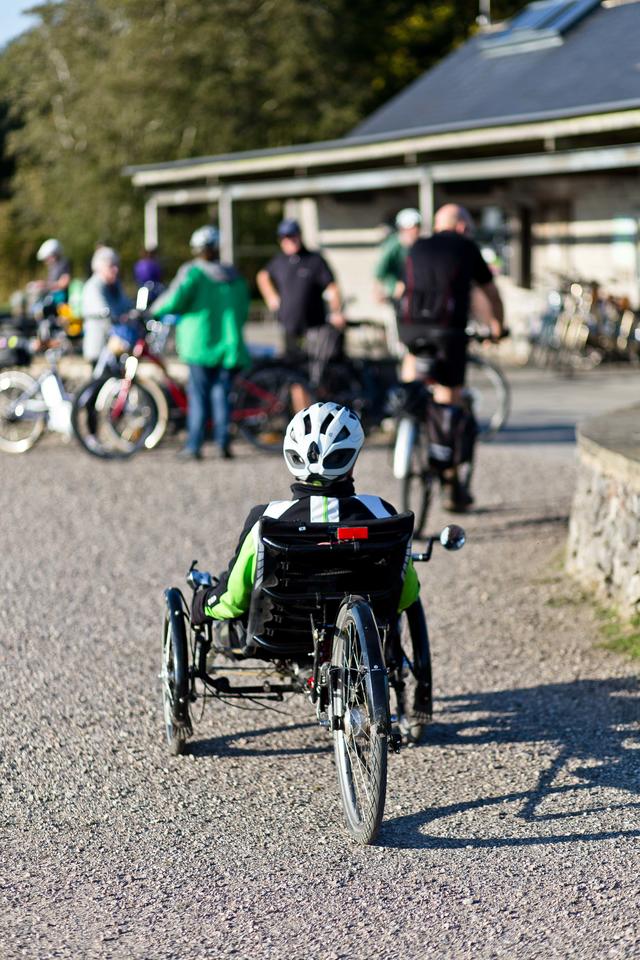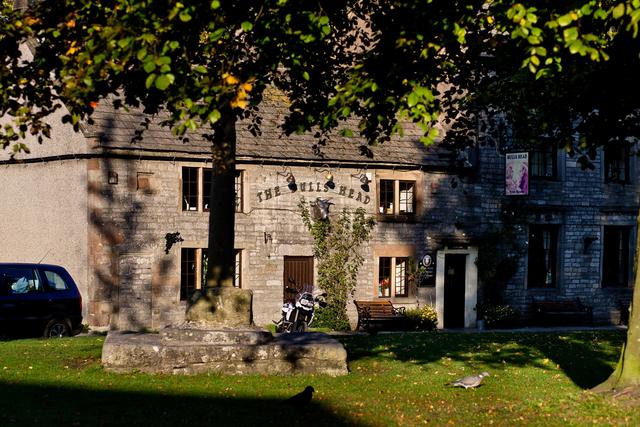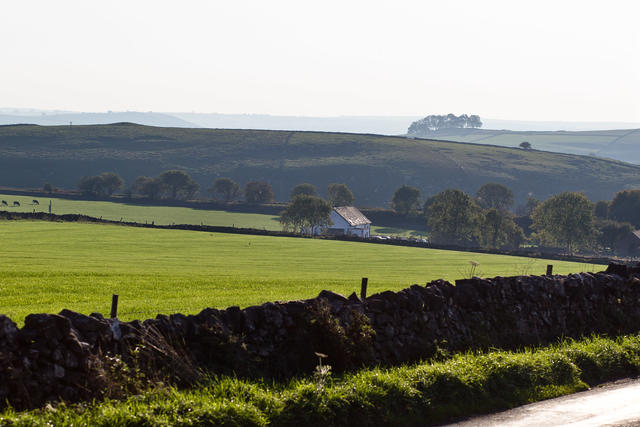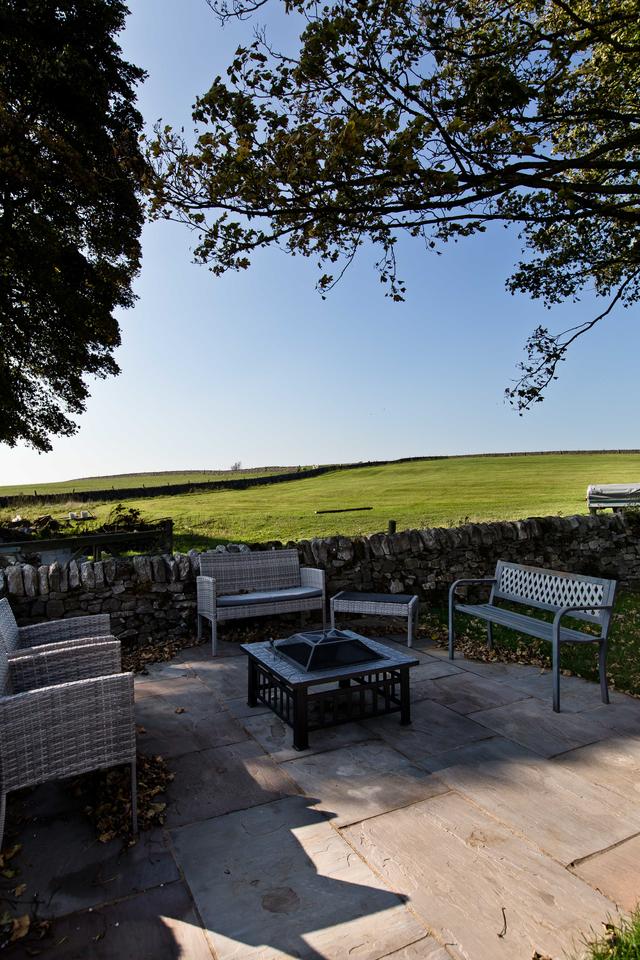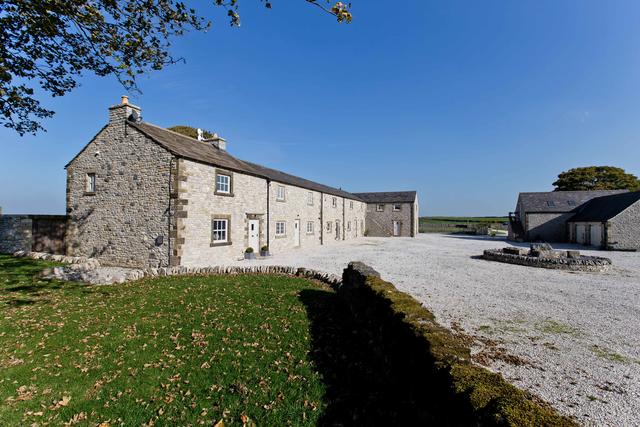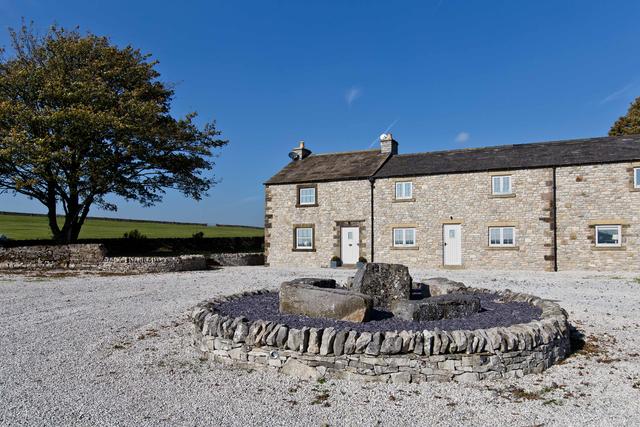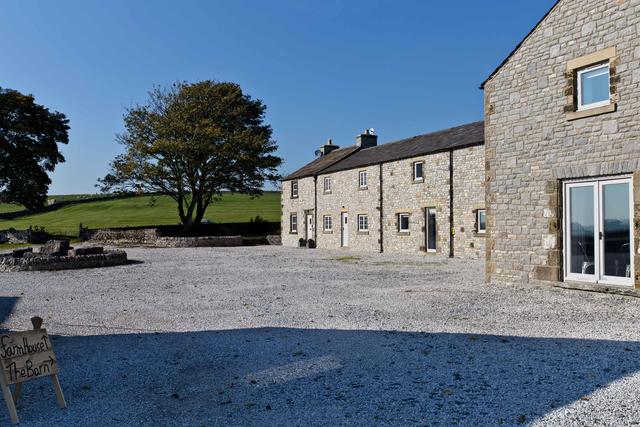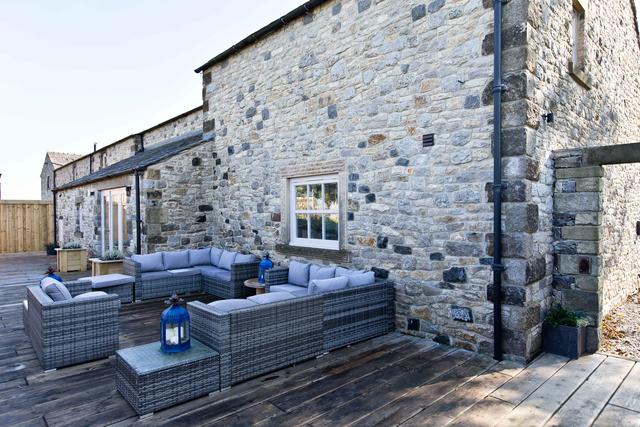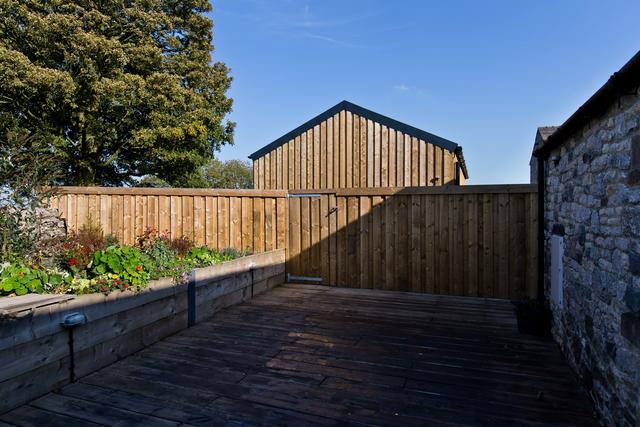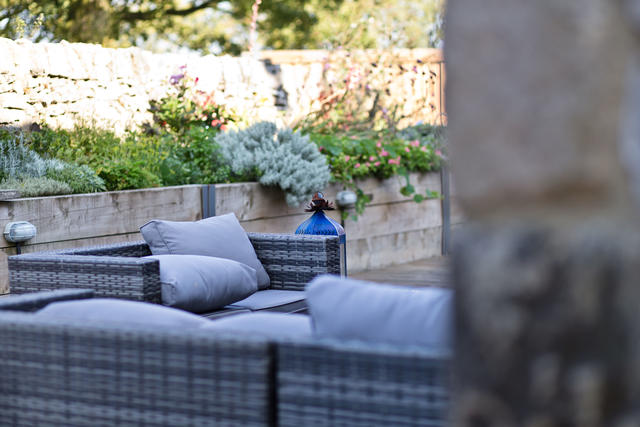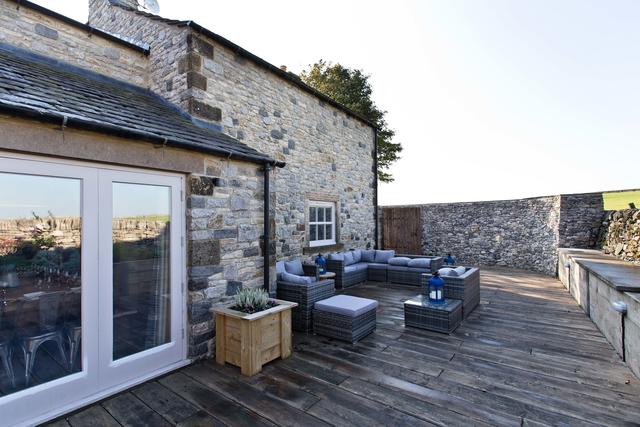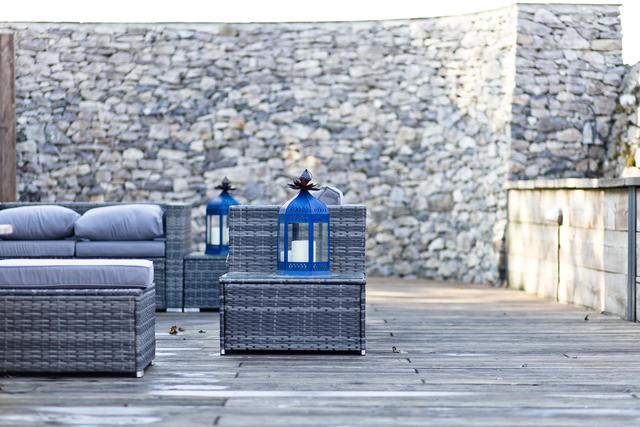 How To Find Us
Directions
The address of The Farmhouse at Benty Grange is:
Benty Grange, The Rake, Nr Monyash, Derbyshire, DE45 1JR
Approx GPS coordinates of the property are: 53.17422, -1.77859
Use 'What3Words' to find exact location: ///scrub.pinks.grouping Download the 'App' here: 'What3Words' 
Please note the postcode takes you to a neighbouring farm so please follow the below directions!
Directions to Benty Grange from Buxton (approx. 15 minutes):
From Buxton follow signs to the A515 to Ashbourne
Follow A515 for 8.5 miles
(After approx. 6 miles there will be a left turn signposted to Monyash, Bakewell B5055- do not take this turning continue along A515 for a further couple of miles)
There is a left turn signposted to 'Monyash, Youlgreave, Arbor Low'- take this turning
(If you get to a turning on your right hand side for Parlsey Hay you have gone too far)
After you have turned left continue for 0.3 miles
On your left hand side there will be a building set back from the road and a hanging wooden sign 'Benty Grange'- please see below. Turn down the track and follow it down.
You have arrived at Benty Grange - please see signage on arrival for parking instructions.
Directions to Benty Grange from Bakewell (approx. 15 minutes):
From Bakewell centre, take the B5055 between The Rutland Arms Hotel and The Bakewell Book & Gift Shop signposted to Over Haddon & Monyash (King Street, becomes S Church Street)
Follow the B5055 (turns into Monyash Road) for 5 miles
Continue through the village of Monyash
When you get to Monyash Primary School on your left and The Bulls Head on your right, take a left turn up 'Rake Road' signposted to 'Newhaven, Youlgreave'
Continue along Rake Road for 1.3 miles
You will pass a farm on the left handside set back from the road (this may be the farm your postcode takes you to, do not take this turn)
Approx 0.3 miles further on the right hand side there will be a building set back from the road and a hanging wooden sign 'Benty Grange'- please see below. Turn down the track and follow it down.
You have arrived at Benty Grange - please see signage on arrival for parking instructions.
Directions to Benty Grange from Ashbourne (approx. 20 minutes):
Follow signs for A515 to Buxton- follow A515 for appox 11.5 miles
On your left handside there will be a white building on the corner and it will be signposted to 'Pilsbury & Parlsey Hay' go past this turning and a few metres later there will be a right turn signposted to 'Youlgreave, Monyash, Arbor Low', take this turning.
After you have turned right continue for 0.3 miles
On your left hand side there will be a building set back from the road and a hanging wooden sign 'Benty Grange'- please see below. Turn down the track and follow it down.
You have arrived at Benty Grange - please see signage on arrival for parking instructions.
Floor Plans
To view or download the floorplan for this property click here.
Viewing PDFs
The file is in PDF format so you'll need a PDF viewer, such as Adobe Acrobat, to view them.
Virtual Tour
Why not take a closer look. Using state of the art technology we can let you take a walk around the wholeof this property.
If you're using a phone or a tablet, you may find the tour easier to navigate in a window of its own. Click here to launch.
---
Guestbook
The following comments are taken straight from the guestbook we keep for The Farmhouse at Benty Grange. Verbatim.
Whatt stayed in August '21
We had such a good weekend at The Farmhouse, it was amazing!
anonymous stayed in February '20
Our accommodation was faultless and was of a higher standard than many of the UK hotels I stay in while travelling on business.
Ward stayed in January '20
We had an amazing time, and we all loved the house.
anonymous stayed in November '19
The house and the service from start to finish was fantastic. We will definitely be coming back!
Wilson stayed in September '19
There were no issues that I'm aware of,we didnt even break a glass! Beautiful place. We had the best time.
Woods stayed in September '19
We had a thoroughly enjoyable weekend and the house was ideal for a family celebration. The weather was also kind so the children were able to explore outside and make full use of the games room, enabling the adults to relax. We would like to say how delighted we were with the caterers you suggested, The Dinner Party Company. The food was excellent and plentiful and the service was efficient and unobtrusive. In addition the staff were very obliging and friendly. We would thoroughly recommend them.
Kidd stayed in July '19
Thank you. We had a truly wonderful weekend. The house was perfect
anonymous stayed in June '19
Excellent service over the phone and via email, attractive and easy to use website. Faultless
Russell stayed in May '19
I just wanted to say what a beautiful place it is, so tastefully decorated and the views are simply amazing. Thank you for a lovely weekend.
Hesmondhalgh stayed in May '19
Thank you for a fantastic stay! We really enjoyed it.
McParland stayed in December '18
The place was stunning and we had a wonderful weekend
Sign the Guestbook
If you have comments you'd like to leave then please get in touch. We love to hear all feedback - good or bad.
Your Stay At The Farmhouse at Benty Grange
Our Favourite Places to Eat Nearby
Country Pubs


Restaurants
The Woodyard, Bakewell - Great location by the river in Bakewell for a family friendly Restaurant –  Serves both lunch and dinner.
PieDaniels, Bakewell- A fine French restaurant and cafe bar in the heart of Bakewell offering a selection of fine French & English cuisine.
Rajas Indian Restaurant - A great Indian restaurant located in the Bridge House just on the edge of the famous Bakewell Bridge. They also do take-aways.
Simply Thai,  Buxton - Great local Thai restaurants located in the centre of town – booking is definitely recommended.
Taj Mahal, Buxton - Excellent curry house in Buxton.
Pizza Express, Buxton  -Well known pizza chain in a great location for town and the Opera House – kid friendly.
St. Moritz Restaurant, Buxton - Swiss and Italian cuisine, great pasta dishes and also has a excellent pre- theatre menu.
Indian Palace, Buxton - Great Indian restaurant in the centre of Buxton
Lone Star, Buxton - Mexican/American cuisine, known for their large portions.
Cafes
The Old Smithy Café, Monyash - Rustic! Famous for its breakfast featured in the Top 50 Breakfast Book in the country. Character décor, open year round – walkers and bikers welcome. Also serves lunch daily with dinner on certain days.
Bull i thorn- a former 15th Century Coaching Inn has been transformed into a new cafe and campsite- offering breakfasts, snacks and lunchtime meals alongside great coffees and even afternoon tea! A popular stop off to get instantly refreshed!
No 6 The Square, Buxton - Relax and enjoy morning coffee, light meals or a traditional English afternoon tea in the elegant surroundings of No. 6 The Square.
Lavender Tea Rooms, Bakewell - A lovely quaint tea room, hidden in the corner of Hebden court, the charming décor includes vintage memorabilia and there's outside seating in the sheltered courtyard. A great place for afternoon tea.
The Bean and Bag, Bakewell - Family run café in the heart of Bakewell offering locally sourced freshly prepared meals, cakes and scones.
The Upstairs Café, Bakewell - A nice child –friendly café located in the centre of Bakewell.
Hassop Station Café & Bookshop -A family friendly cafe with outdoor covered seating and play, with a focus on food, family & fresh air. Enjoy brunch, lunch or afternoon tea on the terrace on the renown Monsal Trail or in the newly refurbished station building.
Fresh Delivered Meals and Take-Aways

Sauced Here- fantastic selection of home made prepared meals from local chef/cooks - great for large groups. They also provide a full basket of groceries from local producers that can replace a supermarket delivery. 
Scoff - Delicious, home-cooked food, delivered to you in the Peak District
Eastern Court (Chinese)
Maazi-Sumptuous Indian meal or buffet delivered to your door. Numerous catering options and can also provide waiting on staff and even take away the washing up.
Our Top 5 Places to Visit Nearby
1. The Tissington and High Peak Trails
With the Tissington and High Peak Trails close by you can walk for miles along these old railway lines. Both trails meet at Parsley Hay (just down the road from the property) the TissingtonTrail runs along a 13 mile route from Ashbourne to Parsley Hay, while the High Peak Trail is 17.5 miles long route from the High Peak junction near Cromford to Dowlow. Surrounded by beautiful countryside the traffic-free trail is ideal for horse riders, cyclists and walkers of all abilities. It is also suitable for wheel chairs and pushchairs along the flat sections and the trail is mainly mud free which is quite rare in the Peak District. The nearest access and also bike hire is at Parsley Hay which is less than a mile away.
Click here for more information on Parsley Hay cycle hire.  (Parsley Hay does shut for Winter from 01st Nov until February)


2. Spend a day exploring the historic market town of Bakewell
Bakewell is the largest town within the Peak District National Park and is a hub of activity. Market day is on a Monday and as well as a large range of stalls there is also an agricultural market which is definitelyworth a look around as it offers a great insight todays farming community. The town also hosts a craft and gift fair every weekend in Brigade town hall. The Bakewell Old House Museum occupies one of the oldest buildings in Bakewell and dates back to 1543, it provides a fascinating glimpse into the towns past and is very interesting and informative with lots to appeal to all ages. Obviously no trip to Bakewell would be complete without sampling an original Bakewell pudding. The Old Original Bakewell Pudding Shop claims to have the old the original recipe and still makes the puddings by hand from the secret recipe.
Click here for a link to further information on Bakewell.
3. The Spa town of Buxton
The spa town of Buxton can really offer something for everyone; enjoy a stroll around the pretty Pavilion gardens. The kids can enjoy the playground areas or you might choose to go for a swim at the recent refurbished swimming pool. The more adventurous may want to try out 'Go Ape' the treetop adventure course, for those without a head for heights a visit to Poole's Cavern is fascinating, and it's a great activity especially for kids when the weather does not cooperate for outdoor activities. For theatre lovers, seeing a show in the intimate Buxton Opera House is a must, and for the shopaholics the pretty Cavendish Arcade has a range of lovely little boutique shops. Lovers of real ale will enjoy visiting Buxton Tap House, which is Buxton's own brewery pub serving its very own ales and bitters.
Click here for further information on Buxton

4. Chatsworth House and Park 
No visit to the Peak District would be complete without visiting the fabulous Chatsworth Estate. There really is something to do for every member of the family - The Farmyard and Adventure playground, the magnificent house and the gardens which are equally as impressive as the house, with the maze, the garden trails, and the famous water cascade to keep the little ones occupied.
Click here for a link to Chatsworth House and Park
5. Alton Towers 
Arguably one of Britain's best theme parks, Alton Towers is only a 40 minutes' drive away. The infamous Alton Towers resort offers a great family day out, as well as the renown rides which provide enough excitement even for the most ardent fun seeker, the Cbeebies land is a great addition to cater for the youngest family members. The waterpark is also not to be missed, with rides for the adrenaline junkies as well as relaxing areas for those who just want to chill out in the Lagoona Bay, and for those looking for a more relaxing day, the Spa is a great place to unwind and chill. The Spa also offers a great selection of treatments if you are feeling indulgent.
Click here for further information on Alton Towers resort.
Finer Details
What To Expect At The Farmhouse at Benty Grange
A basic weekend supply of the following essentials are supplied (as there are no staff on site if you run out you will have to replace):
Hand soap
Loo rolls (1 x on the holder and 1 spare per bathroom)
Washing up liquid
 Kitchen roll, cling film, kitchen foil
Dishwasher tablets
 5 x tea towels
1 x dish cloth and pan scrubber
Basic cleaning materials
Utilities - Electric, gas, heating and hot water
Wifi is available - see notes under house restrictions
2 pints of milk & welcome biscuits

​Useful Information
​ 2 x high chairs (if requested)
2 x Travel Cots
Hairdryers in each bedroom
Fresh linen with beds made up upon arrival
Fresh towels - Bath towel & hand towel for each guest in bedroom
1 x log burner –1 x complimentary basket of logs supplied upon arrival (due to health and safety we cannot supply fire lighters or matches so please bring your own). After this logs can be purchased direct from the owners
Open plan living area has a 27 inch HDMI TV and DVD player with full Sky package including Sky sports but not BT Sports - we do not allow guests to pay to view other channels
Digital radio in the kitchen
Washing machine and tumble dryer
Iron & ironing board
Hoover
A selection of local walking guides and local information books
Card games
Novels and general interest books

There is a games room in a separate rustic barn at the rear of the house with pool table and dart board. 
Christmas - throughout December there will be a Christmas Tree decorated with a set of lights
​Cooking and Dining
Any kitchen items that are absolutely vital for your stay, please check with us before your visit to ensure that it is at the property (as things do sometimes get broken).
Pots, pans, roasting tins, crockery, cutlery and glassware (including champagne flutes, wine glasses and pint glasses)​
Microwave
Kitchen Scales
Large double oven with 5 induction hobs and warming zone
Full height fridge 
Full height freezer
2/3 cafetieres
2 Kettles and teapots
Plastic cups/bowls/plates/cutlery for children
 Electric hand whisk
Dishwasher
3 bar stools at the breakfast bar
Extra wine fridge
Double toaster
Large oblong dining table (250cm x 145cm) seats up to 18  guests with a mixture of benches and chairs. 

​Outside
​2 x charcoal BBQ – 

available for use from 

01st April through to 31st October, please supply your own charcoal and lighting equipment.

Fire pit – please supply your own logs
Rattan style outdoor furniture, available for use from 01st April through to 31st October.
Really near to the Tissington and High Peak Trail so bikes are a must!

You Should Know

​Please note that we are dog friendly at this property however there are livestock in the surrounding fields so dogs must be kept under control at all times. For your information, a maximum of two dogs are allowed on site if pre-arranged - you will be expected to keep them out of the bedrooms and off the soft furnishings. We do charge £30 per dog for the duration of your stay. Please see our dog policy for further details.
 Wifi is available via a satellite operation but due to the rural location this can be intermittent and sometimes unreliable so we like to inform guests before their arrival that you are unable to carry out downloads, watch films or totally depend on it for work.
No fireworks due to nearby livestock
No use of drones near the property
Noise Policy - due to the quiet rural location, late night noise must be confined to inside the building by 10pm. 
Managers do live in a private dwelling on site and there is another holiday barn attached with its own private facilities.
​Location
​The postcode is DE45 1JR – Important check directions page for more details as postcode does not take you direct to the property
The nearest towns are Bakewell or Buxton both a 10/15 minute drive
The nearest village is Monyash
Nearest Village shop is the petrol garage at Newhaven
Ample parking
Nearest pub The Royal Oak at Hurdlow or The Bulls Head at Monyash
​Booking and Payment Process
​We ask for a 25% deposit to confirm a booking
The balance is due 12 weeks prior to arrival
Full payment is due upon booking if it is booked with 12 weeks prior to arrival
A cautionary damage deposit of £400 is held and returned after your stay
Click here for a full description of how to make a booking
​Shopping Delivery Information
​For ease, lots of our guests pre-order a shopping delivery. You are very welcome to organise this, however, please do make sure you have arranged the delivery time
slot to arrive after you have checked in, as we are unable to accept it on your behalf (as the property is let as exclusive use there are no Peak Venues staff on site).
​Local Shopping Delivery From Local Producers - Sauced Here
​Keep it local! Our guests often ask for recommendations for local farm shops and butchers for the all-important celebration meals and this is a brilliant and very easy service. Sauced Here has similar functionality to an on line supermarket but is only stocked by local suppliers in the Peak District - order your wine, meat, vegetables, dairy and so much more with a choice of over a thousand products and at reasonable prices. It's a great service which delivers straight to your holiday cottage or you can click and collect at a local pick up point.

Click here to book a delivery slot.
Dates Already Booked? Click Here or Call Us for Fabulous Alternative Options
Ready to Book?
Quick Enquiry
Key
Available
Not Available
Changeover Day