Priestcliffe HouseSleeps 20
A blend of original features with stylish modern design, this beautiful Victorian House has nine stunning en suite bedrooms. Situated in the pretty rural hamlet of Priestcliffe with breath taking views of the Peak District, it is close to both Buxton and Bakewell. Sleeps 18 adults and up to 24 if there are children within the group
A Family Friendly Beautiful Victorian Country House in a Rural Hamlet With Nine Designer En Suite Bedrooms. Close to Buxton and Bakewell
Highlights.....

​

Nine individually designed boutique bedrooms

Nine super en suite bathrooms/shower rooms

Sleeps 18 adults and up to 24 if there are children

Dog Friendly.
Charming and beautifully restored Victorian house with added quirky features designed to provide the ultimate family getaway
Spacious formal reception room with lovely far reaching views of the Peak District from the impressive bay windows

The cellar has been converted into a fabulous games room with tons of family games for both indoor and outdoor use!

Lovely south facing terrace and gardens 
Superb surrounding countryside provides both easy and challenging hill walking routes from the door step
Perfectly placed between both Bakewell and Buxton, in a pretty rural hamlet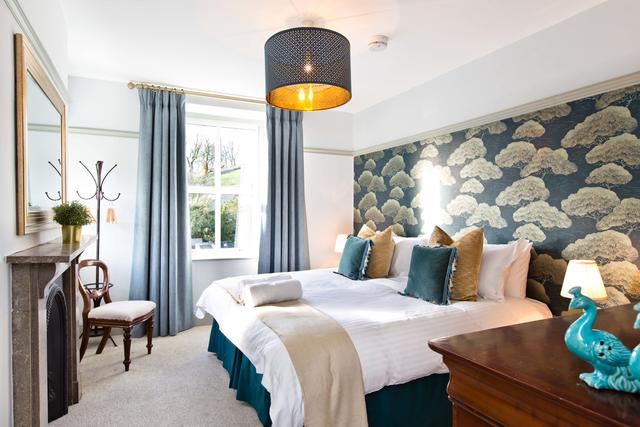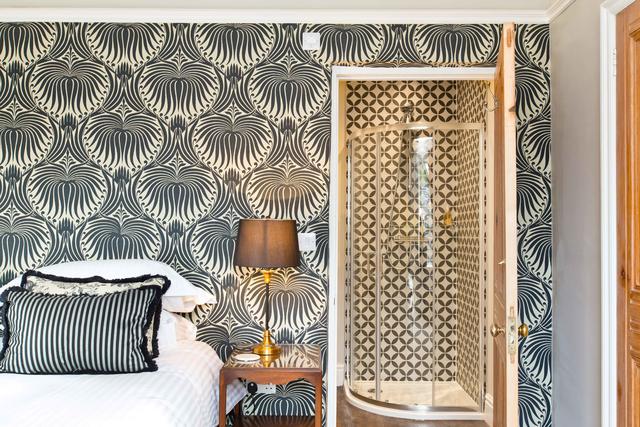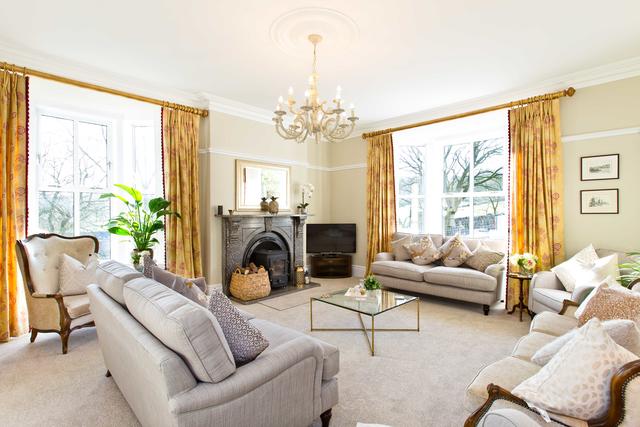 Bedrooms & Bathrooms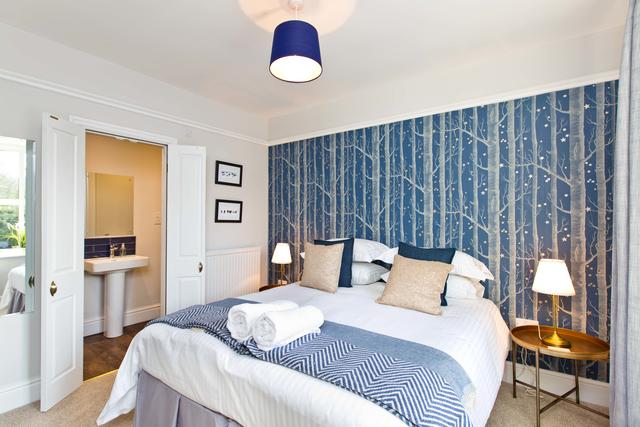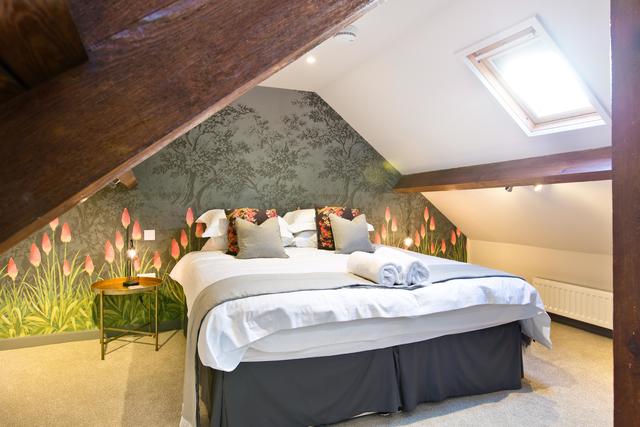 The grand staircase leads up to two floors with no less than nine sumptuous bedrooms all enjoying the luxury of private en suite facilities. Each bedroom flaunts feature wallpapers, coordinating soft furnishings and comfy beds for an uninterrupted nights sleep .

Priestcliffe House is perfect for family groups of eighteen guests but if you are happy using all the full size bunk beds/built in beds then you can sleep a few more. We know that groups come in all shapes and sizes and have different requirements so most beds can be made up as doubles or twins so you can pick and choose your layout to suit your groups needs.
Please click here for the bedroom layout.



Cooking & Dining
An achingly stylish country kitchen has been designed to make catering for large groups as easy as possible. With all the modern appliances you need, Priestcliffe House is fully equipped with plenty of cookware, crockery, utensils, glassware and all the other items essential for making your stay comfortable and more importantly easy.
The open plan dining room comfortably seats 20 guests (up to 24 guests at a squeeze) with extra seating at the kitchen island.

Click here for the finer details of what to expect in the property.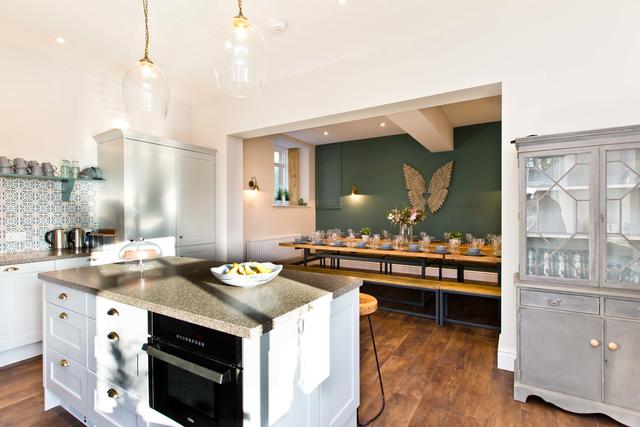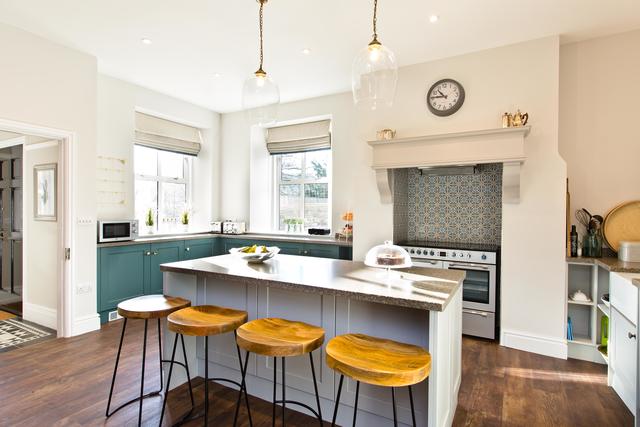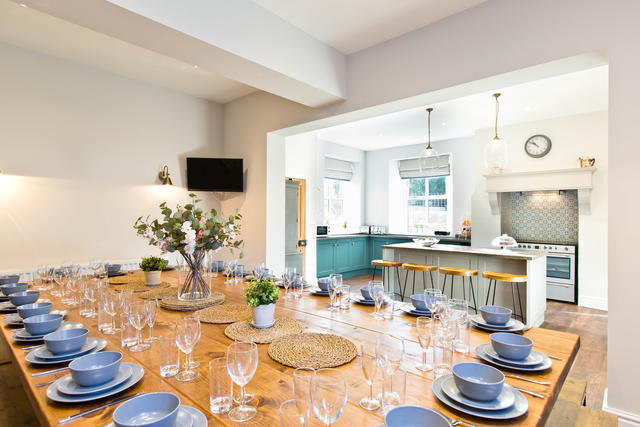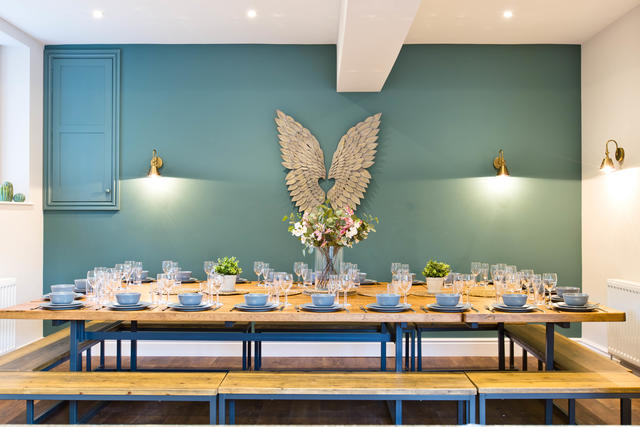 Living Space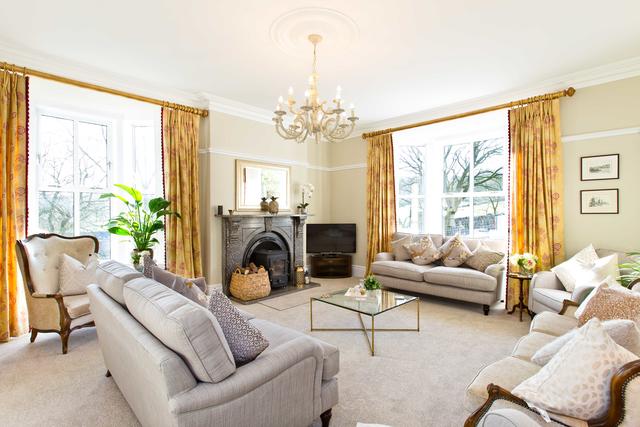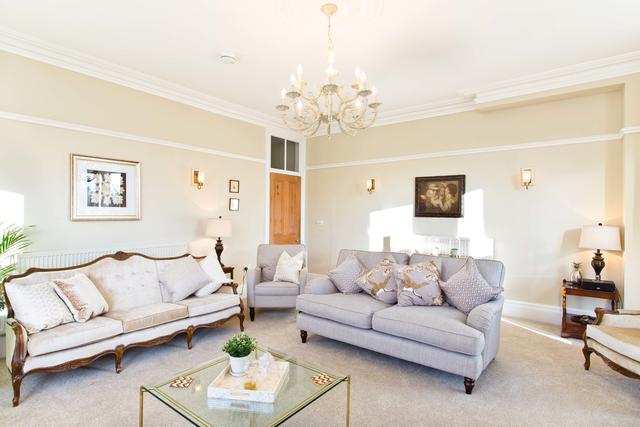 Make your way through the  impressive entrance hall to the spacious formal sitting room.  With a traditional feel, this beautiful styled and generously proportioned room retains many period features including  high ceilings and two bay window over looking the grounds and hills beyond.
After a day exploring the Peaks, you can relax in front of the log burner set within an original Ashford black marble fireplace.
Please click here for floor plans.



Cellar Games Room
Hidden away down a secret staircase you will stumble across this fabulous converted cellar. This rooms retains an authentic rustic feel with its exposed walls and clever floor lighting, creating a warm homely feel, the perfect ambience for guests to enjoy the multitude of games in this unique space:
Hand made retro electronic games table with 60 games, including all the old favourites - Donkey Kong, Space Invader & Pac Man.
Multi 6 foot games table with table tennis, air hockey and pool
Lounge area with wall mounted 42 inch smart TV screen
For the great outdoors there are stilts, didi cars and a Petanque pitch
You can gain direct access from the Cellar straight out onto the terrace - perfect for the outdoor games.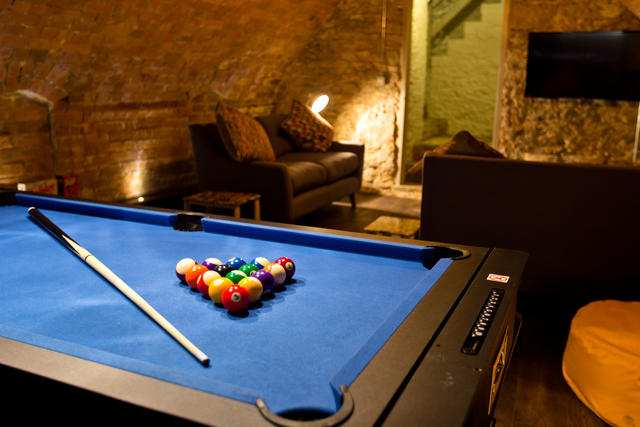 Garden and Outside Space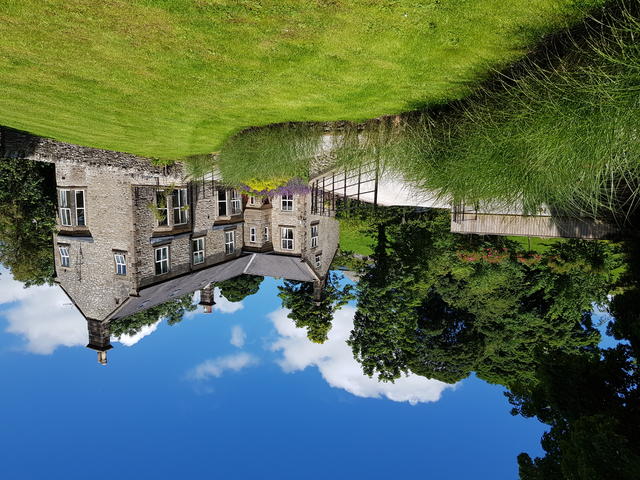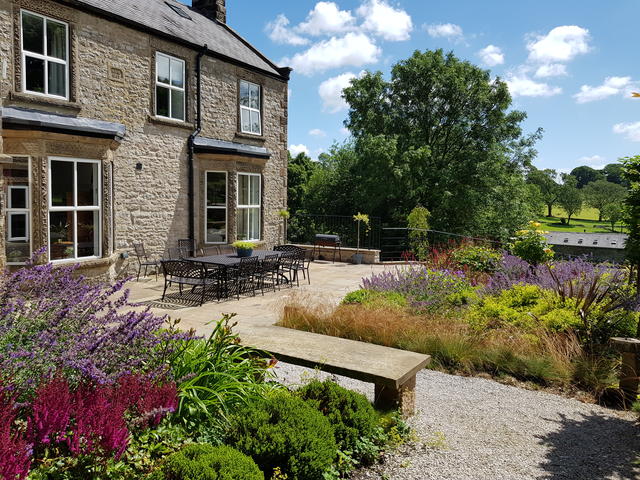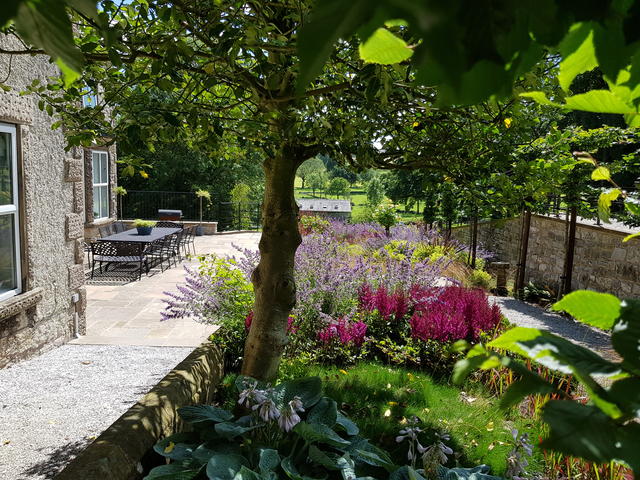 Tucked away down a quiet country lane, Priestcliffe House promises to provide a hidden escape! So families will find their own little piece of heaven with unforgettable views right on the doorstep.

BBQ and Garden Seating available from 01st April through to 31st October, please bring your own charcoal and lighting equipment for the BBQ.
There are extensive south facing gardens with a front patio and a side sunken terrace - when the sun is shining you will be able to enjoy this virtually all day!
The Peak District and Surrounding Area
Priestcliffe House is situated in the pretty rural hamlet of Priestcliffe and is very well located  just 5.8 miles from the popular market town of Bakewell and the 4.5 miles from the historic Victorian spa town of Buxton. It is set within the most glorious Peak District landscape with footpaths and country lanes right from the property leading to the spectacular Miller's Dale which directly drops onto the well known Monsal Trail. You are a very short drive to the Blackwell Cycle hire and you can even abseil from the impressive viaduct at Millers Dale.
The countryside surrounding Priestcliffe House offers superb opportunities for recreational pursuits including adventure walking, caving, cycling, fishing and climbing. Nearby points of interest include Monsal Head, the River Wye valley, The Monsal Trail and Chatsworth House. Slightly further afield  are the Blue John Caverns, The Tissington and High Peak Trails,  Dovedale and Haddon Hall, all of these are within an easy drive.
Click here for our recommendations to help you plan your stay.
Photo Gallery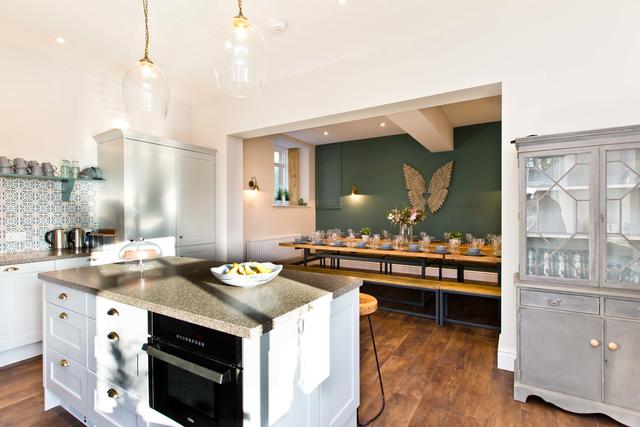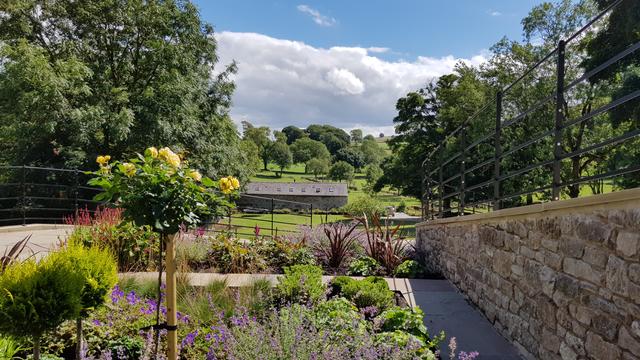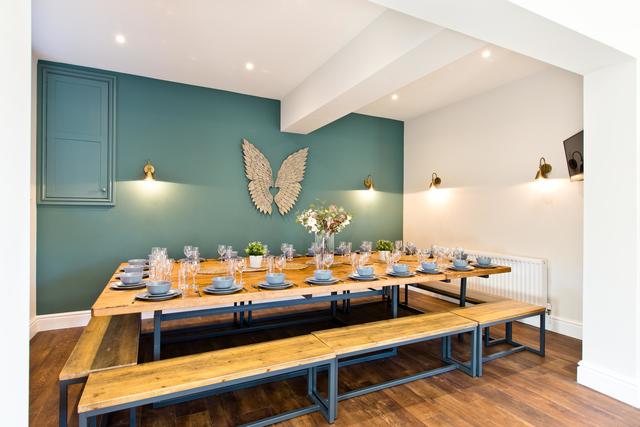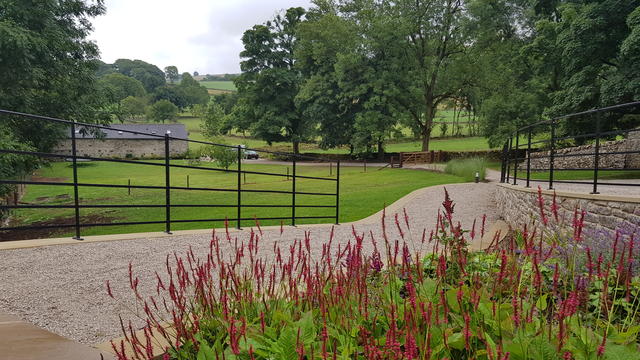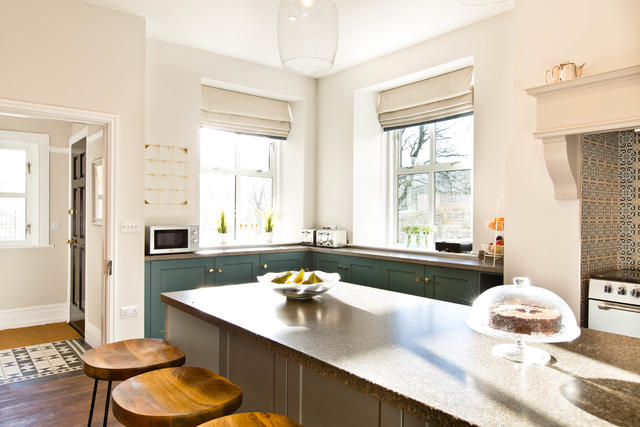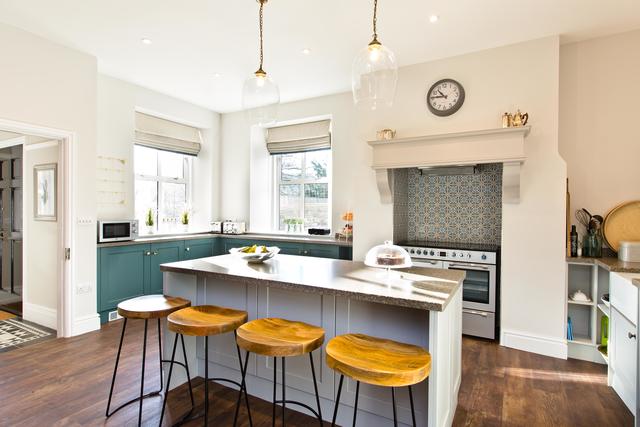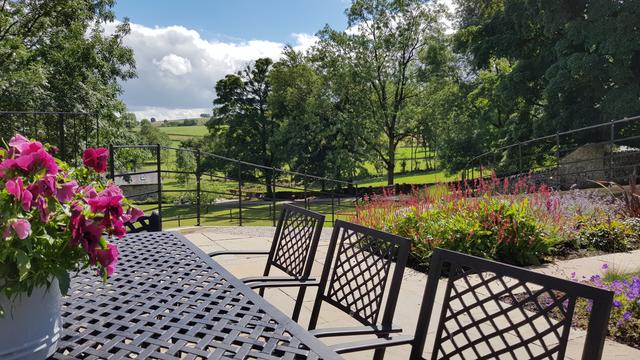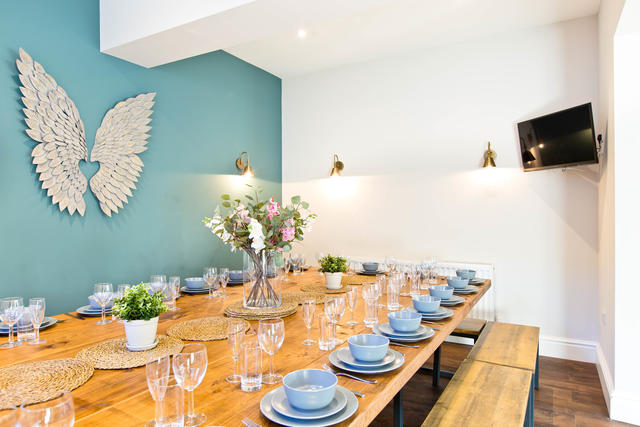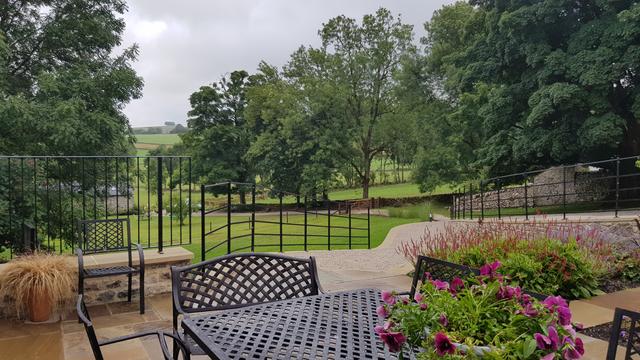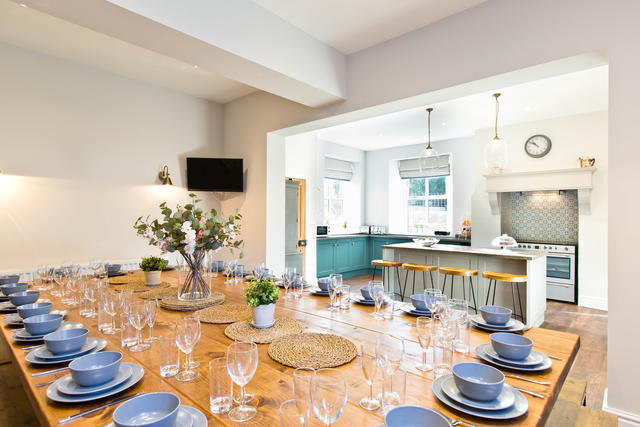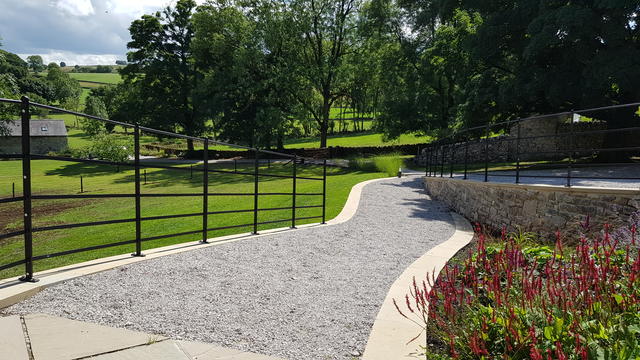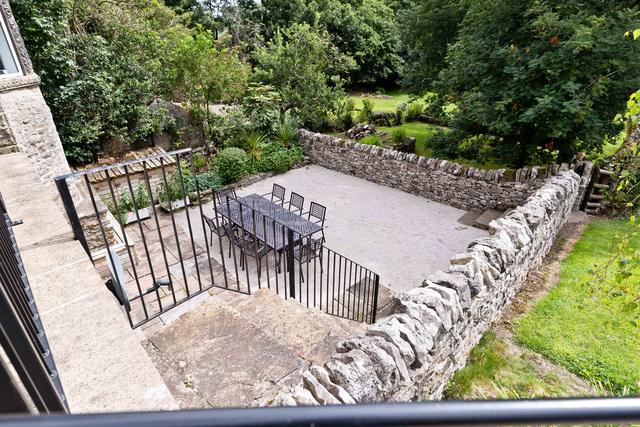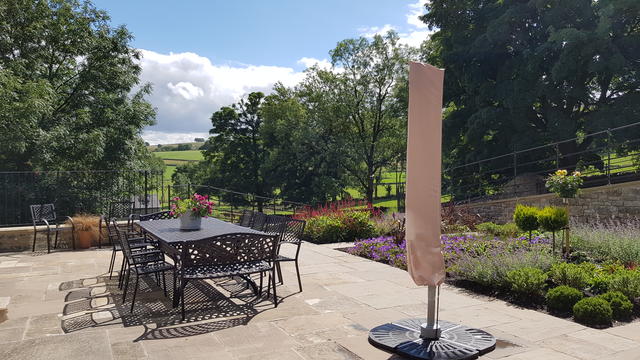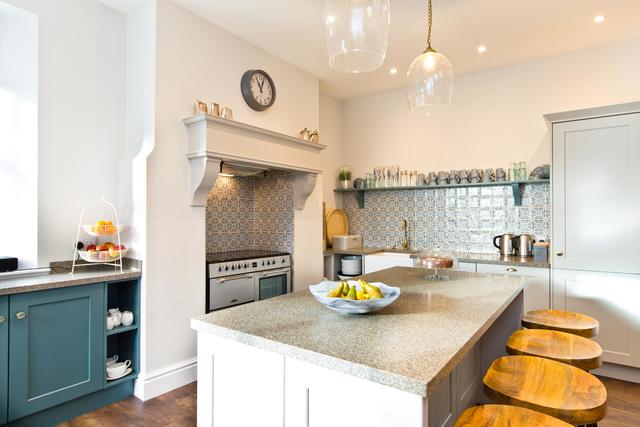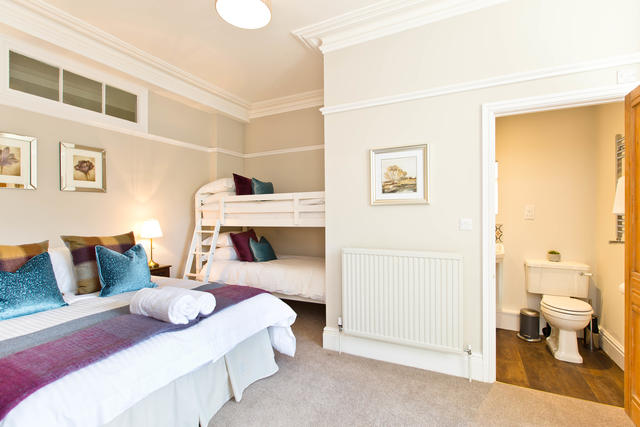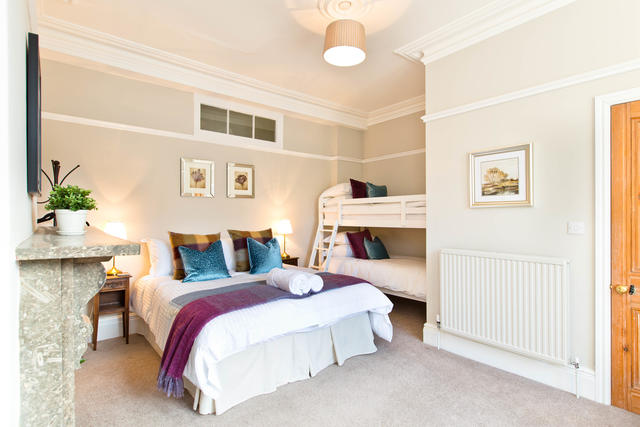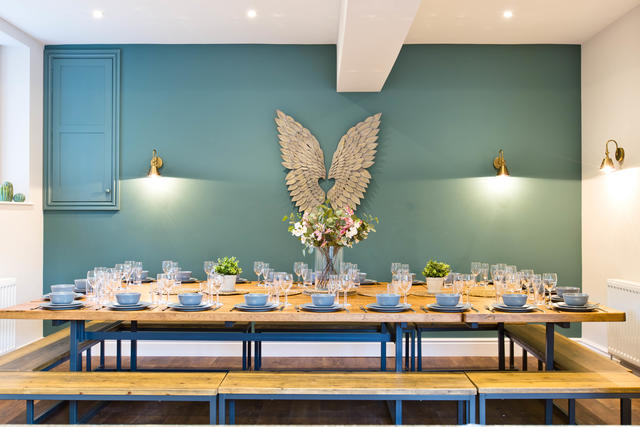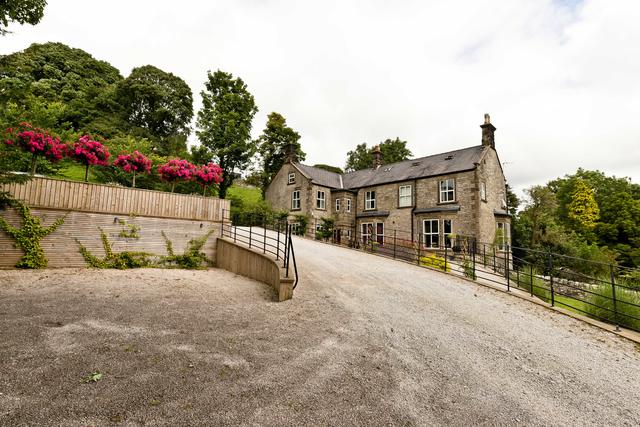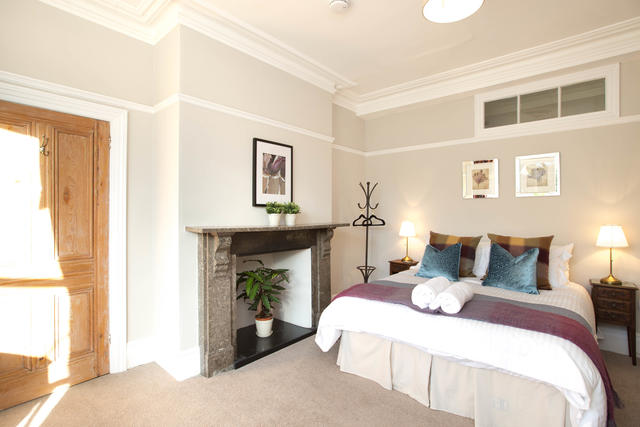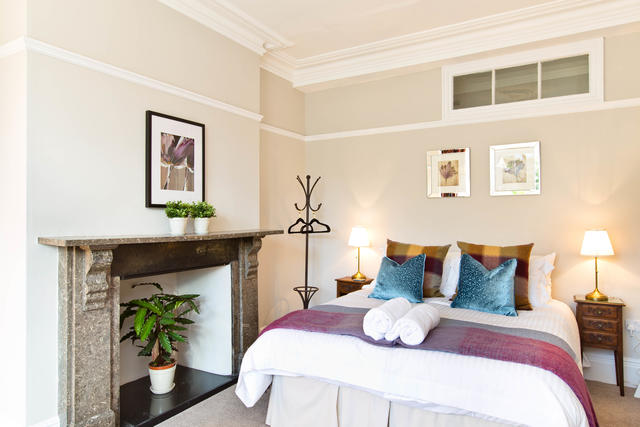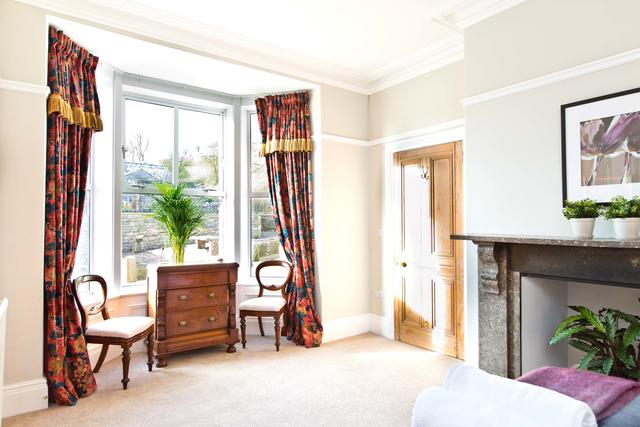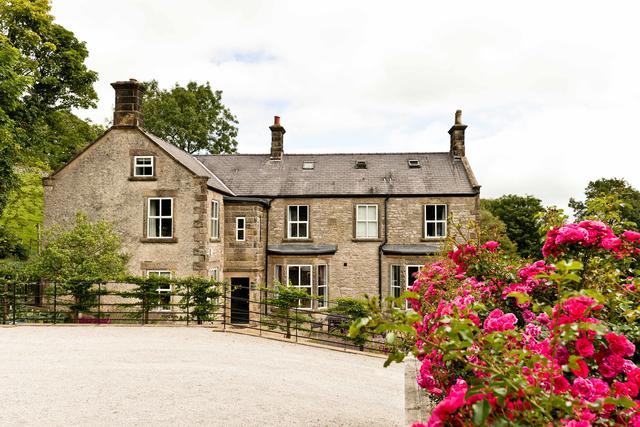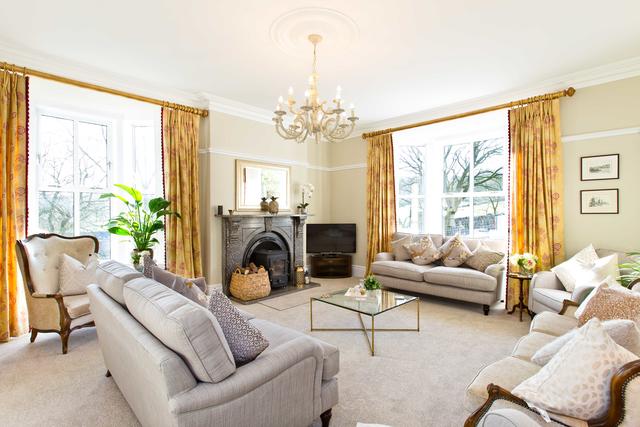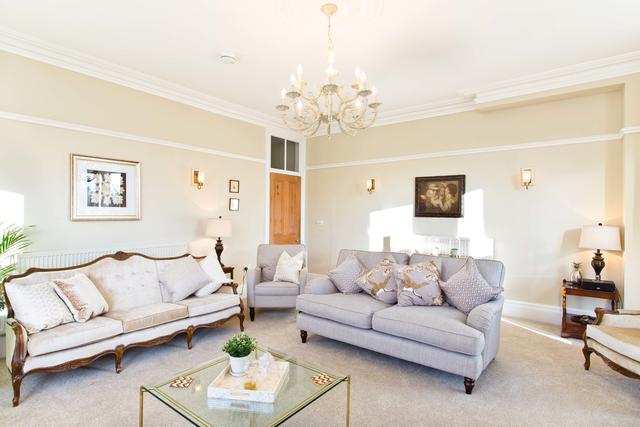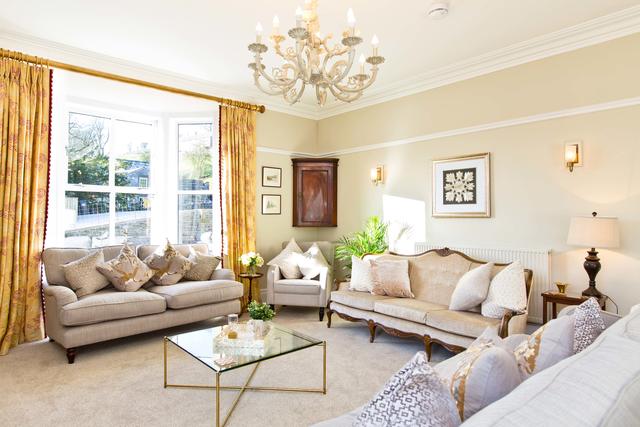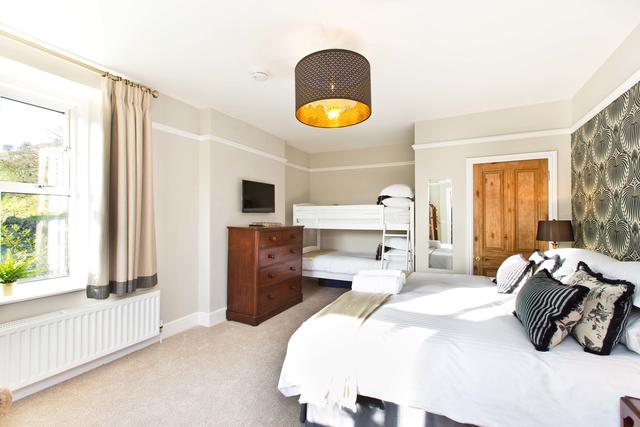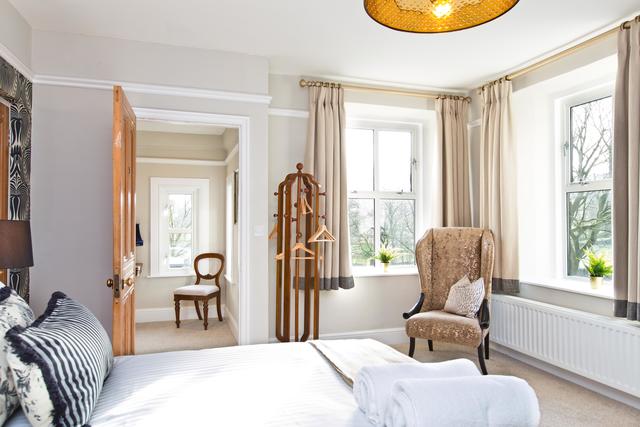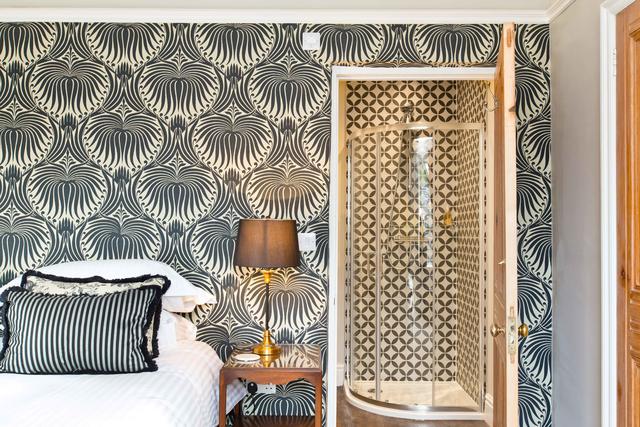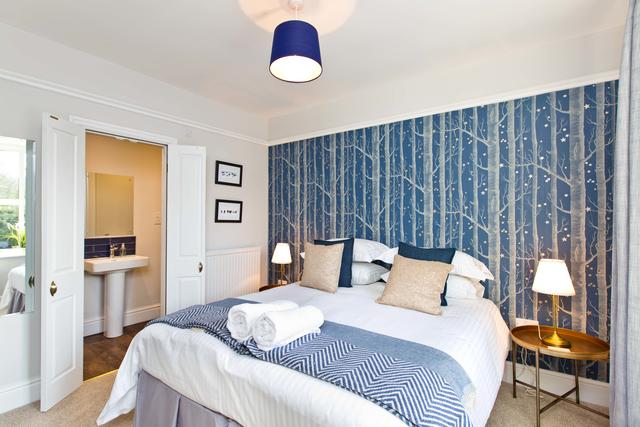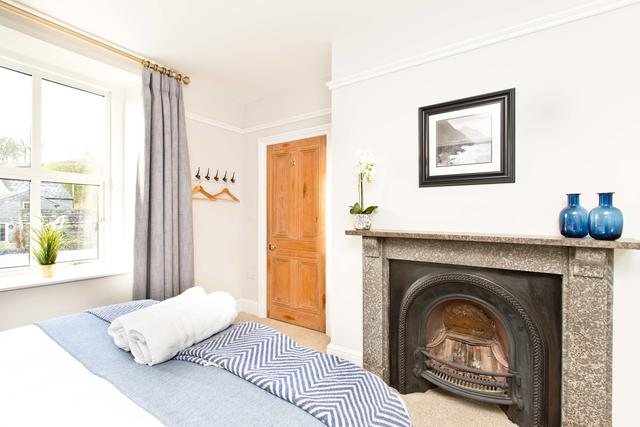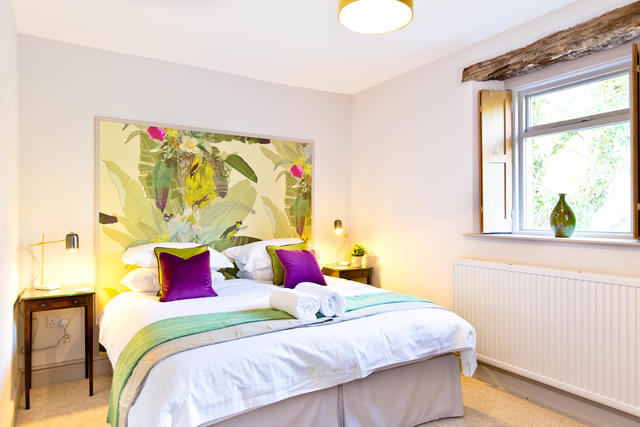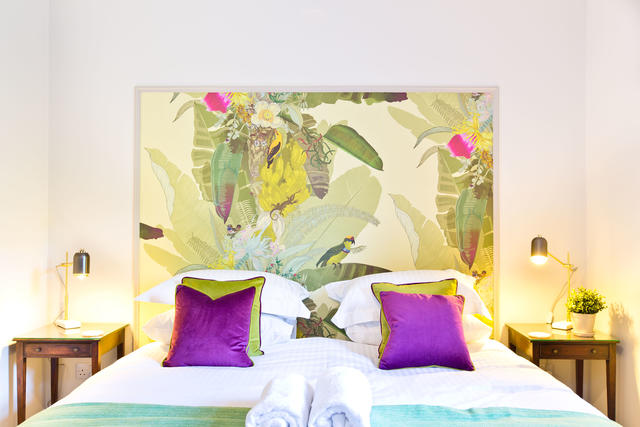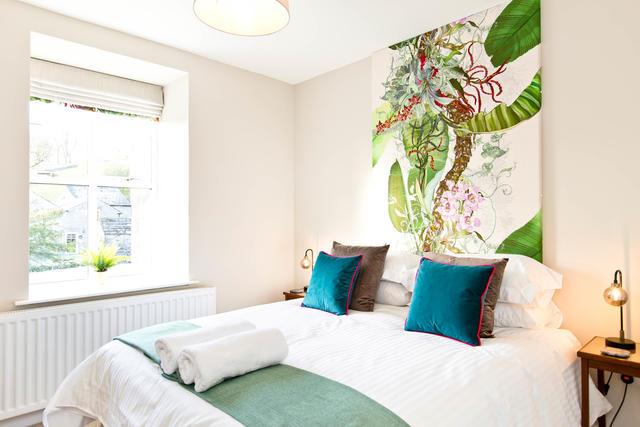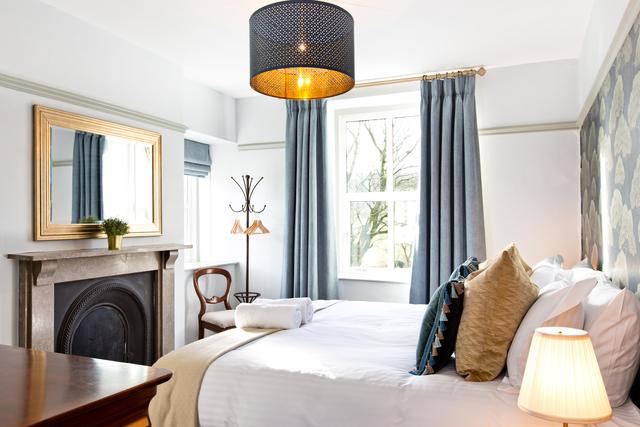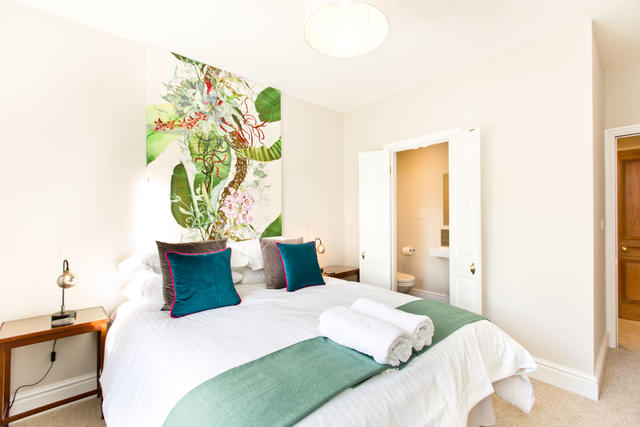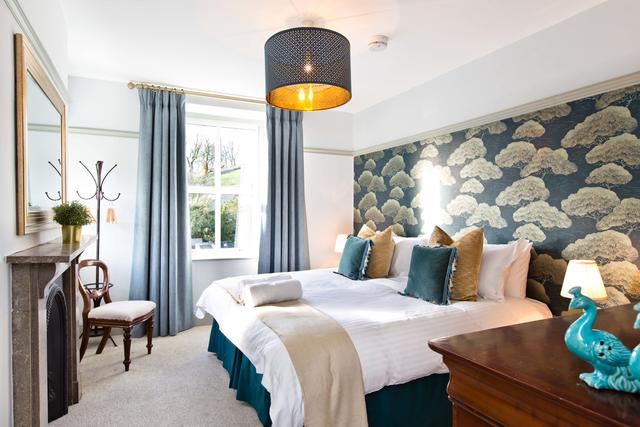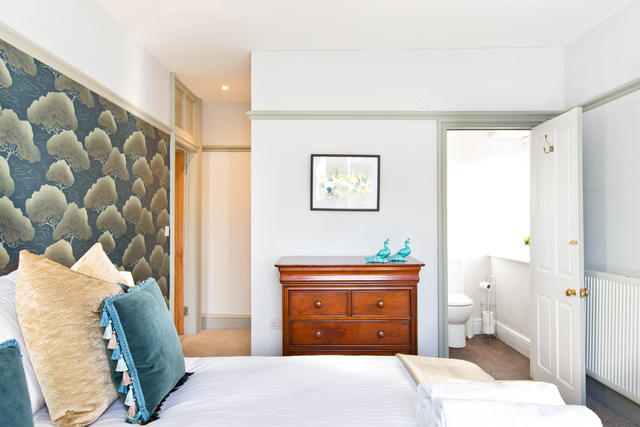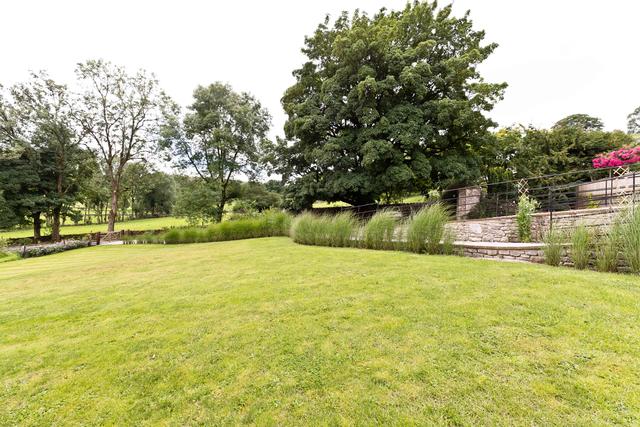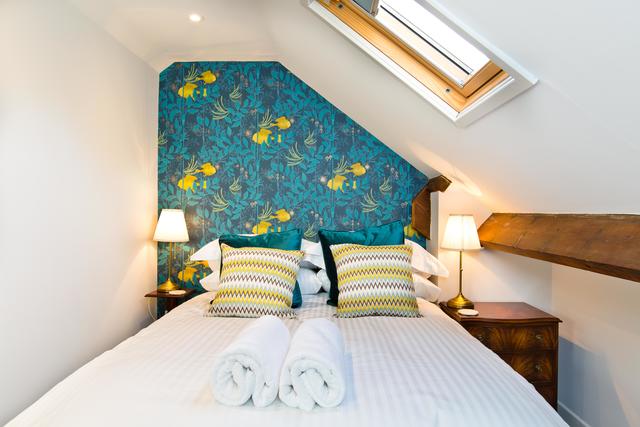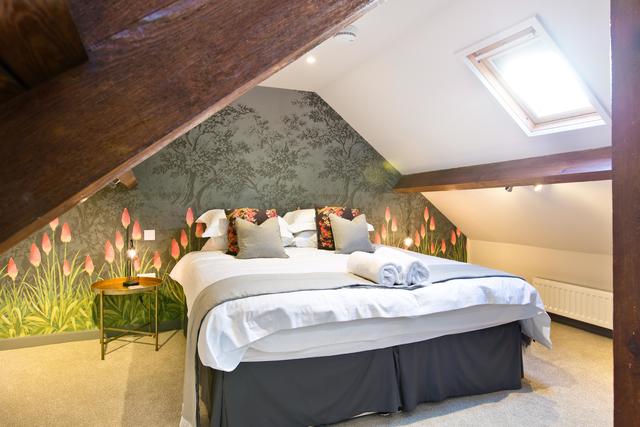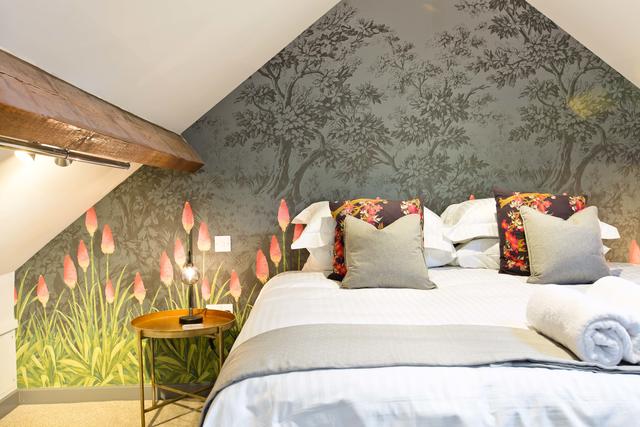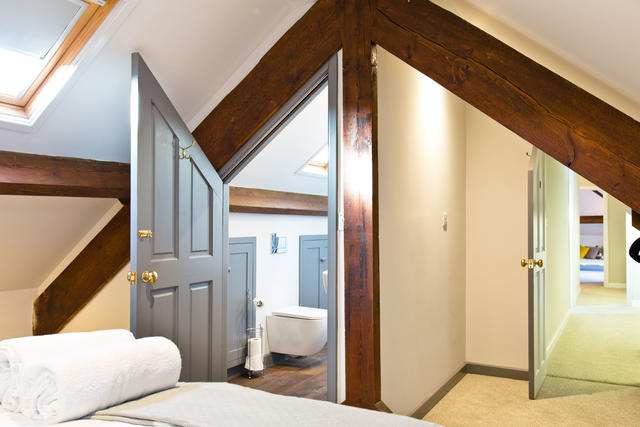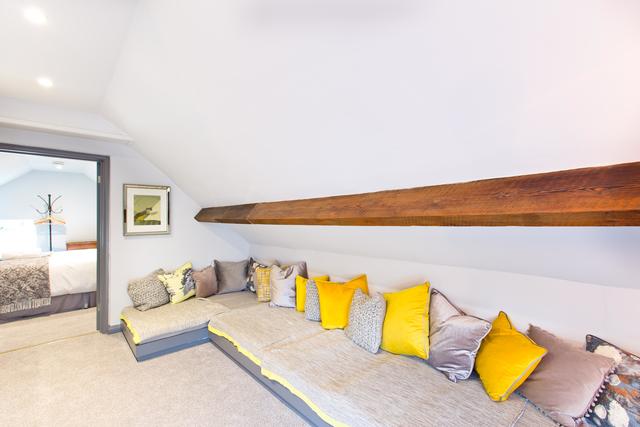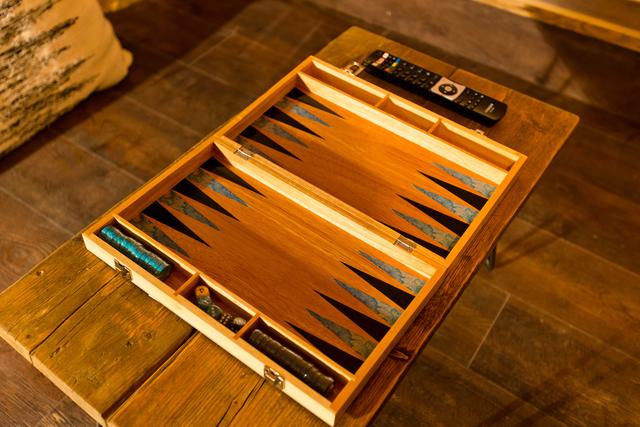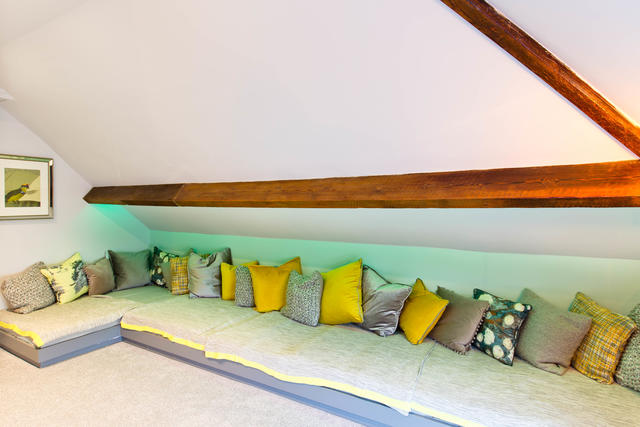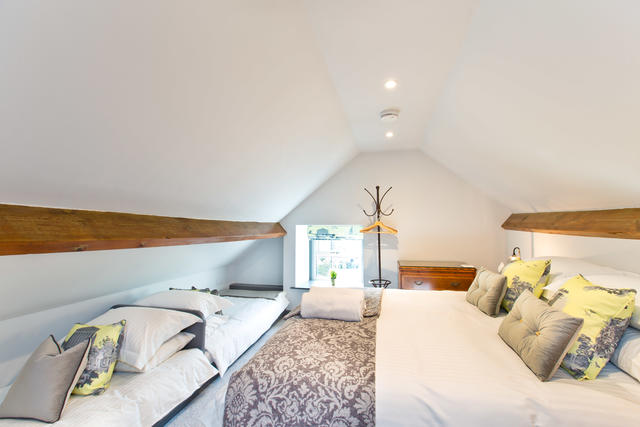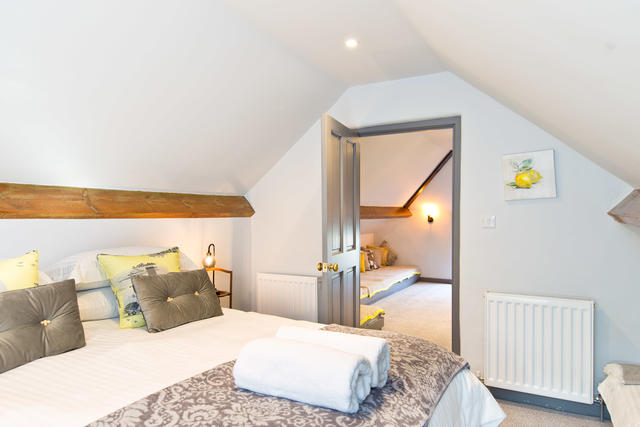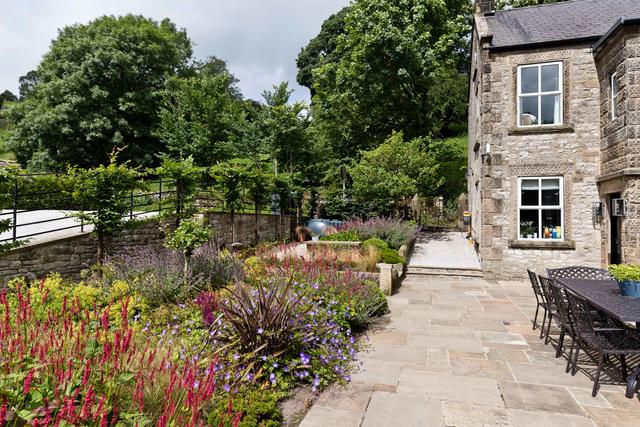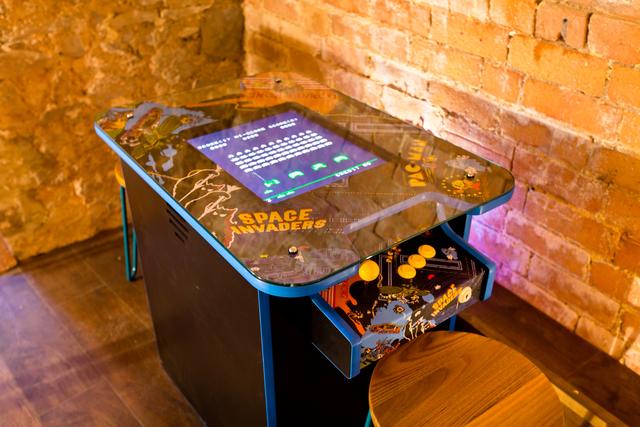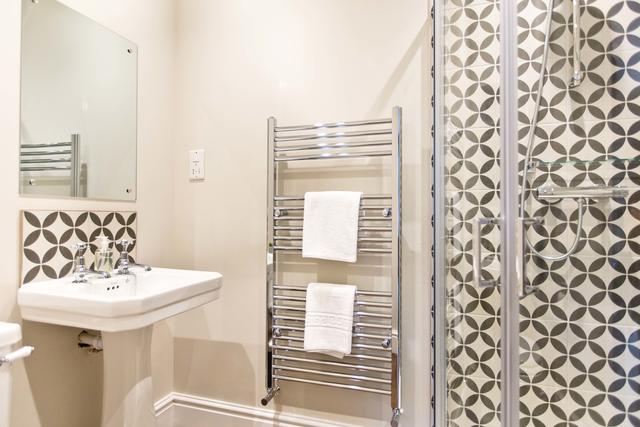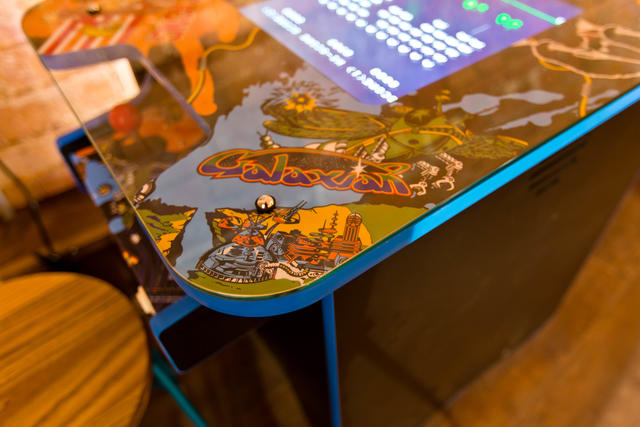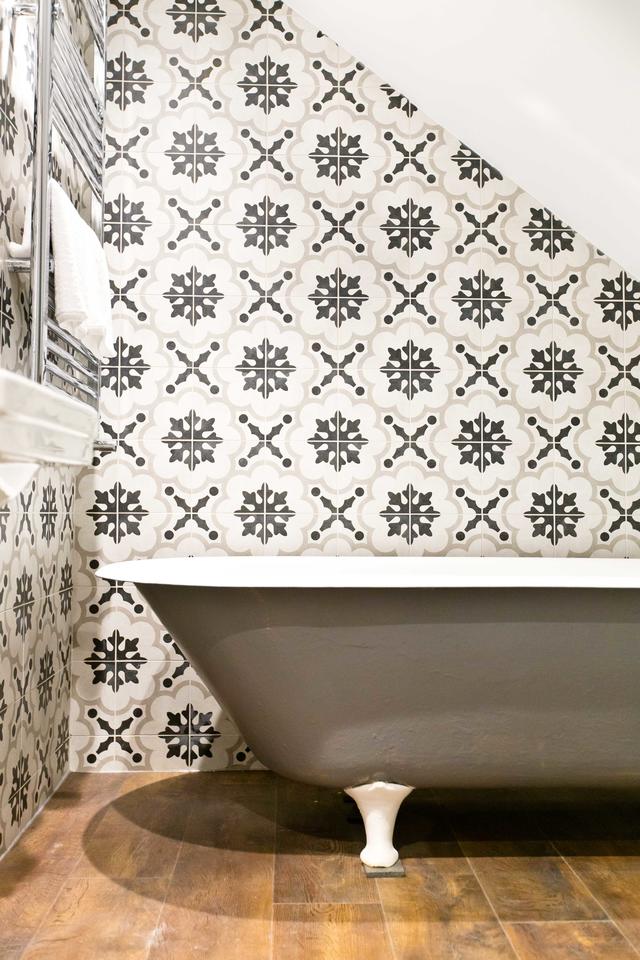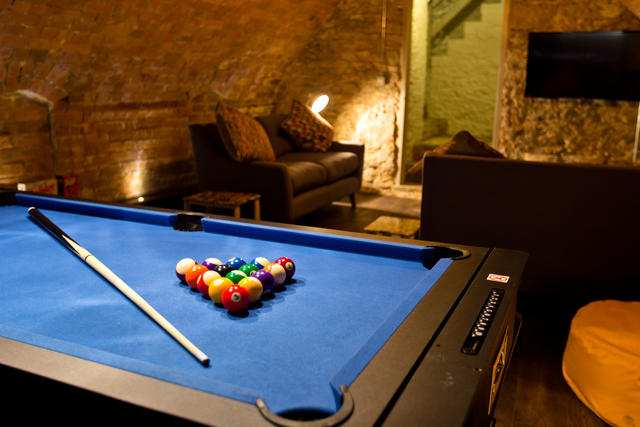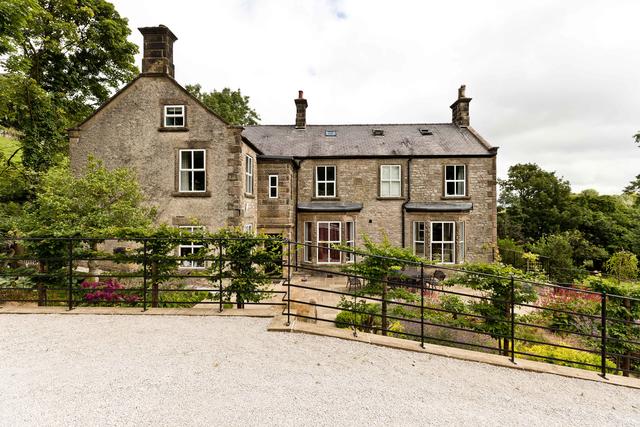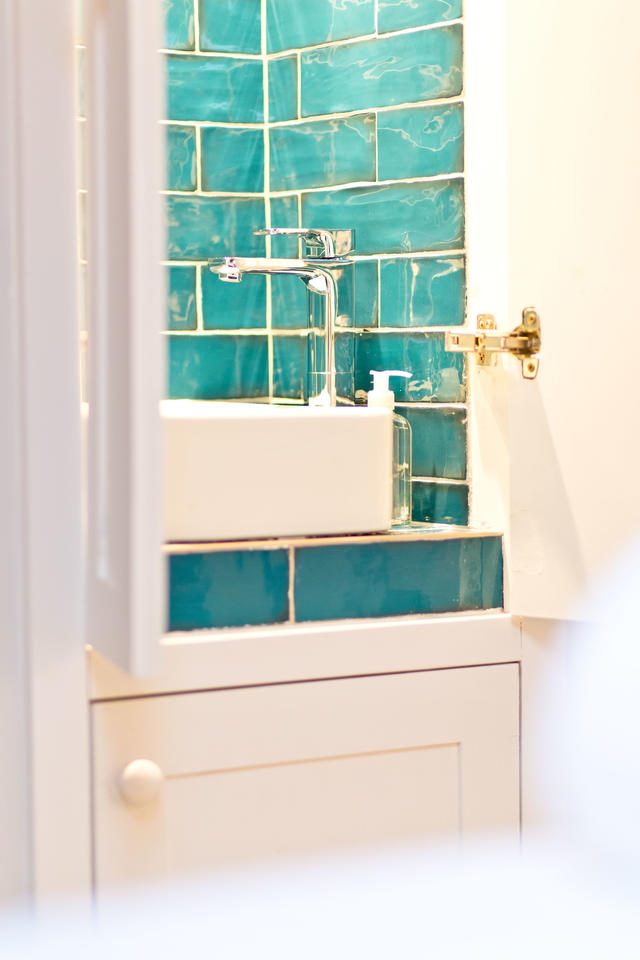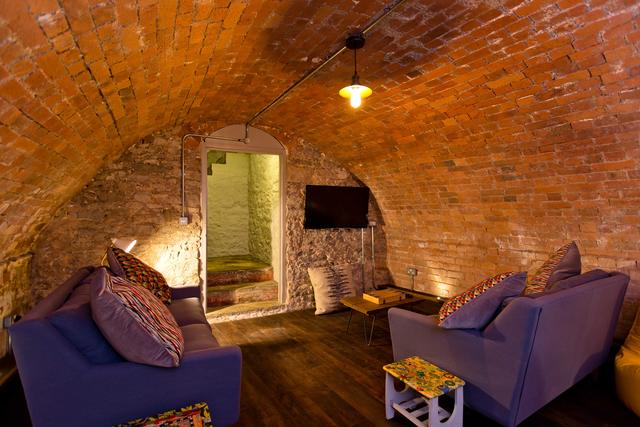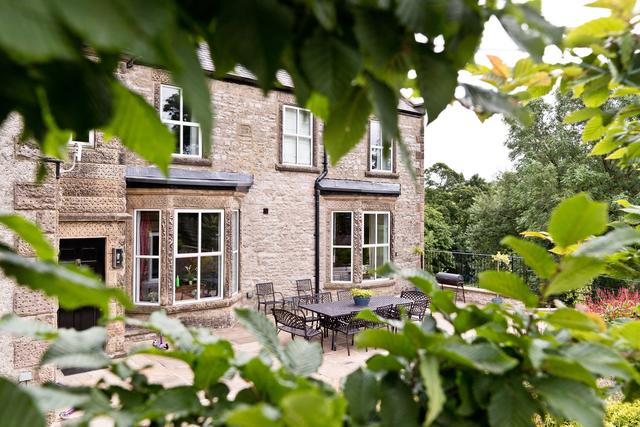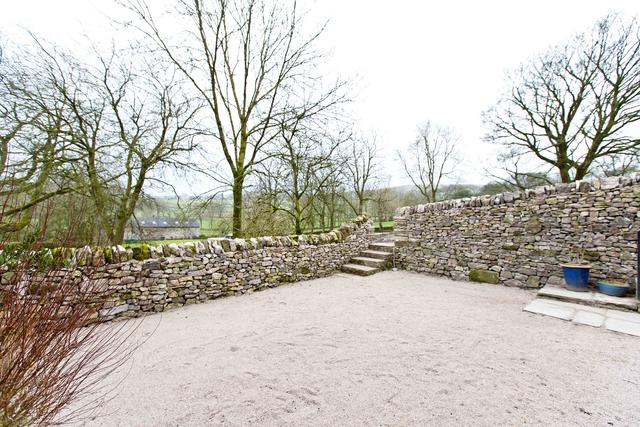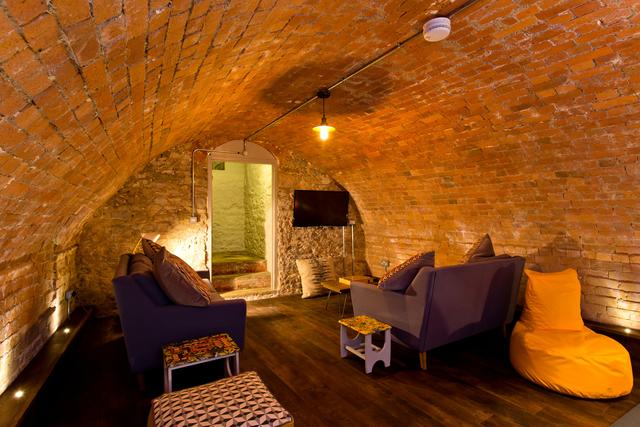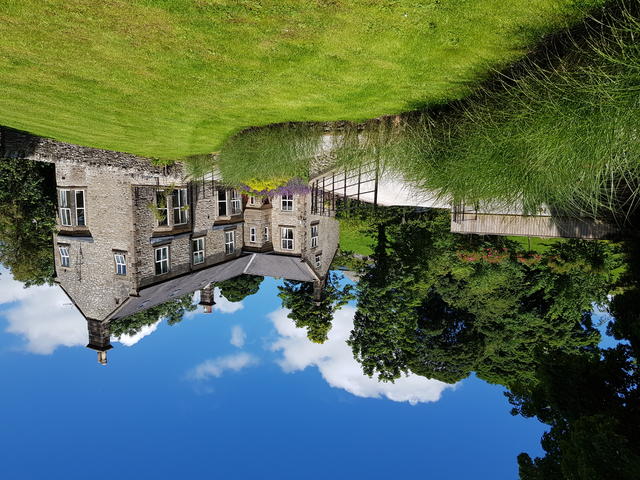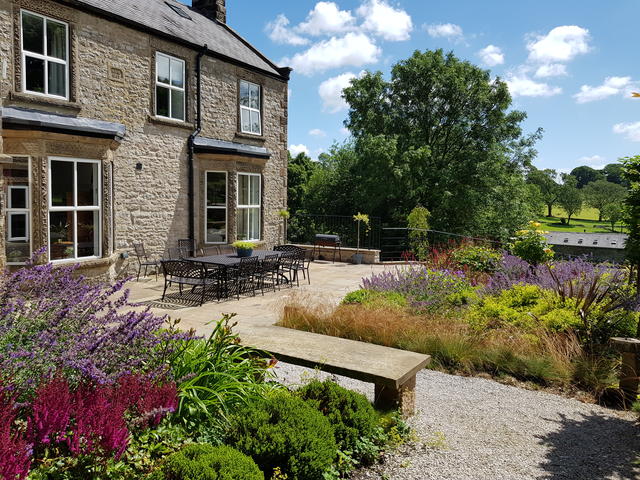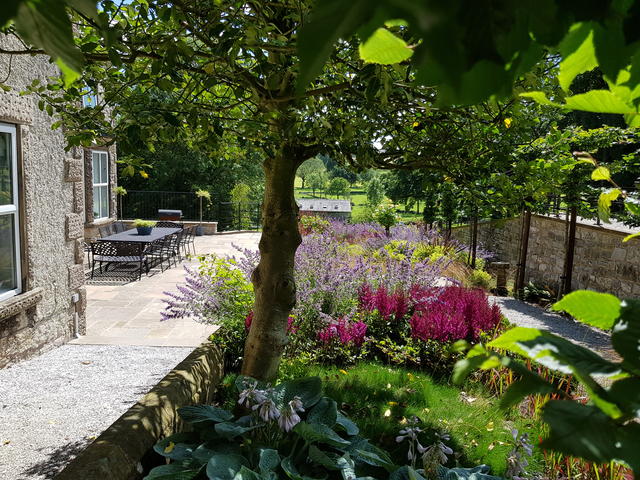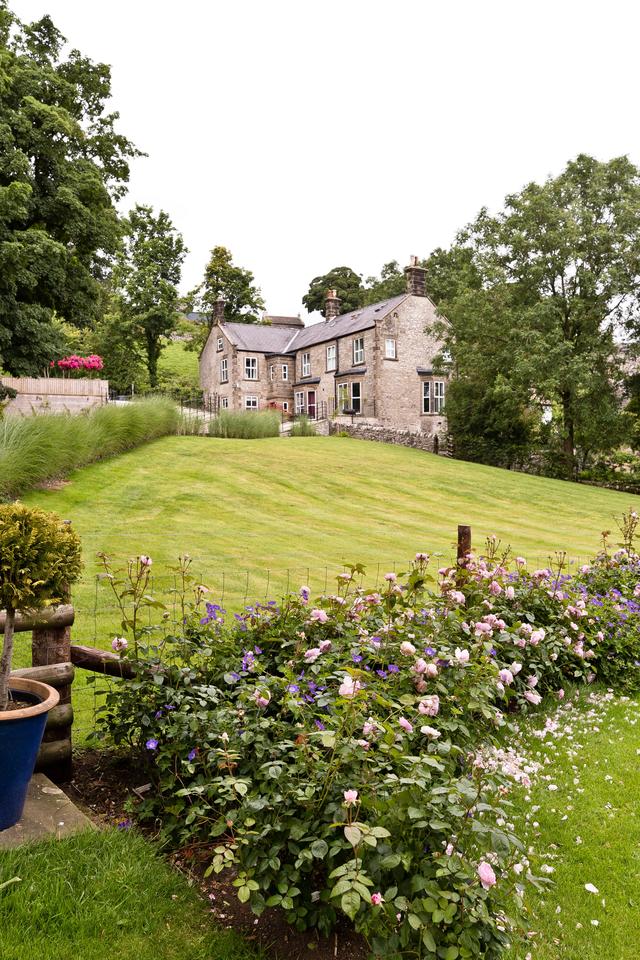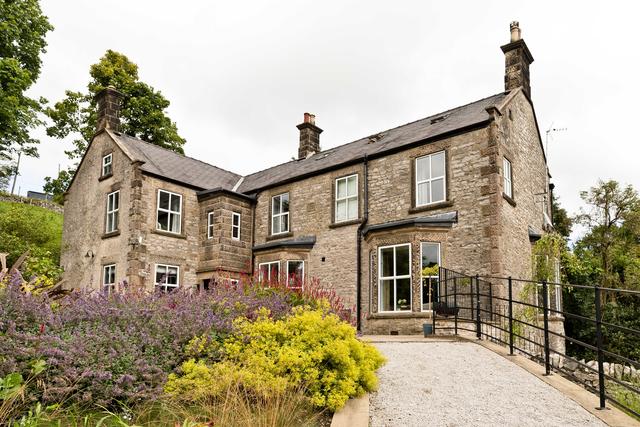 How To Find Us
Directions
The address of Priestcliffe House is:

Priestcliffe, Buxton, Derbyshire. SK17 9TN

Approx. GPS coordinates of the property are:
53.244412, -1.794330
Use 'What3Words' to find exact location: ///spice.complains.vans Download the 'App' here: 'What3Words' 

The postcode takes you to a nearby farm so please use the below directions!
Directions to Priestcliffe House by car from Bakewell (approx. 10 mins):

​From the centre of Bakewell (roundabout by The Rutland in Bakewell Sqaure) follow signs for the A6 towards Buxton (Buxton Road).
 Once on A6 follow the road for approx. 6.2 miles (follow the bypass until the end)
At the end of the bypass there is a layby on your right handside with a bus shelter. The speed limit turns to 50mph and there is also a bus shelter to your left with a signpost pointing right for Priestcliffe. Take the right turn almost immediately after the speed limit changes to 50mph (TIP if you reach The Waterloo pub on your left you have missed the turn and gone too far!)
Take the right turning (onto Hollow O'The Moor) and follow the road down for approx. 0.2 miles. You will come to a cross roads, turn right onto Priestcliffe Road.
Follow the road for approx. 0.4 miles, you will come to a slight corner in the road and there is a hairpin bend down to the right just before the house (School House Farm) on the right hand side. Turn right down the hairpin bend and follow the lane down for approx. 0.1 miles.
There will be buildings to your left and national speed limit signs ahead of you, the entrance to Priestcliffe House is on your left immediately after the speed limit changes.
Once you turn into Priestcliffe House drive down the ramp and the main carpark is on your right with parking for 6 cars.  Overflow car park only on the top level.
You have arrived at Priestcliffe House!
Directions to Priestcliffe House by car from Buxton (approx. 10 minutes):

Follow signs to the A6 until you come to the roundabout by Morrison's supermarket. From this round about follow signs for A6 to Bakewell (Bakewell Road).
Once on A6 follow the road for approx. 5 miles.
You will pass The Waterloo pub on your right hand side, continue on and you will see a signpost for Priestcliffe to the left. The tuning comes just before the road turns into national speed limit and there is a bus shelter on the right (TIP: if you reach the bypass you have missed the turning and gone too far!)
Take the left turning (onto Hollow O'The Moor) and follow the road down for approx. 0.2 miles. You will come to a cross roads, turn right onto Priestcliffe Road.
 Follow the road for approx. 0.4 miles, you will come to a slight corner in the road and there is a hairpin bend down to the right just before the house (School House Farm) on the right hand side. Turn right down the hairpin bend and follow the lane down for approx. 0.1 miles.
There will be buildings to your left and national speed limit signs ahead of you, the entrance to Priestcliffe House is on your left immediately after the speed limit changes.
Once you turn into Priestcliffe House drive down the ramp and the main carpark is on your right with parking for 6 cars.  Overflow car park only on the top level.
You have arrived at Priestcliffe House!
Floor Plans
To view or download the floorplan for this property click here.
Viewing PDFs
The file is in PDF format so you'll need a PDF viewer, such as Adobe Acrobat, to view them.
Virtual Tour
Why not take a closer look. Using state of the art technology we can let you take a walk around the wholeof this property.
If you're using a phone or a tablet, you may find the tour easier to navigate in a window of its own. Click here to launch.
---
Guestbook
The following comments are taken straight from the guestbook we keep for Priestcliffe House. Verbatim.
anonymous stayed in February '20
Excellent stay. 20 people of varying age. All amenities for a high standard. Host extremely welcoming
anonymous stayed in January '20
Wonderful well-thought-out accommodation, everything first class, over-and-above spec. Really impressed.
anonymous stayed in December '19
We (14 adults + 6 children) all had a simply wonderful time despite poor weather. The decor of each room is stunning, kitchen equipment and all furnishings comfortable and excellent; well equipped for good weather too - garden, chairs, etc. Owner friendly and welcoming. Thoroughly recommended by us all.
Fleming stayed in November '19
Thank you we had a wonderful time. - a truly memorable 80th Birthday for me. Best wishes to all.
Norman stayed in October '19
We all enjoyed a wonderful weekend at Priestcliffe celebrating my father's 80th & exploring the Dales. It's a terrific house & so much space for everyone under one roof.
Bonnington stayed in September '19
Everything was great and we had a really good stay thank you.
Fitzsimmons stayed in September '19
Thank you, we had a fantastic weekend
Wilsher stayed in August '19
Thank you so much. We had an amazing time in your beautiful house. It was such a fantastic place, beautifully decorated and had literally everything we could need or think of! We couldn't have asked for a better place to celebrate our 200 years....my dad was 90 in March, my brother 60 in July and I'm 50 in November!! There was an overwhelming enthusiasm to book again in a couple of years as it was so great so watch this space!
anonymous stayed in August '19
We loved the house and were warmly welcomed and also well looked after when we need it.
anonymous stayed in August '19
Everyone at Peak Venues were very helpful. The booking and payment process very smooth. The house was incredible and we all couldn't be happier with the service and standard we have been provided with.
Pearce stayed in April '19
We had a really great time at Priestcliffe House and wanted to thank yourselves and ask you pass on our thanks to the owners too.
Shields stayed in April '19
The house was as splendid as your publicity suggested. The facilities,cleanliness and location were perfect. Your advice about room allocation and directions very helpful. Thankyou again we had a splendid weekend.
Evans stayed in April '19
We absolutely loved Priestcliffe House. It was perfect for our family gathering for 18 people (ages from 4 to 81).We all thought the house was spacious, beautiful and and well equipped. Comfortable beds and good showers.We made very good use of the games room and the gardens. The views from the house are fabulous. The location is great with such easy access to lovely walks and the Monsal Trail. We hope to stay again some time.
Davidson stayed in December '18
Thanks so much we all had a great time the house was superb and the owners couldn't have been more helpful look forward to booking with you the next time
Stanley stayed in October '18
Priestcliffe was great and just right for us. Hope to be in touch for next year
Reay stayed in September '18
Thank you very much- our family/extended family /friends had a fantastic 90th birthday celebration in your beautiful Priestcliffe House. Very well equipped, excellent games cellar especially for the grandchildren and luxury bedding and decor. Well done peak venues on another fantastic house.
McKenna stayed in June '18
What an amazing place Priestcliffe House is, we had a wonderful time!
Sign the Guestbook
If you have comments you'd like to leave then please get in touch. We love to hear all feedback - good or bad.
Your Stay At Priestcliffe House
Our Favourite Places to Eat Nearby
Country Pubs​
Restaurants
Simply Thai, Buxton - Great local Thai restaurant located in the centre of town – booking is definitely recommended.
Taj Mahal, Buxton - Excellent curry house in Buxton.
Pizza Express, Buxton -Well known pizza chain in a great location for town and the Opera House – kid friendly.
St. Moritz Restaurant, Buxton - Swiss and Italian cuisine, great pasta dishes and also has a excellent pre- theatre menu.
Indian Palace, Buxton - Great Indian restaurant in the centre of Buxton
Lone Star, Buxton - Mexican/American cuisine, known for their large portions.
Columbine, Buxton - Small privately run restaurant, perfect for a special occasion.

The Woodyard, Bakewell - Great location by the river in Bakewell for a family friendly Restaurant –  Serves both lunch and dinner.
PieDaniels, Bakewell- A fine French restaurant and cafe bar in the heart of Bakewell offering a selection of fine French & English cuisine
The Merchant's Yard, Tideswell - A stylish restaurant with a private dining area for large groups. Also a lovely setting for afternoon tea and the cocktails are a must!
Cafes
No 6 The Square, Buxton - Relax and enjoy morning coffee, light meals or a traditional English afternoon tea in the elegant surroundings of No. 6 The Square.
Hassop Station Café & Bookshop - A family friendly cafe with outdoor covered seating and play, with a focus on food, family & fresh air. Enjoy brunch, lunch or afternoon tea on the terrace on the renown Monsal Trail or in the refurbished station building.
The Old Smithy Café, Monyash - Rustic! Famous for its breakfast featured in the Top 50 Breakfast Book in the country. Character décor, open year round – walkers and bikers welcome. Also serves lunch daily with dinner on certain days.
Lavender Tea Rooms, Bakewell - A lovely quaint tea room, hidden in the corner of Hebden court, the charming décor includes vintage memorabilia and there's outside seating in the sheltered courtyard. A great place for afternoon tea.
The Bean and Bag, Bakewell - Family run café in the heart of Bakewell offering locally sourced freshly prepared meals, cakes and scones.
The Upstairs Café, Bakewell - A nice child –friendly café located in the centre of Bakewell.
Fresh Delivered Meals and Take-Aways
Sauced Here - fantastic selection of home made prepared meals from local chef/cooks -great for large groups. They also provide a full basket of groceries from local producers that can replace a supermarket delivery.
Scoff - Delicious, home-cooked food, delivered to you in the Peak District
Indian Palace

The Great Panda Restaurant (Chinese)
Maazi - Sumptuous Indian meal or buffet delivered to your door. Numerous catering options and can also provide waiting on staff and even take away the washing up.
The Pizza Merchant- Take away pizza with free delivery within 10 minutes of Tideswell.
Our Top 5 Places to Visit Nearby
1. Explore Miller's Dale and the Monsal Trail

From the property you can walk down to the spectacular Miller's Dale, a popular beauty spot with the River Wye running through the Dale and plenty of examples of classic limestone flora and fauna of the area. From Miller's Dale you can join the well known Monsal Trail, this 8.5 mile former old Midland Railway line, which runs from Blackwell Mill in Chee Dale down to Bakewell, is great to explore on bike or by foot as it is traffic free and relatively mud free! The recently reopened tunnels makes the trail one of the most spectacular leisure routes in Britain for cycling, walking and horse riding. The nearest cycle hire to the property is at Blackwell Mill and if you are feeling more adventurous you can even abseil from the impressive viaduct at Miller's Dale.

Click here for more information regarding cycle hire at Blackwell Mill, here for more information on the Monsal Trail and Miller's Dale and abseiling at Miller's Dale.

2. Spend a day exploring the historic market town of Bakewell
Bakewell is the largest town within the Peak District National Park  and is a hub of activity. Market day is on a Monday and as well as a large range of stalls there is also an agricultural market which is definitely worth a look around as it offers a great insight into today's farming community. The town also hosts a craft and gift fair every weekend in the Brigade town hall. The Bakewell Old House Museum occupies one of the oldest buildings in Bakewell and dates back to 1543, it provides a fascinating glimpse into the towns past and is very interesting and informative with lots to appeal to all ages.Obviously no trip to Bakewell would be complete without sampling an original Bakewell pudding. The Old Original Bakewell Pudding Shop claims to have the old original recipe and still makes the puddings by hand from the secret recipe.

Click here for a link to further information on Bakewell.
3. Take a tour around the Thornbridge Brewery​

This award winning brewery is not far from the property and for any real ale lover taking a tour of this state-of-the art brewery is not to be missed. Tours take place every Wednesday and Friday at 3pm, booking is advisable. Also if you are lucky enough to be staying with us in the last week of the month, the brewery holds two socials on the last Wednesday (5-9pm) and the last Saturday (12-8pm) of each month. They generally have a range of 10 cask and keg Thornbridge beers, including Thornbridge favourites and also some of their rarer beers. They also run brewery tours on these socials at 6 and 7pm on the Wednesday and 3 and 5pm on the Saturday, again booking is advisable.

Click here for further information on Thornbridge Brewery
4. The spa town of Buxton
The spa town of Buxton can really offer something for everyone; enjoy a stroll around the pretty Pavilion gardens. The kids can enjoy the playground areas or you might choose to go for a swim at the refurbished swimming pool. The more adventurous may want to try out 'Go Ape' the treetop adventure course, for those without a head for heights a visit to Poole's Cavern is fascinating, and it's a great activity especially for kids when the weather does not cooperate for outdoor activities. For theatre lovers, seeing a show in the intimate Buxton Opera House is a must, and for the shopaholics the pretty Cavendish Arcade has a range of lovely little boutique shops. Lovers of real ale will enjoy visiting Buxton Tap House, which is Buxton's own brewery pub serving its very own ales and bitters.
Click here for further information on Buxton
5. Chatsworth House and Park
No visit to the Peak District would be complete without visiting the fabulous Chatsworth Estate. There really is something to do for every member of the family - The Farmyard and Adventure playground, the magnificent house and the gardens which are equally as impressive as the house, with the maze, the garden trails, and the famous water cascade to keep the little ones occupied.
Click here for a link to Chatsworth House and Park
Finer Details
What To Expect At Priestcliffe House
A basic weekend supply of the following (as there are no staff on site if you run out you will have to replace):
Anti Bacterial Hand soap
Loo rolls
Bin bags
Washing up liquid
Cling film & kitchen foil
Dishwasher tablets
4 x tea towels
1 x dish cloth
Basic cleaning materials
Utilities - electric, gas, heating and hot water
Useful Information
​2 x high chairs (if requested)
2 x Travel Cots
5 x hair dryers
Fresh linen with beds made up upon arrival
Fresh towels - Bath towel for each guest & hand towels in the bathrooms
Iron & ironing board and indoor clothes drying rack.
Hoover and mop
Washing machine and separate tumble dryer
3 x Ipod docking stations, one in the kitchen, one in the games room, the other in the dining room.
A total of 5 x smart TV's with free view are located throughout the property. Both the games room and sitting room have 42 inch TV's. All TV's have HDMI ports.
Books and board games
The top floor is perfect for families, there is a kids lounging area outside bedroom 7 (which has 2 kids beds under the eaves along with a 5ft bed) this play space has a 42 inch smart  TV and a remote controlled LED coloured lighting system. This area is great for den making and can also sleep 2 extra kids if required.

Ground floor bedroom one has a 5ft bed
Ground floor WC
Log burning stove in the sitting room (1 x complimentary basket of logs supplied - after this please provide your own). Due to health and safety we cannot supply fire lighters or matches, so please bring your own.

Cooking and Dining
For any kitchen items that are absolutely vital for your stay, please check with us before your visit to ensure that they are at the property (as things do sometimes get broken).
​Pots, pans, roasting tins, crockery, glassware and cutlery
Double oven with grill, 6 gas electric hobs. Also a further smaller oven.
1 x microwave
Full size fridge and a 70/30 fridge/ freezer
2 x double toasters
3 x cafetieres
2 x kettles
2 x dishwashers
Kitchen scales
Kitchen island seating for 4 guests
1 large dining table with benches, perfect for 20 guests, however more compact for groups of up to 24 guests.
Outside
You Should Know

Location

Booking and Payment Process
Shopping Delivery Information

For ease, lots of our guests pre-order a shopping delivery. You are very welcome to organise this however, please do make sure you have arranged the delivery time slot to arrive after you have checked in, as we are unable to accept it on your behalf (as the property is let as exclusive use there are no Peak Venues staff on site).
Local Shopping Delivery From Local Producers - Sauced Here

Keep it local! Our guests often ask for recommendations for local farm shops and butchers for the all-important celebration meals and this is a brilliant and very easy service. Sauced Here has similar functionality to an on line supermarket but is only stocked by local suppliers in the Peak District - order your wine, meat, vegetables, dairy and so much more with a choice of over a thousand products and at reasonable prices. It's a great service which delivers straight to your holiday cottage or you can click and collect at a local pick up point.


Dates Already Booked? Click Here or Call Us for Fabulous Alternative Options
Ready to Book?
Quick Enquiry
Key
Available
Not Available
Changeover Day