Autumn Adventures
Golden Hues and Heathered Hills await you! Autumn is definitely the perfect time to explore the Peak District, the crowds have thinned, the pubs have tables and there is space to explore once more. Here are some of our favourite things to do at this time of year
Head for the hills and take in the views
Lets face it there are tonnes of places to find a cracking view in the Peak District, wherever you choose to head you will not be dissappointed, we have it all! Here is our top 5 
1 - Surprise View
Surprise View Car Park, A6187, Grindleford, Derbyshire, S32 1DA
Map reference: SK 252 801
Ordnance Survey: Dark Peak Area OL1 and White Peak Area OL24

Surprise View sits high above Hathersage and is well-known for being one of the best viewpoints in the Peak District and a great starting point for several walks. Head uphill in a northerly direction towards the back of the pay-and-display car park and take one of two paths up the hill where you'll find the curiously shaped Mother Cap stone, and further up the Over Owler Tor stones. From here there are spectacular views in every direction. Surprise View is also one of the official 'Dark Skies' stargazing spots, so if it's a clear night you could enjoy the wonderfully bright stars in the Peak District night skies.

2 - Curbar Gap

Clodhall Lane, Curbar S32 3YR
Map reference: SK 261747
Ordnance Survey: Explorer OL24, Landranger 119
Refreshments: Jolly's van in the car park at weekends for great cakes and hot drinks.
Curbar Edge - and Froggatt Edge and Baslow Edge, which lead on from it on either side - is a gritstone escarpment with fantastic views across the Derwent Valley, including the Chatsworth Estate. You can clearly see the deliberate tree planting of Capability Brown's 1760s design versus the natural order of the surrounding landscape. You don't have to stray far from the carpark to be rewarded, it is a great place to take photos. There is a pay car park at the top but you can also park at certain spots on the road on the way up. It can get very busy at peak times. There is an ice-cream van in the summer and a wonderful French vintage refreshment van, Jolly's, is open at weekends throughout the year serving great coffee, cakes and homemade dog biscuits.

3 - Monsal Head

Ashford Lane, Monsal Head DE45 1NL
Map reference: SK 185715
Ordnance Survey: Ordnance Survey: Explorer OL24, Landranger 119
Refreshments: Monsal Head Hotel, which sits directly above Monsal Dale; Hobb's Café is next to it for tea and cakes. And there's a seasonal ice cream van in the short-stay car park too.

This is one of the most photographed locations in the Peak District and you can easily understand why. This view packs a lot in: the River Wye snaking along the narrow dale, handsome Netherdale Farm in the valley, the wooded slopes of Fin Cop and rocky outcrops of Hob's House Cave, completed with a glimpse of the old Headstone railway viaduct. You can explore the dale on foot and picnic further down the river to the left near the weir. The Monsal Trail crosses the disused railway viaduct providing a fantastic vantage point above the riverside meadows. There is a pay-and-display car park behind the Monsal Head Hotel and short stay parking for a few cars in front.

4 - The Roaches

Roach Road, Upper Hulme, Leek, Derbyshire ST13 8UA
Map reference: SK 005621
Ordnance Survey: Explorer OL24, Landranger 118
Refreshments: Roaches Tea Rooms a little further along Roach Road

The Roaches seem to rise out of nowhere. The magnificent rocky ridges and gritstone cliffs are spectacular to look at and, on a clear day, provide panoramic views stretching as far as Snowdon in Wales. There is a small pool at the top called Doxey Pool inhabited, so legend has it, by a water spirit. The area has been managed by Staffordshire Wildlife Trust since 2013. Whether you're an eager climber, an enthusiastic walker or a keen naturalist, the Roaches offers something for everyone. Its magnificent soaring rock faces and wild, heather-covered hillsides draw tens of thousands of visitors each year, and make it one of Staffordshire's most photographed landscapes.
5 - Mam Tor

Sparrowpit, Peak Forest S33 8WA
Map reference: SK 127836
Ordnance Survey: Ordnance Survey: Explorer OL1, Landranger 110
Refreshments: nearest cafés are in Castleton

The landscape surrounding Mam Tor is breathtaking. Mam Tor and its neighbouring ridges dominate and separate the Hope Valley to the south and Edale to the north. Park up at the Mam Nick pay-and-display car park and cover the short, steepish walk to the top. It is a well-trodden and clearly marked path and gives extraordinary 360 degree views even from half way up. There are great views down the Hope Valley towards the strangely compelling Hope Cement Works, the UK's largest, set amongst hills and fields of green. But our favourite is the view into Edale to the north. The panorama all the way from Kinder Scout to Stanage Edge is stunning.
---
Retreat to a fabulous country pub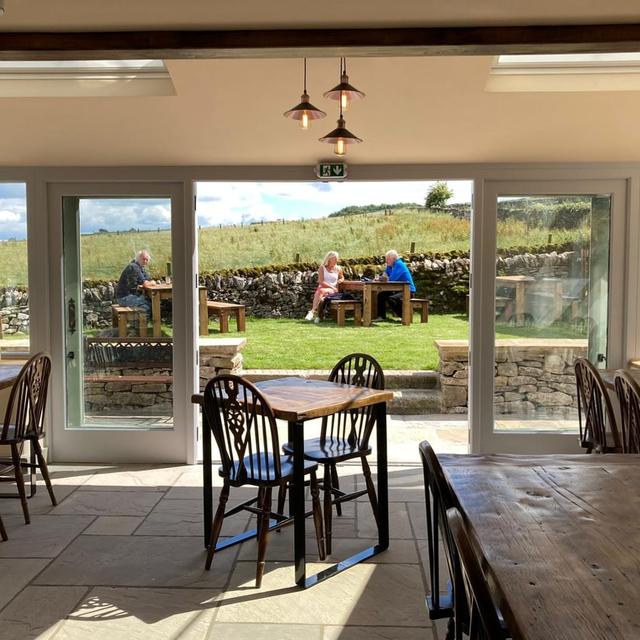 We are definitely spoilt for choice when it comes to country pubs, there are some truly fab places to rest and refresh with a pint of local ale and some hearty food. Autumn can tricky be weather wise, one minute its glorious and sunny and the next its blowing a gale so head to the pubs that offer great indoor and outdoor space along with a warm welcome and great food! Our top 5....
1 - The Blind Bull, Little Hucklow

This newly renovated pub serves truly amazing food and great ales, its proved a massive hit over the summer and boasts spacious yet relaxed indoor dining and a big beer garden with stunning views. Most of the Peak Venues Team have already tried and tested and it gets top marks from us all! Head to their website to book a table or check out their social media feeds for more info.
A Peak District favourite, this award winning pub has been serving outstanding food and local ales for years. It's had a little refurb during lockdown and some new additions to the menu too. Book a table by the fire if its cold or head outside for alfresco dining in the sun!
3 - The George at Alstonefield

Another Peak District favourite, The George is an unspoilt, family run pub in the Peak District village of Alstonefield, above Dovedale and a stones throw from Mill Dale within the Peak National Park. Cosy rooms with log fires and old beams await you inside or sit out on the front overlooking the pretty village green.

4 - The Devonshire Arms at Beeley

Experience Estate Life at The Devonshire Arms, in the pretty Chatsworth Village of Beeley.  There's nothing quite like a traditional English village Inn to warm your soul. And with its AA Rosette, five-star rating, and recognition in the Michelin Guide, The Devonshire Arms at Beeley is as much an experience as it is an Inn. The cosy interiors and fabulous food is a great place to stay a while and the outdoor seating overlooking the village is perfect for watching the world go by.
If you have spent the day exploring Mam Tor or Kinder Scout then you have to stop by this pub for a pint and some food, the menu is great and the welcome is warm. The pub itself is old, cosy and quirky with lots of rustic charm and the beer garden is huge yet secluded. Definitely a great place to while away a few hours whatever the weather
Take to the waters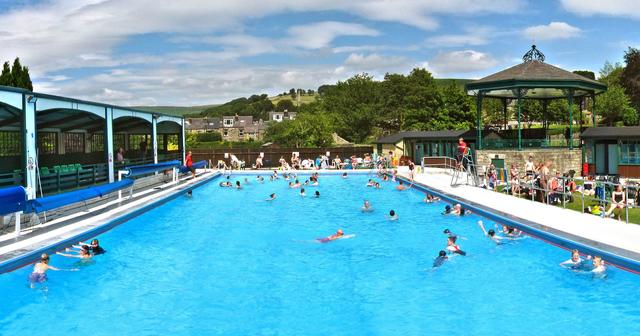 The Peak District has it's own hidden (and not so hidden) gems perfect for those water babies.
1 - Hathersage Lido

Hidden in the village of Hathersage you will find one of the few remaining outdoor pools left in the UK. This fabulous heated (to a balmy 28 degrees) pool also boasts hot poolside showers, lawns and views of Stanage Edge, Hathersage Church and the surrounding hills. It is now open again (strict covid instruction and booking in place) so if you fancy a dip head to their website a book a slot online. 
For those who like a wild dip we have some great sites from meandering rivers at Chatsworth, the Mermaids pool on Kinder, to a plunge pool in the Derwent Valley. Click the link above for more details on where to go and how to find the best spots.
South of the Peak District and a stones throw from Ashbourne is the huge Carsington Waters. This Reservoir is a great family day out with walking and cycling routes around the water, an on-site cafe and restaurant and shops too. It's perfect for those who like to partake in watersports and fishing.
Home to the Dambusters, The RAF's celebrated 617 squadron flew practice sorties here with their 'bouncing bombs', in preparation their epic 1943 raid on the dams of the German Ruhr. Walking is the best way to experience the dams and the twin-towered dam is at its most impressive when the water cascades over it.

Adventure for the kids
Keeping the kids entertained can be a challenge at the best of times but we have loads of child friendly activities across the Peak District, here's a few ideas
1 - Visit The Crich Tramway Museum

Be transported back in time on vintage trams. Soak up the atmosphere on the period street, visit the shops and take refreshments in the tearooms and pub. 

The Castleton caves are some of the best show caverns in the country, and is home to Peak Cavern, Speedwell Cavern, Blue John Cavern and Treak Cliff Cavern. Treak Cliff Cavern has some amazing stalactites and stalagmites, which really have to be seen to be believed. Along with Blue John Cavern, this is the only place to find Derbyshire's semi-precious mineral, Blue John- a fantastic sight to see! Arguably the most thrilling of them all is Speedwell where you take an amazing boat trip 450m under the Hills of Castleton to the awesome Bottomless Pit. 
Visit a farm and meet some animal. There a some great farms offering tours and a chance to pet the animals alongside trying their homemade produce or enjoying an onsite cafe while the kids play. Top of the list are Chatsworth Farmyard, Blaze Farm (great icecream) and Matlock Meadows 
3 - Alton Towers

The ultimate adventure land sits just outside the Peak District National Park about 15 minutes drive from Ashbourne, check out their website for more details on opening, covid protocols and to book a day ticket.
Fore more kid friendly inspiration head to Peak District Kids where you will find loads of ideas to keep the younger ones entertained!
Need a place to stay...
With so much to explore in the Peak District you will definitely need somewhere to stay. We have a superb collection of properties from cosy cottages perfect for two to quirky pubs and farm conversions for those looking to gather together and celebrate. 
---
Published on September 27, 2020 in